Makeup
We Are So Stealing This Makeup Trick From Halsey
The singer reveals her biggest beauty secret and her secret talent
Last week, "New Americana" singer and lipstick queen Halsey released her new M.A.C. lipstick shade -- an edgy, matte grey -- as part of their Future Forward Collaboration. Inspired by the memories of her "badass mom" scooping out the last of her own M.A.C. lipsticks, Halsey says the collaboration is extremely nostalgic for her.
"A lot of my childhood memories involve a M.A.C. lipstick. It's just always resonated with me." Halsey says. "My mom used to sit in the car, look in the rearview and reapply it. I even remember my brother digging through my mom's purse once and eating it! " One product of her since-childhood obsession with M.A.C.: her ability to name M.A.C. shades that date all the way back to the '90s.
To dive head first into Halsey's colorful world, we caught up with the solo artist to talk about the release of the new, limited edition shade, now available on M.A.C.'s site, and to learn more about her biggest beauty secrets (you'll never guess what she was caught bringing on a date).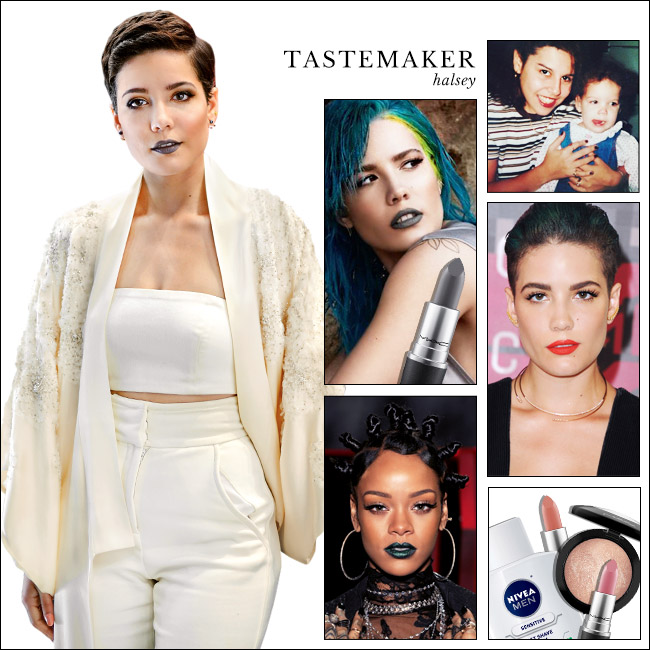 1) TotalBeauty:
Can you tell me about your collaboration with M.A.C.?
Halsey:
I was approached by M.A.C. last year, and they asked me if I wanted to do a lipstick collaboration. Little did they know I'm really obsessed with their company. So when I went in for the meeting, I started schooling everyone. I talked about my favorite products that dated back to the 1990s, and I knew a lot about the company and their history. In fact, if you show me a lipstick color of theirs I can name most of their shades on site. It's like a secret talent; I'm just so obsessed with the company.
2) TB:
Where does your love affair with M.A.C. stem from?
H:
My mom. She was never a supergirly girl, but she's really cool. She's tattooed, really badass, and was kind of a grunge Nirvana groupie back in the day. But one of my girliest memories of her is her obsession with this lip shade that M.A.C. used to make, Shitake. I have a really distinct memory of this lipstick being down to the pan, and she's scooping out the last of it, and she's really upset. A lot of these memories go back to when I was little kid and it involves that lipstick tube. It's become such a staple in my life, because the memories associated with it mean something to me. For me, I have memories of my mom and dad getting into a fight and my mom wiping the tears from her face and reapplying the lipstick.
It's also sort of like a rite of passage, and such an honor for an artist in pop culture to be able to do a M.A.C. lipstick. I grew up watching Rihanna, Miley, Lady Gaga, and so many other massive artists having their own shade. So for me to be allowed to be a part of it --- that was the moment when I was like, "OK, maybe this music thing is working out."
3) TB:
How did you come up with the color for your new lip shade?
H:
If I had gone to college, I would've been an art major -- so color theory is kinda my thing. When they asked me to get involved I was like, "I hope you know I'm going to take the reins with this. This is my moment: You have to let me do this."
I wanted to come up with a shade that was sort of androgynous -- something anyone can wear, because makeup in this day and age is becoming more socially acceptable as a multi-gender thing. There's a lot of really talented men doing makeup tutorials and going out and wearing incredible looks. Makeup is a really cool hobby, and I wanted to embrace that. I [also] wanted to do a color that was suited for any skin tone. I'm mixed race -- my dad's black and my mom's white -- so I wanted to do a lipstick that could look beautiful on all my fans' skin tones.
To get the color, I started mixing paints on a poster board. Once I finished, I sent M.A.C. little painted swatches. I think at first they were like, WTF? I don't think anyone was really expecting me to do that, but M.A.C. was stoked about it. Though my label was like, "Uh...Halsey, you're taking this really seriously."
4) TB:
What's the best beauty advice you've ever received?
H:
I've gotten lots of great makeup advice in my life. I think one of the biggest ones is less is more, but also, more is great too. It's so hard when it comes to advice on makeup because it's an art and a craft -- so everyone has their own opinions and interpretations. My personal makeup artist and I get in fights all the time, because I love highlighting the tip of my nose and she
hates
it. Just hates it. I love highlighting the tip because I have a little button nose. So we always argue over that.
I also think it's really important to have patience. Makeup is a learning process, and everyone grows at their own pace. If someone's still figuring it out, let them experiment! Don't be mean to people if you don't like their makeup. What's with this whole "I won't be your friend if you have bad eyebrows" thing? Let someone grow. You had bad eyebrows at one point too, whether or not you believe it. Everyone did.
5) TB:
Beauty trends you love? Beauty trends you hate?
H:
I'm a highlight queen, and I have fans asking me all the time about it. I use a formula of different products: a cream, a powder, a spray -- the whole works. My favorite highlighting product is definitely
M.A.C. Mineralize Skinfinish
in Soft and Gentle, and I'm not just saying that because of the collaboration. I genuinely love their whole line. The one thing I can't get on board with is all the weird names of beauty trends. Like WTF is strobing? Now there's chroming? I can't keep up. I just like to glow and as long as I'm glowing, I don't care what it's called.
5) TB:
Who's your beauty icon?
H:
I love Rihanna. I think she's really brave in fashion and makeup, and she can rock a really natural look. She has such a beautiful face and really cool eyes and beautiful lips -- she wears so many lip colors well. I remember I saw her at Billboard, and she was wearing a metallic green lipstick, and that was one of the very few times in my life I saw a celebrity and went, "Oh my god, I
need
to recreate this." So I went straight to M.A.C. and couldn't find the lipstick, but I bought their metallic green liner, and I put that all over my face.
6) TB:
What is your daily beauty routine like?
H:
I'm pretty bare-handed when I'm not stage or performing, so I'll do a tint of moisturizer, a cream highlight, and fill in my brows. But, I always, every day wear fake eyelashes. I've probably gone through 425 fake eyelashes in the past 365 days. I'm really good at putting them on by now. I can put them on in the back of the car without a mirror and I know the exact length to trim them too. I've been in the back of an airplane and bit them off to the length I needed them to be. It's just crazy.
7) TB:
What are your staple products?
H:
I love the
M.A.C. Mineralize Skinfinish
in Soft and Gentle -- obviously. My favorite lipstick by [M.A.C.] is Velvet Teddy or Syrup. I also just moved and have a box in my house that, I kid you not, is full of probably 600 brown/pink/taupe/mauve colored lipsticks -- just those colors! I have another box that's all reds. I love lipsticks and I really f***ing love makeup in general, like a lot.
My biggest beauty secret is what I use for a primer. My favorite makeup primer in the entire world is Nivea Sensitive Men Aftershave Balm. It locks in moisture in your skin and really seals it in tight, making it a good base for makeup. I don't get shiny all day long and I know it's crazy, but it works! I went on a date a little while ago, and this guy saw it in my bag and was like, "Why do you have aftershave in your bag?" I was quick to explain, but it's a low-key secret that not tons of people know about. Kylie Jenner uses it, I use it ... it's just the best primer.