Skin
Your Sleep Habits May Actually Cause Premature Aging
Your sleep position and what you sleep on may have an impact on your appearance.
When I was pregnant for the first time, I googled practically everything. One of the many things I came across were articles purporting that sleeping on any side other than the left is associated with stillbirths. When I asked my doctor, he basically explained that it's silly to think any of us have any control over how we sleep and that I should sleep in the position that I feel is most comfortable.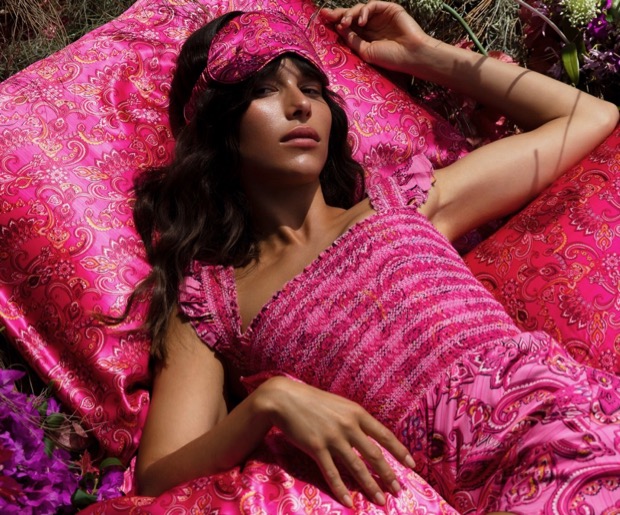 Image via Slip
My doctor subscribes to the Emily Oster school of thinking, which is evidence-based. So he doesn't put much stock in ideas like not drinking coffee during pregnancy or never eating sushi. Turns out that since I sleep on my back, I may inadvertently be saving myself from some wrinkles. There are actually some impressive benefits from sleeping stomach up.
"Although I have never seen a peer-reviewed article in a scientific journal relating wrinkle development to how we sleep, I have had numerous women attest to the fact that they are certain that they have more wrinkles on the side of the face that they sleep on," says Dr. Loretta Ciraldo, FAAD, founder of the Dr. Loretta skin care line. "Typically we have more wrinkles on the left side of our face since UVA, the aging/wrinkle-inducing rays, come through even tinted car window glass to create some UV exposure when we are driving, but when I see women, especially with more wrinkles on the right side, who tell me that they have these from sleeping on that side, I tend to give validity to their observation that these are at least partially the result of how they sleep."
Unfortunately, controlling how we sleep isn't easy. That's why there's a growing market for products that can help us stay in the "optimal" position for wrinkle mitigation. If you're looking to avoid wrinkles (and get some chuckles with a funny Instagram shot), it's worth considering products like YourFacePillow Beauty Pillow. It's uniquely designed to promote proper alignment during sleep. It also doubles as an anti-aging pillow as it trains you to sleep on your back to help prevent wrinkles.
Bed accessories are also a great way to enhance your nighttime regimen. "Items like your sheets and pillowcases play a role," says Daniela Castillo, esthetician at Face Haus NYC. "Ever wake up to bedsheet marks? Over time these can cause wrinkle-causing friction over the delicate eye and decollete areas, especially if you sleep on your side or stomach. One way to prevent this is silk sheets and pillowcases. The fabric is softer, smoother and less likely to fold."
Slip is a leader in this space with a variety of beautifully designed and affordable silk products. "A low-friction pillowcase, like satin or silk, can help both hair texture and skin smoothness," advises Ciraldo. "When we sleep on a rougher surface, like low-thread cotton or synthetic fabrics, our skin gets more irritated and lines and wrinkles can become exaggerated in surface appearance."
Of course, if you sleep on your back you can worry less about your pillowcase's affect on your skin. Ciraldo goes on to note that some patients report a decrease in wrinkles after sleeping on their backs.
Lastly, it's important to underscore that sleep is key for a more youthful appearance. "Certainly at most ages getting inadequate sleep (less than six hours) will detract from our appearance," Ciraldo points out. "In one study, for example, when people were shown photos of the same woman, either after a good night's sleep or after just five hours of sleep, the photo taken of the very same person was rated as more attractive than the photo after insufficient sleep. This is because our skin performs DNA cellular repair while we sleep. Lack of sleep mitigates skin health and we look less attractive."