Makeup
How to Prevent a Makeup Meltdown on Your Big Day
Planning a summer wedding? Avoid smudges, smears, or creases with these warm weather makeup tricks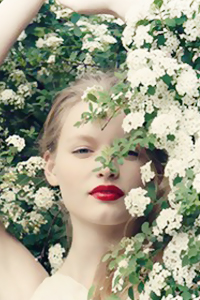 If you're planning summer nuptials, an essential part of your beauty prep will be creating a sweat-proof look. After all, while you can't prevent a few joyful tears from falling down your face, you
can
prevent your face from dripping onto your dress.
Most women know the first essential must-have of hot-weather makeup: Waterproof mascara. But if you really want your entire look to stay fresh and defy heat and humidity, you need more than just that beginner trick. Fortunately, it's completely possible to create a sweat-proof look all by yourself -- no airbrush or professional artist needed -- with the right tools and a bit of practice.
To help, we turned to makeup artist Brigitte for the best ways to keep any bride looking cool in scorching temperatures. She suggests you practice applying this makeup look several times before your wedding so when the big day comes, it will be like second nature.
Face:
For sheer coverage that won't sweat off, turn to a tinted moisturizer or BB cream. The dewy product melts into skin instead of sitting on top like a heavy foundation. If you need a little more coverage, Brigitte suggests masking imperfections with a bit of concealer before applying tinted moisturizer. "Apply concealer with fingers on all blemishes and discoloration, dotting around the nose, under and over eyelids and on the chin and forehead," she says.
"Check your face from side to side for any streaks and creases and ask a bridesmaid for a second opinion," says Brigitte. Then use a small powder brush to set foundation with a translucent powder. Once your complexion is flawless it's time to perk up your cheeks. "Select a powder blush with golden highlights to give your skin a healthy and natural-looking glow," says Brigitte.
Eyes:
The more natural your makeup, the less noticeable flaws will be. "Use a blending brush or cotton swab to blend a shimmery -- not glittery! -- pinkish-beige shade or a light brown shadow all over the lid," says Brigette. Apply a silicone-based brown along both lash lines -- which won't budge even if you shed a few tears. "Gently curl your lashes and then apply waterproof mascara -- a bride's best friend -- on top and bottom lashes."
Lips:
To complement your eyeshadow, "go for a lip color that is as light and neutral as possible," says Brigette. "Begin by using a lip liner, which most closely matches the natural color of your lips, applying it all over lips." This creates a solid, smear-proof base for your lip gloss. Follow this with a sheer pink or beige gloss all over lips for a natural silky finish. You can also apply a bit of foundation onto lips before applying lip gloss which will help establish a neutral base and hold lip color firmly in place.