Skin care
Nivea Launches New Interactive Anti-Aging Boutique
Debuting in Britain (for now) the skin care brand is rolling out the welcome mat for women 40-60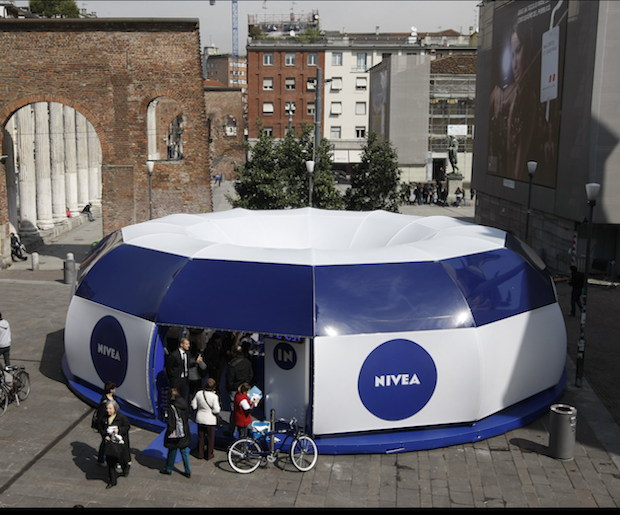 As a means to draw attention to it new Cellular Anti-Age line, skin care behemoth Nivea decided to launch a series of expert-on-hand pop up booths.
Dubbed "Face Facts Boutiques" (see what they did there?), the booths are the key, thinks the Beiersdorf-owned company, to landing the big bucks consumer -- the 40-60 year old woman who needs to, ok fine,
face facts
that she ain't getting any younger and needs to start thinking about her skin care options.
READ: Lethal Beauty Product Combinations
The pop up shops will offer demos and free consultations with a "Nivea skin care expert," during which the customer will be encouraged to play around and try any of the products she wants.
All of this is a move towards the "immersive" experience that studies have proven is what today's consumer craves.
"We create real intimacy between the brand and its audience, through the combination of the Nivea brand and this product's scientific story," explained the managing partner of the firm that developed the installations.
READ: 10 Habits that Piss Off Your Dermatologist
Nivea's brand manager says that this is "a campaign to close the gap between awareness and trial, and challenge the inertia that some many women face when it comes to changing their skin care products."
Sounds logical -- and encouraging to me; you read about a product or see an add, are intrigued but don't know whether it's worth shelling out big bucks for or whether it's going to work the way you hope. Having the opportunity to go in -- pressure and risk free -- and try it will definitely help eliminate the guesswork.
Oh, wait, you know what else does pretty much the same thing -- from the comfort of your own home? Reading
Total Beauty Reviews
.
Real reviews of every product imaginable from real, un-biased women like yourself who're just looking to get the word (positive or otherwise) out there to their sisters in arms. And face. And hair. And ...