Makeup
Michelle Phan's Prediction for the Next Big Beauty Trend
If anyone knows what's coming next, it's the world's top beauty vlogger
If you want to know about Korean beauty trends without actually going to Korea, ask Michelle Phan. The YouTube sensation spends a lot of time in Asia researching what's hot. "Almost nobody's using the BB and CC creams in a tube anymore," she says. "It's all about the cushion compact. The sponge-on-sponge technique gives you a light application so you can reapply all day without it getting cakey." She tells us she's working on one for her
em Michelle Phan makeup line
, which recently became available on Amazon.com. Hopefully it's almost ready because now we're dying to try it.
When Phan talks about beauty (or anything, really, let's be honest), you can't help but listen -- and want to run out and buy whatever she recommends. She's smart, passionate and incredibly knowledgeable. And just when we thought we couldn't love her any more, she filled out our "5 Things" questionnaire: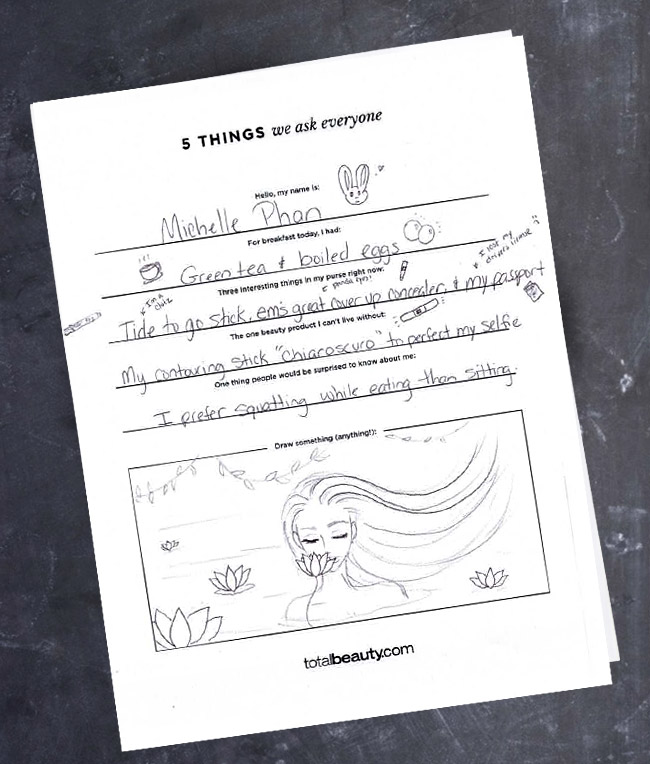 Hello, my name is
: Michelle Phan
For breakfast today, I had
: green tea and boiled eggs
Three interesting things in my purse right now
: Tide to go stick, em's great cover up concealer and my passport
The one beauty product I can't live without
: My contouring stick "chiaroscuro" to perfect my selfie
One thing people would be surprised to know about me
: I prefer squatting while eating than sitting.