Body
Madonna Flaunts Tufty Underarm Hair
Has the 55 year-old icon returned to her hairy high school ways?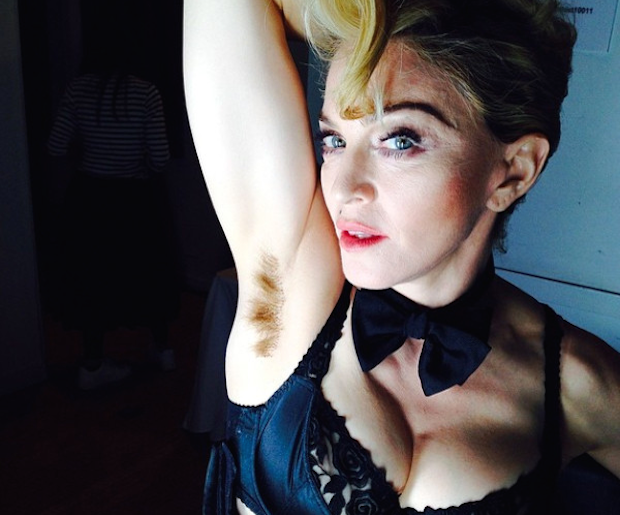 I doubt Madonna was jockeying for a gig with Dove's
Learn to Love Your Underarms
campaign but, for whatever reason, the 55 year-old "I'll try to shock you till I'm 6 feet under" superstar was flaunting her hairy pits via social media yesterday.
(That may very well have been the most vulgar phrase I've ever typed. Sorry.)
"Long hair.....Don't Care!!!!! #artforfreedom #rebelheart #revolutionoflove," captioned the hirsute Material Girl on Instagram.
A little Internet sleuthing revealed that she was taking a break from a high fashion photo shoot for L'Uomo Vogue when she felt the need to broadcast her personal grooming preferences.
Would You Try Shaving Your Face? Lots of the Cool Kids are Doing It ...
Fans of the Michigan-born, British accented star will recall that this is not the first time she's eschewed her Lady Gillette. As a teen failing to fit in at school, she went rogue and championed everything the popular kids didn't -- including shaving under their arms. In a 2011 interview with Harper's Bazaar, Madonna recalled being "tortured" by the boys who'd call her "hairy monster."
Look who's having the last laugh.
QUIZ: Who Said It? Madonna vs. Lady Gaga
In non hair-related Madonna news, yesterday
also
marked the debut of the first commercial for her Japanese anti-aging skin care line, MDNA. Check it out, she doesn't raise her arms once. Promise.