Makeup
It's Okay, Lucy Hale Has Beauty Regrets Too
The "Pretty Little Liars" star spills the secret to her angelic skin, her favorite products and the hard beauty lessons she's learned with age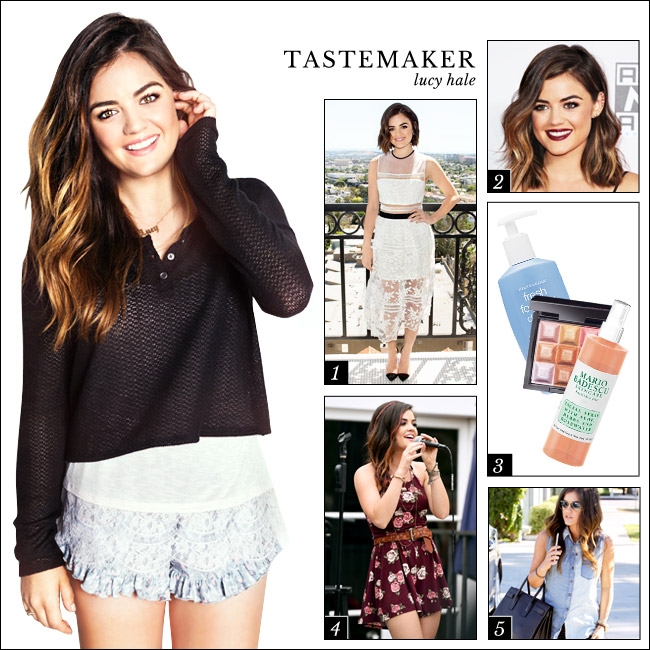 To say Lucy Hale has a huge following for her role as the eccentric -- yet relatable -- Aria Montgomery on "Pretty Little Liars" would be a massive understatement. Millions of fans tune into the mystery every week, and along the way, Aria's over-the-top outfits, hair and makeup have achieved their own cult status.
Hale's personal style is no less interesting. Her collaborations with celebrity makeup artist Kelsey Deenihan have brought forth edgy and memorable red-carpet beauty looks (cobalt liner and edgy bob anyone?). In other words, she's the perfect brand ambassador for the equally vibrant Mark Cosmetics.
A self-proclaimed beauty junkie, Hale was completely game to have us pick her brain about her must-have products, style staples and the hard beauty lessons she's learned in her career.
Total Beauty:
Aria has a pretty distinctive style. Is your off-camera look anything like it?
Lucy Hale:
I really love Aria's style. She doesn't shy away from anything. Aria is more extreme than I am. My everyday style is very relaxed and casual: a T-shirt, jeans and a really great leather jacket. Some days I'm a little more boho, some days I'm a little more edgy, but it's definitely much more toned-down than my "Pretty Little Liars" character. When I'm doing something like a red carpet, I take a few more risks. I've been playing Aria for six years, so if anything, it's helped me to sort of break out of my shell and be willing to try new things.
TB:
Last year you released Road Between, your country album debut. How has the country genre influenced your style?
LH:
I've always been attracted to a hippie-dippy vibe. You know, flower children, free people and the whole bohemian vibe. That side of my style sort of came naturally to me because that's who I am anyway.
TB:
As the ambassador for Mark, I bet you get to try everything. Which Mark products have made it into your everyday routine?
LH:
I love
Gloss Gorgeous in Bare
. It's my natural lip color, but just a little bit better. There's also
Touch and Glow
. They have pink and blush versions, and I'm so excited because they came out with a coral version. I feel like everyone looks good in coral.
TB:
How do you keep your complexion looking so flawless while you're shooting?
LH:
I love
Mario Badescu Facial Spray with Aloe, Herbs and Rosewater
. It helps to get regular facials too, especially because of all the makeup we have to wear when filming PLL. I see Molly at Kinara in Los Angeles.
TB:
There must be lots of late nights and early mornings on the PLL set. Do you have any tips for looking fresh -- even at 4 a.m.?
LH:
I always make sure to take off my makeup and wash my face before going to bed. I use
Neutrogena Fresh Foaming Cleanser
. I love
Murad Skin Perfecting Lotion
and lather on a lot at night. During the day it's the same regimen, but I add an SPF, and every other day I'll use
Lancer Exfoliator
.
TB:
Do you have any beauty regrets?
LH:
Oh, yeah! I've been through a brow evolution. There have been moments where I just should have put the tweezers down. But, I've figured that out along the way. I think I wore too much makeup when I was too young. Too much bronzer. You know, the raccoon eyes? Way too much eye makeup. When you're young, older people tell you that you'll tone it down. I used to think, y'all are crazy, I'll never be like that. But they were right!
Image Source:
FashionCrush