Makeup
Buy This F*ck Kavanaugh Lipstick That Benefits Anti-Sexual Assault Organizations
Seriously, buy it
Not quite sure how to channel all of your female rage at the moment? Lipslut is here to help.
The brand, most famous for its philanthropic bent and F*ck Trump lipstick, has just come out with the brand new F*ck Kavanaugh Matte Liquid Lipstick, $19.95: a gorgeous fall shade, specially made to benefit anti-sexual assault organizations.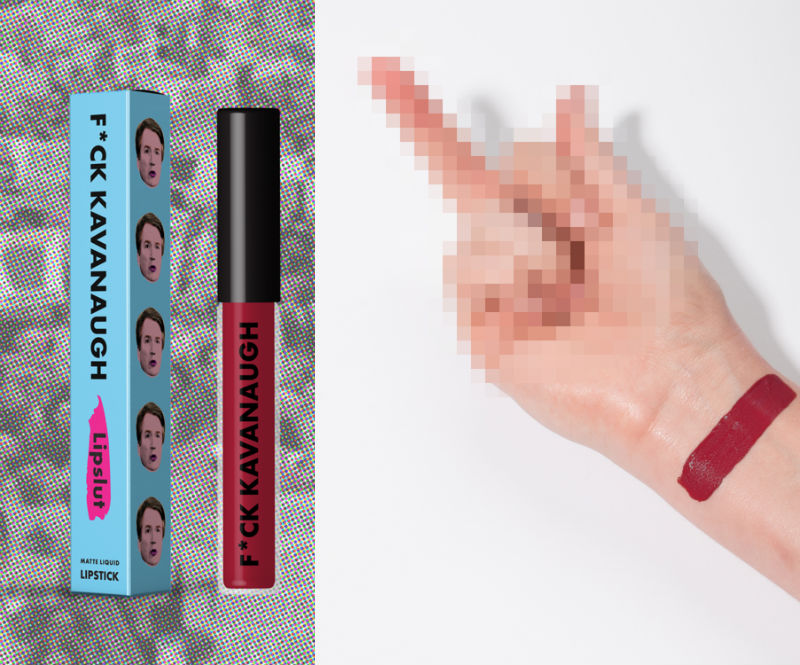 Everything about it is perfect, from the packaging emblazoned with Brett Kavanaugh's signature pout (now adorned with lipstick) to the creamy, pigmented swatch proudly displayed on a bird-flipping wrist. And the searingly snarky copy on the brand's website is the cherry on top: "Nominated by you, F*ck Kavanaugh matte liquid lipstick is a cool, calm, and collected deep red."
For the first week, 100 percent of the proceeds of the lippie will be donated to anti-sexual assault organizations (after the first week, 50 percent will be donated). Customers are even able to vote on which organizations the lippie will benefit — right now, you're able to choose from BetterBrave, End the Backlog, Equal Rights Advocates, Futures Without Violence, National Alliance to End Sexual Violence (NAESV), National Women's Law Center, NO MORE, Rape, Abuse and Incest National Network (RAINN).
This all comes on the heels of the wild, wild success of Lipslut's F*ck Trump and its F*ck Hollywood lipsticks, which have both raised tens of thousands of dollars. Heck, F*ck Trump alone raised $40,000 for Charlottesville, $100,000 for RAICES and much more.
So, what are you waiting for? Time to stick it to the man, benefit rad charitable organizations and rock a stunning matte lippie — all in one fell swoop!