Personal Essay
I Survived a Groupon Laser Treatment
Why jumping at the chance for a deeply discounted cosmetic procedure isn't always the wisest decision
I am not one of those people who was blessed with perfect skin -- not by a long shot. And, while this might sound overly dramatic to those of you with a pimple-free complexion (I hate you all), I think it's fair to say that acne is one of the most traumatizing skin ailments a young person can face (pun intended). You might as well be walking around with a permanent "kick me" sign -- except instead of it being on your back, it's on your face. Not everyone gets acne, but for those of us who do, it is a serious self-esteem killer.
Which is probably the reason why I did the unthinkable: I bought a Groupon for a cheap laser treatment. Even though my acne is now gone -- thanks to Accutane -- I have visible scars (not to mention emotional ones) from my adolescent years. The bargain basement offer promised to wipe away the physical reminders at a price a grad student could afford. Instead, it messed up my skin with a whole new set of scars.
Scarred for life
I first started getting pimples when I was 9 years old. I went through puberty very early, which meant I didn't look like any of my peers. I was wearing regular bras (training bras -- what are those?); my first period had come and gone; I started shaving; and best of all, I had a face full of acne.
I didn't really notice my acne at first. Like any girl that age, my main concerns were playing with Pogs, reading "The Babysitter's Club" series, and listening to my Backstreet Boys CD on repeat for hours at a time. But then I discovered boys -- and that changed everything. My first crush was an athletic blonde with piercing blue eyes -- I was convinced we were going to get married. And, lucky me, after months of pining over him, he asked me to be his girlfriend.
But, just days later, an older girl I didn't know confronted me in the cafeteria. According to her, my "boyfriend" was actually hers, and he would never go out with an "ugly, pimple-faced blob." When I looked over at my "boyfriend," he and his friends were all laughing.
If that weren't humiliating enough, he then yelled across the cafeteria, "How could you ever think I would go out with you? Why don't you go pop your pimples somewhere?" Ouch.
Accutane to the rescue
My acne only got worse as I got older. By 13, I wasn't just dealing with the occasional whiteheads and blackheads on my nose, I had severe red bumps that took weeks (sometimes months) to heal.
After my family doctor tried a few different topical prescriptions that had zero impact, she referred me to a dermatologist who took one look at my face and diagnosed me with cystic/nodular acne: basically, the most severe type of acne you can get. Lucky me. With this condition, bacteria spreads deep within the pores and forms painful bumps beneath the skin. It's difficult for the body to clear the nodules on its own and they often leave people with permanent scars -- I was no exception. That's when she decided to pull out the big guns and put me on Accutane.
The medication, originally developed as a chemotherapy treatment for brain cancer, is no joke. Sure, it's been proven to treat the most stubborn cases of acne, but there are a lot of risks associated with it. On the mild end, you get dry skin and need to avoid the sun and on the extreme end, you wind up with inflammatory bowel disease (yes, it's as ugly as it sounds). Luckily, I only got the former.
Lingering self-esteem issues
I was on Accutane for six months. When I finished it, my skin was completely clear. I didn't have an unsightly bump anywhere on my face, but I was left with reminders of the war I had fought. My cheeks were covered with small indentations that looked like chicken pox scars.
Every time I had to go somewhere I would put on heavy makeup to hide the scars. I would not go anywhere without makeup on -- not even the gym. I tried to find ways to improve my skin. Microdermabrasion treatments made my skin appear softer, but the indentations were still noticeable. When my esthetician told me it would take about 20 treatments to see the full benefits, at $80 a treatment, I couldn't afford to continue.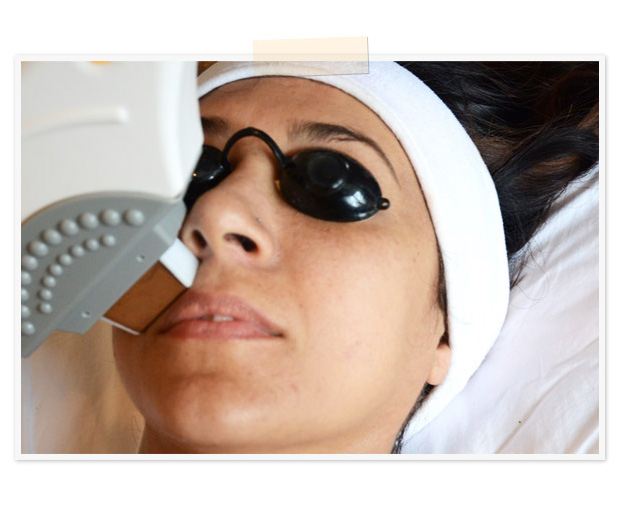 Groupon can fix everything
Because most treatments were too expensive, I'd pretty much given up on my quest for unmarred skin. That is, until the day I got an offer I couldn't refuse.
One day I got a little notification on my phone from Groupon that said, "four fractional laser treatments for acne-scar or stretch-mark removal for $280."
I had no idea what a fractional laser was, but the ad said acne-scar removal so I wanted it.
When I looked up fractional lasers, I was sold on the fact that it requires no down time. Whereas ablative lasers essentially burn off your skin to promote healthy healing, non-ablative lasers (which fractional is) bypass the top layer of skin and heat up the layer underneath to stimulate new collagen growth. According to my Groupon, the procedure would cause only a few days of redness.
I called the doctor's office and talked to the on-call nurse about what to expect. She was friendly and told me only nurses or the actual doctor would perform the procedure. I was satisfied with my research. From what I'd found,, fractional laser treatments usually cost around $400 for one treatment, so I decided I was getting a good deal and made the purchase.
My first fractional
I went in for my first appointment two weeks after buying the Groupon. The office was in Beverly Hills and they shared a building with a few other doctors, which put me at ease. The waiting room was small, but it looked clean and welcoming.
That's where my good first impressions ended. When I requested numbing cream -- I assumed it'd be standard since it can be a painful procedure -- the receptionist told me it would cost $10 extra. Okay, fine. Then she said I should have come in 20 minutes early, because it takes at least that long to start working. And I would have known this how? If I wanted to use it, she said, I'd have to push my appointment back an hour because they were on a tight schedule. Clearly, this all could have been avoided had they told me this when I made the appointment. I was annoyed, but I didn't have anywhere to go, so I sat there and waited for the numbing agent to take effect.
I expected to meet a doctor and have my face inspected before proceeding, but instead I got a young nurse who looked my age (or younger). I asked her when I would see the doctor. She said the doctor was out of the office for the day, but "nurses are more than qualified to do consultations and procedures."
She sat next to me, turned on a large machine with a fat pencil like contraption attached to it, handed me shielding goggles and we got down to business.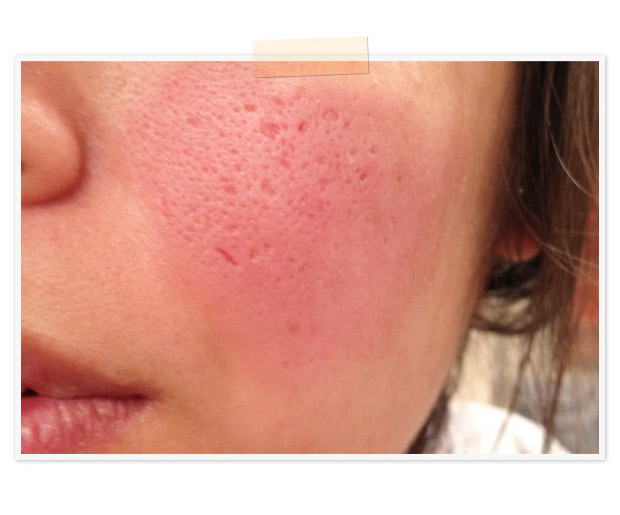 And then it was over
As soon as I got in the car, I looked in the mirror. My face was bright red and swollen. OK, I'd expected that. But there were also waffle-like imprints where the laser had passed over my face. No one in the office told me the machine might leave marks on my face.
When I called the doctor's office, the nurse told me the marks are pretty rare, but not to worry: they usually go away within a week or two.
So I went home and waited for my skin to heal. Within three days, my skin started to crust up and peel. It looked like I had two scabs on each of my cheeks. Also, my skin itched like I had a bad sunburn, and I had to be careful not to scratch or pick at it. As more skin peeled off, I could see bright, young looking skin underneath the dead skin. I was excited to see results from the first treatment.
But the excitement didn't last long. Three weeks after the fractional, my skin looked exactly the same as it did before. The reason my skin looked better as I was healing is because my face was still swollen. But when the swelling went down, my face went back to normal, acne scars and all.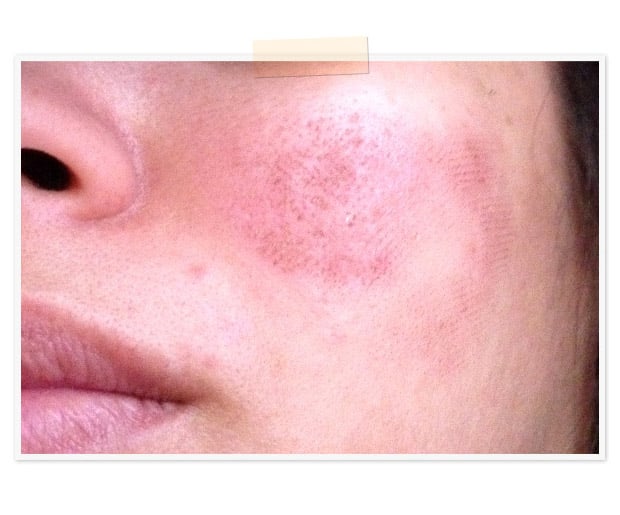 I was disappointed, but most web sites said you don't usually see results until the third or fourth treatment. So, without getting discouraged, I booked my second fractional.
Oh the horrors
When I arrived for my second visit, the receptionist said they were out of numbing cream. This seemed strange for a clinic that deals in painful procedures daily. But it wasn't enough to keep me from going forward with my treatment. Without the anesthetizer, the burning sensation was so strong, I had to clench my jaw to keep myself from screaming . I also got a different nurse -- she was not nice. When I asked her if I would get the waffle marks again she told me in an annoyed voice that they were normal. Clearly, not what I had been told previously.
I asked if I could see the doctor, but she wasn't there that day. (I was starting to think she was a mythical creature.)
I left the office angry in pain and with more waffle marks. This time, they were more noticeable and my face was more swollen. It didn't matter how much makeup I put on, you could still clearly see them.
Four weeks passed and my face still looked sun burnt and like I'd had a run-in with my waffle maker. I was not happy with the results, but for some reason I felt compelled to get my money's worth and booked a third appointment.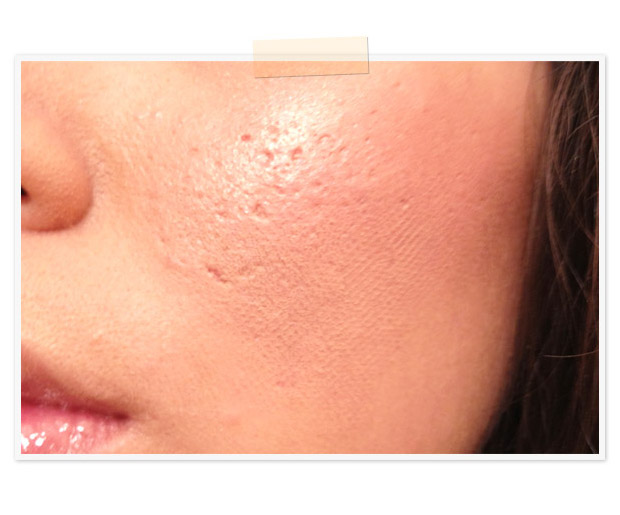 Same old story
On my third appointment the doctor STILL wasn't there and I had to see yet another new nurse. Considering my experience at that "spa," I wasn't too surprised when I went home with more waffle marks. I waited three weeks before I tried calling the doctor to ask why the marks weren't going away.
I probably shouldn't have been surprised when, upon calling, I was told again that the doctor wasn't in. I got over trying to contact her and started focusing on fixing the damage they had done. A month after the third treatment I started using over-the-counter retinol creams to reduce the new scars.
The Help Me cream from Philosophy helped me out a lot -- though it still took two nerve-wracking months before the waffle marks were completely gone.

They disappeared
As I waited for my skin to heal, I started looking up reviews on the clinic that messed up my face. I found a lot of awful stories from others claiming the office had scammed them. Apparently the spa had moved and switched doctors without telling their patients (not that the original doctor was ever there to begin with).

I saw reviews like, "WARNING!! IF YOU SEE THIS GUY ON GROUPON DO NOT BUY!!!!! I purchased this the last time he was on Groupon and it was honestly the worst experience of my life. There is a [group] lawsuit pending ... [which I've] joined. They left laser burn marks on my face that have cost me thousands to get repaired."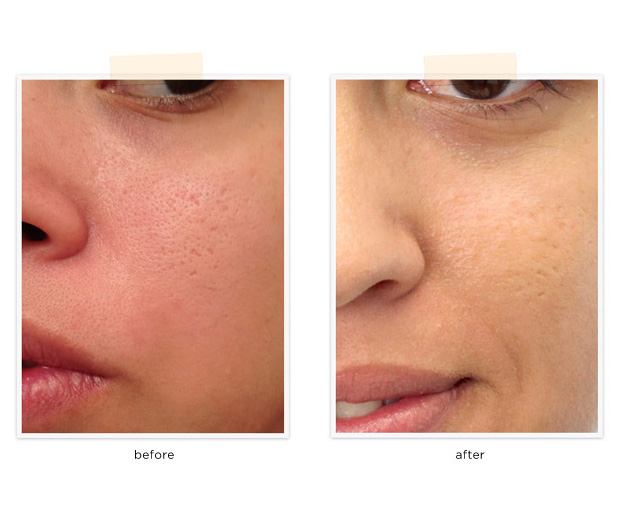 Lucky Me
The complaints about this office were endless. I couldn't find a single person on the Internet who was happy with the services they received. Where were all these reviews before I bought the Groupon?

Because I was able to reverse the damage they did on my own, I considered myself one of the lucky ones. Unfortunately, I spent almost $300 on treatments that only made my skin worse, and then I had to spend more money fixing their mistakes. My face looks exactly the same now as it did before the fractionals.

While there may very well be well-respected businesses offering Groupons and other discounts, I won't be trying any of them. The lesson I've learned is, you really do get what you pay for. This service seemed too good to be true, and clearly it was. I'll still use Groupons to snag a cheap cupcake or bottle of wine, but I definitely don't think I'll be purchasing discount cosmetic procedures from Groupon or any other coupon site in the future.