Skin Care
Warning: This Korean Spa Treatment for Glowing Skin is Anything but Relaxing
Get gorgeous skin the Korean way: naked, in a room full of people
I stood in front of my locker in my standard-issue, loose-fitting t-shirt and shorts, paralyzed.
Just do it
, I whispered to myself. Ignore the naked girl sitting behind you, reaching through your legs to get to her belongings. Forget about the over-exposed grandmothers running after naked toddlers, skin flapping in every direction.
If they don't care, why should I?
Instead, I fiddled with my locker, checked my phone for a few minutes and finally collected my belongings. On New Year's Day, in the heart of Seoul, after traveling 6,000 miles with this experience at the top of my must-do list, I could not bring myself to join in the
jimjilbang
(or Korean bathhouse) state of undress.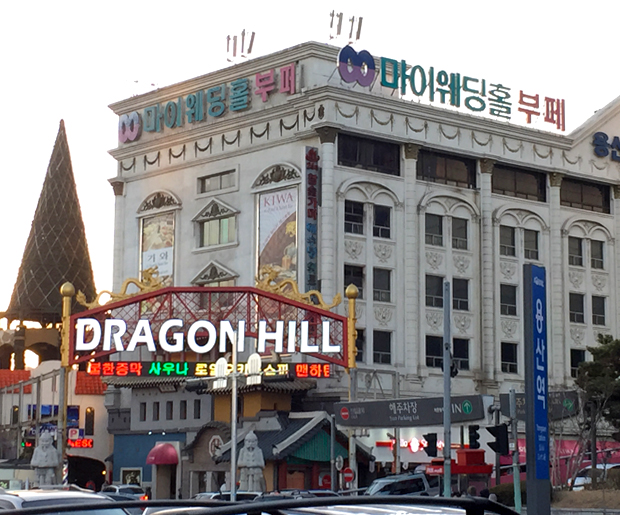 I left Dragonhill Spa, an enormous facility that is basically an amusement park for nudists, complete with a food court, arcade games and at least 100 crazed children, with a sense of resignation and failure. It wasn't just my cultural experience on the line -- being a beauty editor, I had already pitched a story to my editor about the freeing, detoxifying, life-changing Korean spa experience I
thought
I would have while in Seoul. Since I consider myself fairly free-spirited (I get jazzed about things like
eco-friendly cotton rounds
and I've never met a
flower crown
I didn't like), I thought I would be totally on-board for the whole group nakedness thing. But I wasn't.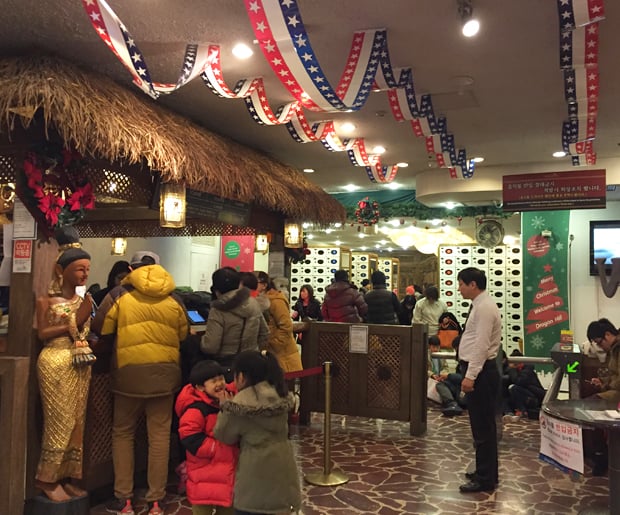 Which is why I found myself in the exact same situation a month later in Los Angeles.
"You're going to hate me, but you need to go back and get the full experience," my editor said. I waited until the last possible moment to go, hoping to stumble upon some get-naked courage before then. Google led me to Wi Spa, a co-ed facility (though the stripped-down areas are separated by gender) that is open 24/7 -- meaning I could go in the dead of the night when (I thought) no one else would be there. This time, I came prepared. I brought with me some paper face masks from Korea (you can find them on
Glowrecipe.com
in the States -- I like the Organic Seeds and Rice Fermented Hydrogel Mask), some monoi oil to slather in my hair and I booked an appointment for a scrub-down -- a quintessential Korean treatment that would force me to face my fears (and supposedly remove boatloads of dead skin, leaving me baby-soft).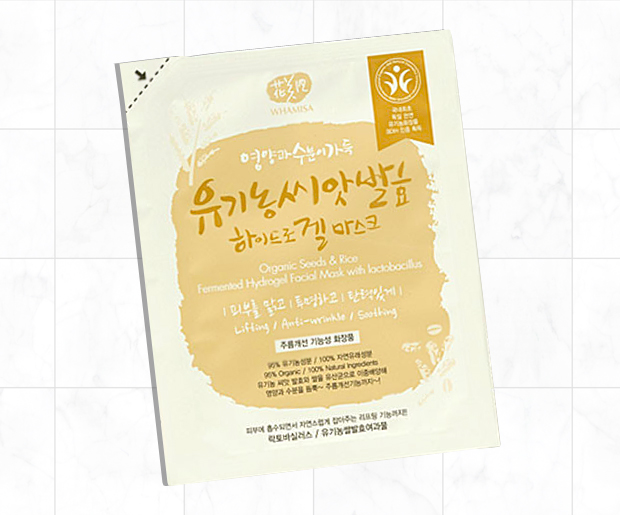 When I got to Wi Spa, I was greeted by signs that practically shout, YOU HAVE TO GET NAKED. RIGHT NOW.
The signage in the no-clothes area lets you know that modesty in the form of even a single piece of clothing is completely uncouth. While I had initially balked at the idea of bringing a friend (most Koreans go to the
jimjilbang
with their family or friends), I started frantically texting mine once I got there, now sure that a friendly face would ease my anxiety and make this more of a giggly, skinny-dipping experience than me facing a phobia. "CAN ANYONE MEET ME TO GET NAKED AT A KOREAN SPA? PLEASE :/?" was met with negative responses, given that it was 10 p.m. on a Sunday.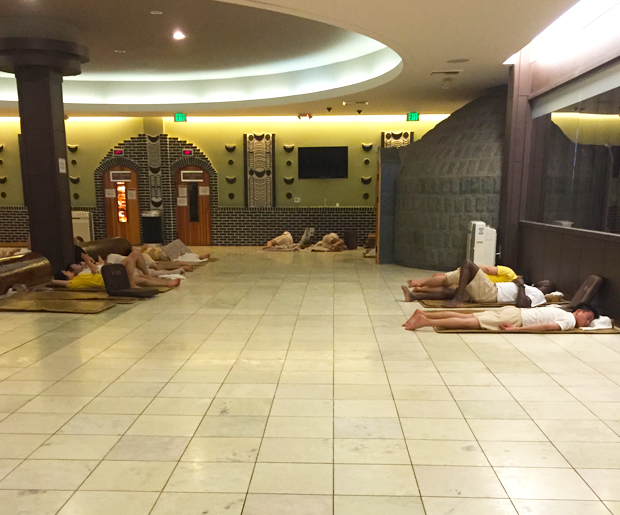 So I padded over to my locker (Korean spas have a no-shoes policy inside) and faced the inevitable. Not only was I afraid to be naked, I was afraid to be naked the
wrong
way. Like, what if I was a little
too bare
? Is that equally offensive? Should I use a towel? What size? (There were two.)
Right as I was about to Google "how to get naked at Korean spa," I overheard a mother giving her two young daughters a how-to lesson in Korean spa-ing. As she instructed them into the buff, one of them screeched, "NOW, MOM? WITH EVERYONE AROUND??" In my head, I thought,
I know, right? See? It's not just me!
But the mom just said, yes, right now, and verified that they should bring a towel. Bolstered by the thought that maybe everyone else is a little uncomfortable too, I followed suit.
And it wasn't. that. bad. At first, I held onto my towel like a security blanket. My routine went something like this: take a dip in the hot tub, get out because it's superhot, wonder how anyone could stay in there, cover self with towel, repeat. And then they called my number for the massage.
This was the true turning point of the experience. In a room with seven other naked women lying on plastic tables, I soon forgot about my modesty because the only thing I could think about was the pain.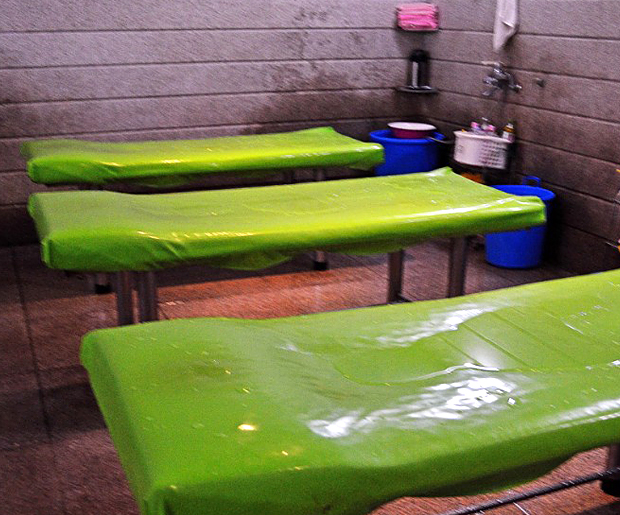 A older Korean woman dressed in black panties and a bra (apparently, it's not offensive to wear clothes if you work there) scoured me with a rough yellow mitt that I'm pretty certain is meant to erode decades-old mildew from bathrooms (and I was the bathroom wall). If meditating is focusing on one thought for a period of time, my mantra for 30 minutes was "ow."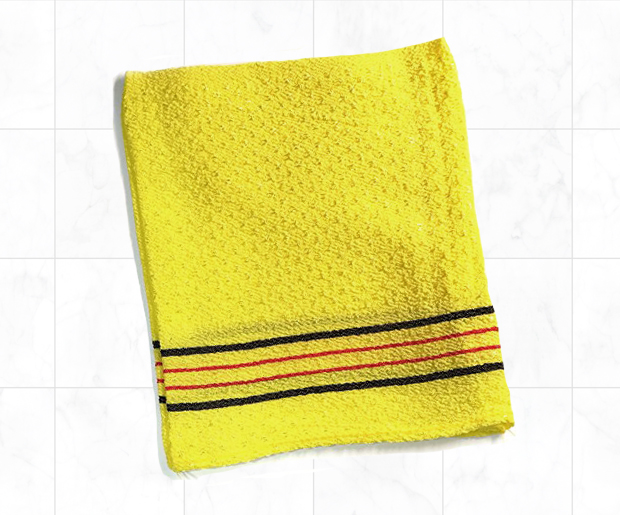 These ladies aren't kidding around, and it shows in their work. Little balls of my sloughed-off skin were flung everywhere. Once it was over, she pulled me up by my neck, grabbed my hand and squirted some St. Ives face wash into it, instructing me to wash my face, shower and come back for the second half. The massage that followed was as utilitarian as the scrub.
The best part, though, was the shampoo -- a time when fingers of steel are ideal. At the end of an hour, she knotted my hair up in the elastic she had snatched off my wrist and sweetly handed me a white envelope for a tip.
A little dazed, I wandered back out, sans my security towel this time. Along with a whole lot of dead skin, my
ddemiri
-- that's Korean for "scrubber" -- had scoured away all of my fears about being openly in the buff. It certainly wasn't a relaxing experience, but it did make me feel more comfortable in my (soft as a baby's bottom) newly shed skin.