Perfume
Shocker -- Katy Perry Is Way More Relatable Than We Thought
The pop icon dishes about her new perfume, her hatred of working out and the one thing she loves even more than fame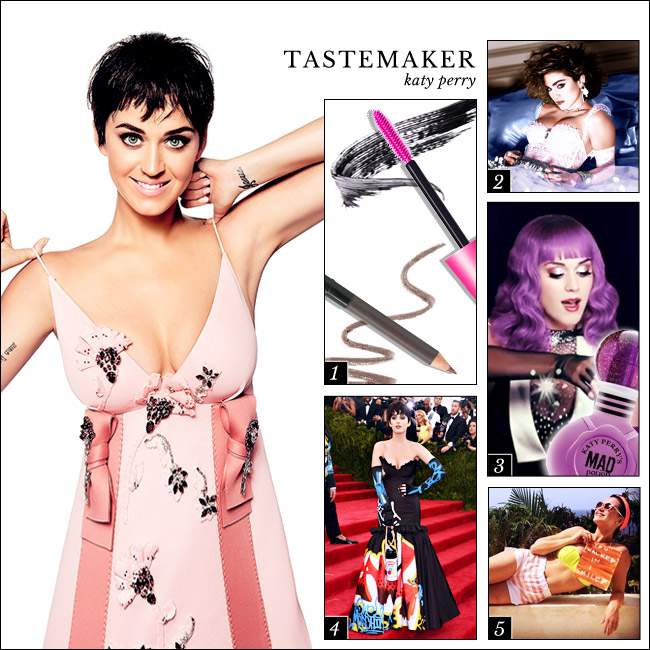 Known more for her cupcake-shaped brassieres and cotton candy lyrics than her grounded character, we were delighted when we sat down for an interview with Katy Perry to find that the pop sensation is really just one of the girls. Or one of the
gurls
, as it were.
We were invited to an exclusive chat with Perry to celebrate her new perfume,
Mad Potion
, an elixir Perry describes as "feminine, bold and mysterious."
"I love anything that makes you kind of edible to a person," she told us through a pair of flamingo pink lips, at which, along with her flawless skin and perfectly winged eyeliner, we tried not to stare.
Luckily, Perry's sincere charm made it easy to relax, as we dove into our candid conversation about her fragrance, her family, her evolution as an artist and more. Here, our exclusive interview.
1)
TB:
You've become such a beauty icon for your bold, larger-than-life looks. But what's your go-to look when you only have five minutes?
KP:
One of my little tricks is just lots and lots of mascara. I'm [all about] lash extensions these days. It's really fun to wake up feeling Bambi-ish and fresh. I've had extensions for like five years. I dye my brows. Then I use CoverGirl pencil and powder for my brows, lots of mascara and that's it.
2)
TB:
Your new perfume
Mad Potion
has a sort of scary, sexy, Tim Burton vibe. How does that represent your style now, as opposed to, say, five years ago?
KP:
I've never liked just one thing. I'm always drawing from a lot of different eras and putting it all together. But I really I like this purple-and-black situation -- it's a little magician-y, slash magician's assistant, slash good witch. And I guess that's just the vibe that I like right now. But I'm so many different vibes. It just depends on the kind of thing that I'm doing. I mean, if I were to make a music video next week, it would be, like, a totally different vibe. I just love to play. And I love to create really strong characters.
3)
TB:
So, your style has never been about just one cohesive thing?
KP:
Right. I guess my cohesive [thing] is not taking myself so seriously. We always have to evolve, you know? Someone like Madonna can do "Like a Virgin" and then do "Ray of Light." And that's such an incredible canvas. So, I like to evolve a lot.
4)
TB:
Looking back to before you were the Katy Perry everyone knows now, what's a piece of beauty advice you'd give to your teenage self?
KP:
I wore a lot of foundations that weren't right for my skin tone -- they were just
too white
. So, maybe to take a little extra time to match my skin color. And to stop picking at my face -- and to wash my face. Because when you're young, you just think you can sleep in [your makeup]. And you really can't. I wish I could say, like, sun damage or something, but I actually like the sun. I'm not perfect! I'm actually getting these little dots that are loss of pigment on my skin -- you get them as you get older. Eventually, I'll just look like this speckled monster, or pizza or something really strange.
5)
TB:
What's the best nugget of wisdom someone else has given you?
KP:
I've always heard that "mystery is history" and to be elusive is more interesting and stuff like that. But I've actually learned that transparency is more connective and relatable. So, just to be authentic to yourself and to the way you present yourself. Even if that means your opinion is different or that you look different, being authentic to yourself always wins, I think.
6)
TB:
On an average day in your life, what's the one thing you look forward to the most?
KP:
That's a good question. My sister just had the first child in my family, which is such a crazy experience. It brings everyone together; it heals a lot of wounds. It changes the whole dynamic of your family. I don't know if I'm exactly ready for the responsibility of raising a child, but I do get to slip in there and put her to bed every once in a while, and we always sing "Twinkle, Twinkle Little Star." All you need to fill yourself up is a child, who you're related to or who you love, to put their head on your shoulder and to need you. I've got everything in the world, but this is one of those feelings I've never felt. So I look forward to hanging out with her mostly every day, because we live so close.
7)
TB:
What's the one thing you look forward to the least?
KP:
Any kind of workout that isn't hiking with my girlfriends. I like working out on my own, but when someone is pushing me to work out because I need it, I just really can't. I do it -- but I don't like it.