Makeup
How to Get Your Paws on Katy Perry's Katy Kat Matte Lipsticks
We chatted with the pop star, and she shared her top makeup tips and raved about her favorite products from her new collection for CoverGirl
Katy Perry is a force to behold. At 5'8", she's taller and more statuesque than you'd imagine, seriously gorgeous IRL, and is not a subtle person. "I mean no offense when I give my answers, but I always tell it like it is," she says during our interview. "People can paint it however they want, and I don't care."
But it's clear she
does
care what people think about her new CoverGirl collection, which is more than just a spokesmodel gig -- Perry created these products. There are 13 shades of demi-matte lipstick (because completely matte lipsticks can be so drying they make you "look like you have a butthole in your face," she says), and two mascaras -- a classic black and a vibrant cobalt blue. And they're all available on
walmart.com
for pre-order now before rolling out to drugstores in July -- because accessibility is also very important to the pop star.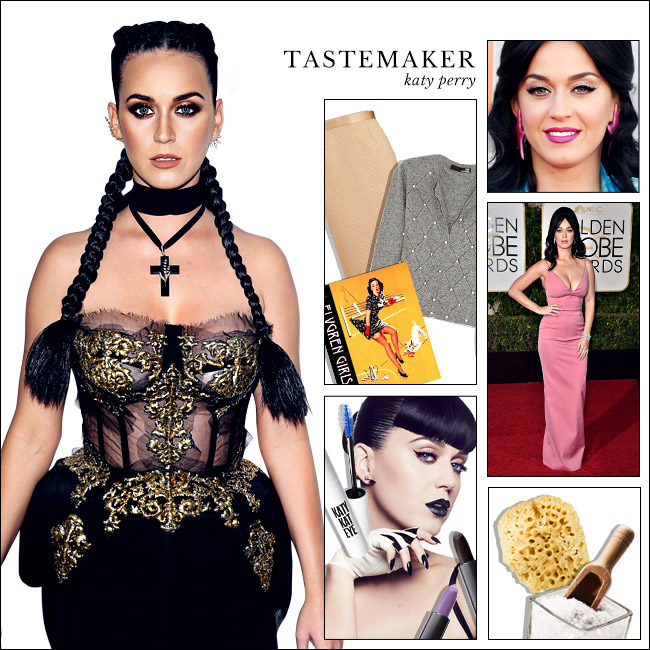 1)
On her CoverGirl collection:
"CoverGirl is a very classic line, and I grew up wearing it from the first time I started to experiment. It was the mascara that I went to. And it's a household name. But I wanted to push their ideas of what they think beauty is. That's why I included the Perry Panther, which is the black, and the Cosmo Kitty, which is kind of like powdery purple. And the blue mascara. I love the blue mascara. I don't think there is any other blue mascara in the market that I know of -- or Perry Panther, a black lipstick, so you're not using eyeliner on your lip -- for $6.99. Usually, these blue mascaras run $25, $35 -- somewhere in there. So I feel like it's such a great way for people to say, "Yeah, I'm going to give that experiment a chance." Otherwise, they wouldn't do it, because it's going to be too costly."
2)
Her first beauty inspiration:
"I started experimenting with makeup really early on -- like when I was 13. I thought I was a pin-up girl because I saw this book by Gil Elvgren about pin-up girls, and I didn't have any money and I had a budget, and I'd go to the stores and find the pencil skirts and the little cardigans with the pearls on them, and that would be my look because I couldn't afford Bebe."
3)
The beauty ritual that makes her happy:
"I think a really nice bath with Epsom salts always makes me happy. And I never know it until I get in."
4)
Her top lipstick trick:
"I put it on, and I always use a piece of tissue or -- if you don't have a tissue -- a little square of toilet paper, and I just pat it down. And -- this is an actual makeup artists' secret -- using the tissue, putting it on and then putting powder all over it."
5)
On looking her best on the red carpet:
"What I'm really interested in now is making sure things fit. I'm really good with shopping; I never try anything on. I just pick and point. From all those years of doing thrift stores and vintage stores, you have to train your eye. If something doesn't fit, and I'm going to hit a red carpet, I do multiple fittings now with tailors, and it's really boring and excessive -- just to make sure half my boob isn't hanging out, or my butt, if I don't want it to."