Hairstyles
Kardashian Hair Stylist Jen Atkin Reveals Her $5 Hack for Perfect Hair
The celebrity stylist spills the secret to Instagrammable hair
Hair mastermind and bestie to the Kardashian clan Jen Atkin is one of the most in-demand stylists in Los Angeles. When Atkin's not busy ruling the celebrity hair world and keeping the Kardashians' hair looking flawless, she's running her own line, Ouai Haircare, and leading workshops for other stylists at her Mane Addicts University seminars. So what goes on behind those closed doors? Apart from giving stylists step-by-step instructions for all the cool girl cuts and styles, she reveals Hollywood's best-kept hair secrets -- including how celebrities get selfie-worthy hair. We caught up with Atkin at her Mane University presented by Beautyworks class, where she spilled her favorite hair hacks, and how to get instantly Instagrammable hair.
So how do celebrities get such thick and swoon-worthy manes? Atkin says 90 percent of the time they're wearing extensions. "They're the best way to add fullness to the hair," she explains. And, yes, even stars with shorter hairstyles wear them. So don't be too hard on yourself when even your best thickening and texturizing spray doesn't give you the cool-girl lob of your dreams.
If extensions feel intimidating or like too much of a commitment, we get it, and so does Atkin, which is why she created her own hair extension line with Beauty Works. "Our Beauty Works Invisi-Clip-In Extensions work great, because they're so easy to apply," she says. The real remy hair snaps in in minutes for a completely seamless look.
What other hair hacks does the hair guru have up her sleeve? You'll never see her travel without a toothbrush -- but not for brushing. " I use a toothbrush for flyaways. While I'm usually about embracing the baby hairs, sometimes you want a very clean, precise look. A toothbrush is a great way to tame those tiny hairs," she explains.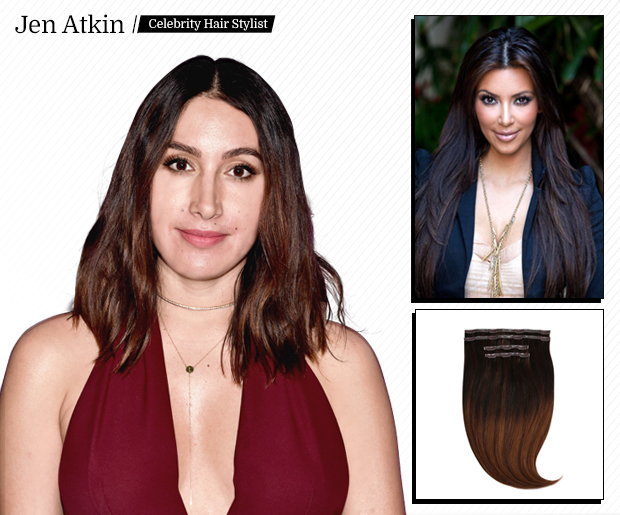 more stories