Nails
How Long Does it Take for Nail Polish to Dry -- Really?
Nail polish takes a long time to fully dry, but this DIY hack will dry nails quickly
If you've ever gone to bed with newly painted nails and woken up to find your hard work smudged, you've probably exasperatingly asked yourself this question: "How long does it take for nail polish to dry?" Spoiler: A while. But, there are a few ways you can speed up the process to dry nails quickly.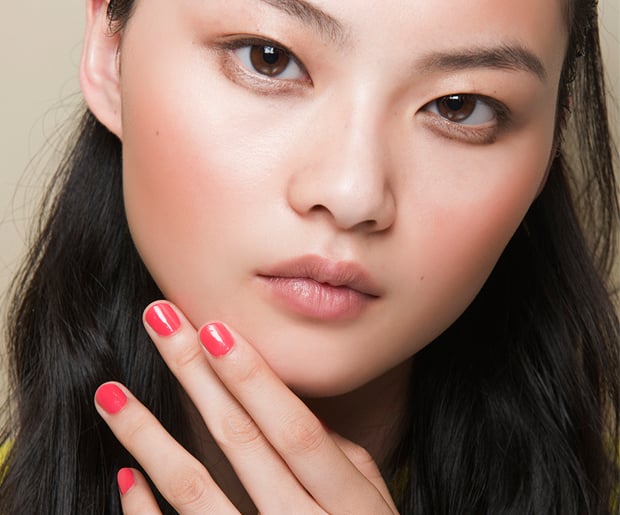 Image via Imaxtree
Dry Time
Your nail polish may look dry in just minutes, but if you've ever smudged nails that appeared set, you've probably realized that it takes longer than it seems. How long does it take for nail polish to dry? It can actually take a full 24 hours for polish to fully set.
Unfortunately, you can't lounge around for a full day while you wait for your polish to dry, so the more quickly you can get it to set, the better. Although there's no substitute for time, there are things you can do to make nails dry quickly -- well in advance of the 24-hour mark.
Thin Coats
Instead of spreading on one thick coat of polish, smooth on multiple thin coats. Allow two minutes of drying time between each. It might seem like this would make the process take longer, but it saves a lot of time waiting for your nails to dry.
Cold Water
Cold water is one of the quickest and easiest ways to dry your nails. Fill a bowl with ice water, and after your nails have had one minute to air dry, plunge your hands into the chilly water for two minutes.
Just as cold water is helpful, hot water is bad news for fresh nail jobs. Stay out of a hot shower for at least six hours after your at-home manicure.
Cuticle Oil
Cuticle oil is nourishing for your nails, but it can also safeguard your paint job. The oil provides an extra layer of protection between your polish and the outside world. Spread a thin layer of
Deborah Lippmann It's a Miracle Cuticle Oil
, $20, on top of barely dry nails to help them dry quickly -- and smudge-free.
Spray Fixative
Unlike cuticle oil, quick-dry sprays aren't particularly good for your nails. In fact, they can dry them out pretty badly, so you shouldn't make a regular habit of using them. However, for those times when you really need to dry nails quickly, instead of frantically Googling "how long does it take for nail polish to dry" with your wet tips, try using a spray like
OPI RapiDry Spray Nail Polish Dryer
, $10.95.
Hair Dryer
Nail polish drying time won't take long when you turn to your hair dryer's cool setting. Hold the blower about six inches from your nails and blast them for about one minute, or until the polish is set.