Hair
Hot Scissors Just May Be the Solution to Split Ends
Legend has it they were Cleopatra's go-to hair secret.
In a sea of celebrity hairstylists,
Arsen Gurgov
still stands out. Probably due to his cool and laid-back demeanor. He also has arguably the
swiftest hands in New York City
. In a matter of minutes, he can transform a head of hair from drab to runway-worthy. So it's no surprise that he's the go-to for everyone from
Katie Couric
to mega wellness influencer
Melissa Wood Tepperberg
, both are regulars at his sprawling Upper East Side salon. He's also considered to be at the forefront of a bubbling trend. We're talking about hot scissors.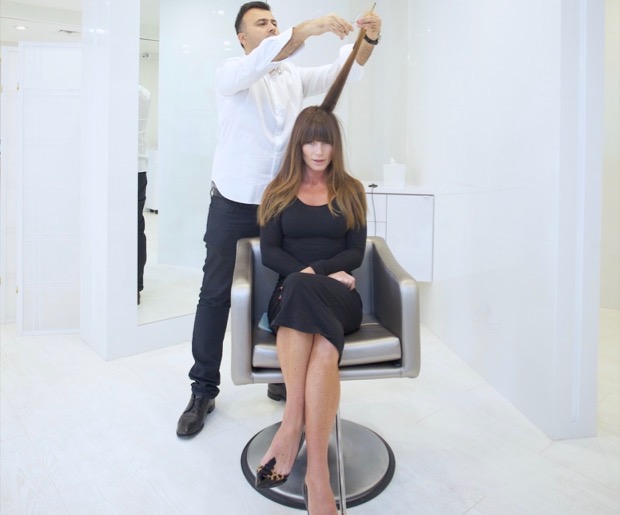 Image via Arsen Gurgov
"While they may look the same, the difference between hot scissors versus conventional scissors is that hot scissors seal the ends after you cut them, which ultimately prevents and helps get rid of split ends while locking in moisture," says Gurgov. "Traditional scissors, in contrast, open the cuticle and leave hair susceptible to damage."
Starr Mason, field educator at
Hair Cuttery
, also notes that this old technique, believed to be originated by Cleopatra in ancient Egypt, makes hair look thicker and healthier.
The temperature can be adjusted based on density and texture and hot scissors are safe for all hair types. Like all other haircuts, however, it's recommended that you have this done only by a licensed professional. Hair can easily be burned if the scissors are not used appropriately. "It's only with years of experience that one is capable of using the visual discretion required," explains Gurgov. Mason adds that strength, condition and moisture balance will determine what temperature will be safe for strands. But hot scissors should always be used on clean and dry hair.
Aside from hot scissors, when it comes to split end prevention, Gurgov recommends trimming hair every six weeks. You also should avoid shampooing your locks too much and work with a trusted stylist to decide on the longest length your hair can handle without losing its strength.