Health & beauty
Hayden Panettiere Tells Us Her Dream Beauty Invention
Plus, the "Nashville" star says her eyebrows are like girls on their period. This, you've got to read
When it comes to her eyebrows, "Nashville" star Hayden Panettiere is just like the rest of us: She has some gripes. "I feel like they're both on their menstrual cycles, but they're not synched," she says about her brows. "When this eyebrow is great,
this
one's on its period. When
this
eyebrow is great, this one's on its period. I'm like, 'Can't you guys just synch up like normal girls do?'"
Despite the hilarious analogy, Panettiere's eyebrows look pretty darn perfect to me. She credits Los Angeles brow guru Anastasia Soare, but since she's been filming in Nashville for the past 10 months, Panettiere's been DIY-ing. "Luckily, I know how to fake it," she says. I'm impressed.
She may be a brow whiz, but manicures are not Panettiere's strength. "My biggest problem is that I usually don't have the patience to let it dry," she says. "I don't know why they haven't come up with a nail polish where you put it on, and it stays wet until you put this top coat on, and then it immediately dries."
"Kind of like gels?" I ask. We discuss the downfalls of gel manicures -- like many of us, she hates the removal process. Then, a light bulb goes off: "Or a spray!" Panetierre exclaims. "It would be so epic if someone would come up with a spray that dries polish instantly. If anyone comes up with this because they read this article, they'd better call me and give me a piece of the pie."
And I bet they will. After all, Panettiere is one hell of a beauty spokesperson -- her skin looks Photoshopped in real life. It may not be revolutionary, but her top skin care tip is a good one: "Always make sure you take your makeup off and wash your face." She's dedicated to
Neutrogena Makeup Remover Cleansing Towelettes
. (I even caught her using one to clean a smudge off her white jeans before our interview.) She also suggests wearing less makeup to begin with, and opts for
Neutrogena Nourishing Long Wear Makeup
because it lasts so she doesn't need to pile on more throughout the day -- even when she's filming.
Before I leave, I ask Panettiere to fill out our "5 Questions" form. She's a good sport about it, though she says she can't draw, which makes her eyebrow-penciling skills even more impressive.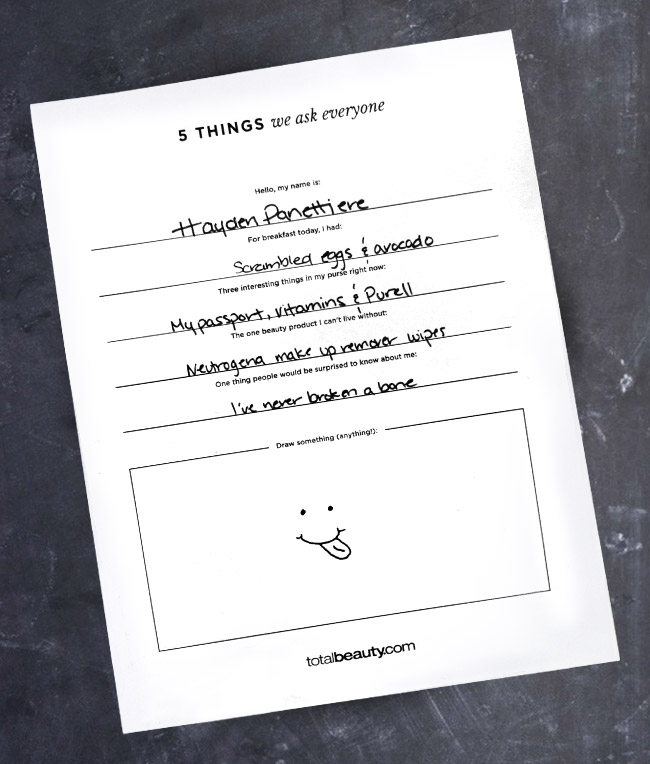 Want more beauty tips from Hayden Panettiere? Check out
these adorable videos
.
more stories