Hair
Shadow Isn't Just for Eyes Anymore
It's more versatile than you think.
You probably have heard of shadow roots, which involves covering your roots with eyeshadow. Allowing for a natural-looking contrast that helps cut down on salon visits. But shadow is even more versatile than that. In fact, well-placed shadow can actually cover up an uneven hairline disguising exposed skin spots on the scalp that creep up because of a tight updo or due to thinning hair.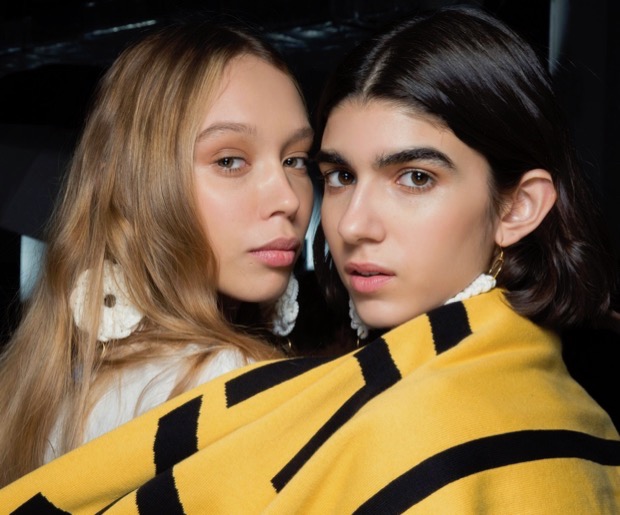 Image via Imaxtree
That's where Madison Reed's The Great Cover Up Root Touch Up, $32, comes in handy. It's designed to cover roots and grays, but actually works wonders on skin as well.
"Using a colored hair powder or spray on the scalp skin so that the contrast with your hair isn't as stark is a great way to go," says hairstylist Eloise Cheung. "Besides Madison Reed, I also love Color Wow. They have some good, long-lasting compact color powders that are handy to travel with for touch-ups in a range of colors. Oribe and Rita Hazan have color sprays that do that same thing and don't run with sweat or if you get caught in the rain. Following that, use some old eyeshadow that matches your hair color and set with a mist of hairspray after."
Your hairstyle can also make a big difference when it comes to minimizing exposed scalp skin.
"A deep side part or zigzag part work best to minimize scalp showing," says Nunzio Saviano, hairstylist and owner of Nunzio Saviano Salon. "Before putting hair up hair needs to be prepped with texturizing spray, the more texture fine hair has the thicker it will look so don't be afraid to tease it at the roots. After the updo is done and in place, you can use eyeshadow that matches the color of your hair at the root to minimize the appearance of skin showing."
You can also use Toppik as the final step. "When it comes to hair color sprays and fibers, Toppik is my favorite," says hairstylist Monae Everett. "Make sure to use a color a little darker than your roots. My go-to color is dark brown."