Makeup
Anatomy of a Red Carpet Face: Kate Mara
Find out what it takes to create a Golden Globes-worthy makeup look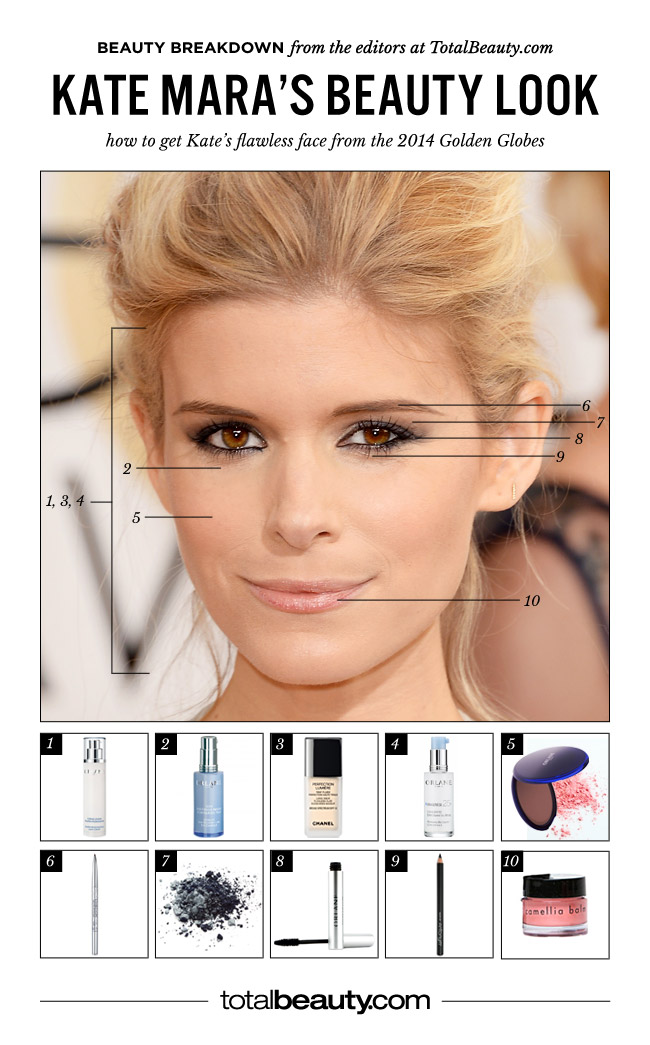 The makeup at the 2014 Golden Globes ranged from minimalist to vampy. But when it comes time to look to the red carpet for real-world inspiration (date night, a friend's birthday dinner), we'll be turning to the pretty, wearable looks that fell somewhere in the middle.
Newly blonde Kate Mara -- wearing makeup by makeup artist Coleen Campbell-Olwell -- is at the top of that list. It's modern and on-trend (
everybody's
doing a nude lip this season), without being too much.
Here's the 10-plus product arsenal Campbell-Olwell used to make it happen:
Skin (1 and 2)
: "I started with
Orlane Super-Moisturizing Light Cream
, $165, and massaged a liberal amount into her skin so it would be really hydrated. Then, I applied the
Orlane Absolute Skin Recovery Eye Contour
, $120, around the eyes the keep the skin really smooth. This product is really great for prepping the eyes for concealer, and since we were doing an intense eye we wanted the area to be nice and smooth."
Face (3 and 4)
: "I mixed
Chanel Perfection Lumiere Foundation
, $55, with one to two drops of
Orlane Morning Recovery Concentrate
, $100, and applied with a sponge. The Morning Recovery Concentrate gives the foundation an instant radiance and adds more luminosity to the skin."
Cheeks (5)
: "I then contoured the cheeks just a little bit with the
Orlane Bronzing Pressed Powder
, $45, using a swirling motion with the brush so that there wasn't a concentration of color. We didn't want a bronze look at all so we just added a bit of the bronzer for more depth." She used
Stila Convertible Color
in Rose, $25, on the apples of the cheeks.
Brows (6)
: "I used the
Dior Diorshow Brow Styler
, $29, to give her more arch in her brows. It also helped to give them a fuller look."
Eyes (7, 8 and 9)
: "For her eyes, I first used
Antonym Certified Natural Eye Pencil
in Noir, $18, on the waterline and along the top of the lash line to add more intensity to the eye. That was blended out to create a smoky effect. I then added a navy and gray shadow (by Tarte) along the top of the eye and a little bit underneath, close to the bottom lash line. To finish the eye, I used my favorite mascara
Orlane Volume Care Mascara
, $35. This mascara is
amazing
and helps to give great depth and length."
Lips (10)
: "As for her lips, I just added a nice balm --
Julie Hewitt Camellia Lip Balm
, $16 -- to compliment the already beautiful lip color she has."