Hair Care
How to Do a Faux Bob in 8 Easy Steps
Considering chopping off your hair? Try this faux bob tutorial first. It's got all of the drama of short hair, minus the commitment
Every time I see a photo of a celebrity with newly chopped short hair, I immediately think, I need to cut my hair now. Sadly, following through on that whim has never ended well for me. Remember Ashley Olsen's angled bob, circa 2009? I got that haircut. I loved it for, oh, about two weeks ... until I realized my hair would take forever and three years to grow back. I vowed I would never get a short haircut again (Ditto: bangs. That was an even bigger disaster). But then Lucy Hale had to go and get the cutest, chicest bob ever -- tempting me yet again to do something I know won't end well for me. I was on the verge of heading to my hairstylist when I found out it was faux.
Suddenly everything clicked. Why not just fake a bob? No commitment -- and no agonizing two weeks later when I realize I hate my hair short. Full disclosure: I am severely challenged in the hairstyling department. I can create all kinds of makeup looks blindfolded (yep, I did this makeup), but hair? Not so much. I thought the faux bob would be too complicated, but I was surprised by how easy it was. Scroll to the bottom to see how to fake a short style in eight easy steps.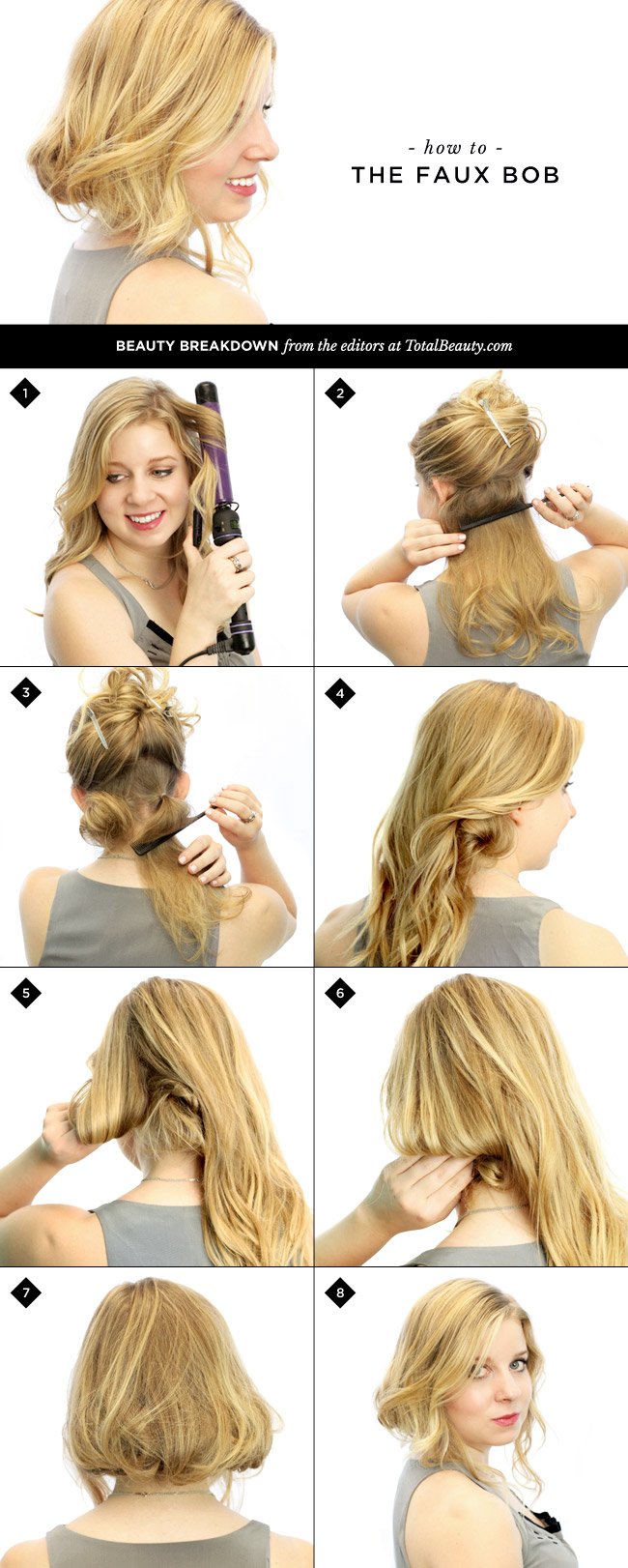 Step 1:
Create the Curls
Mist a heat protecting spray onto dry hair, then curl 1- to 2-inch sections of your hair using a 1 ¼-inch barrel curling iron. Make sure to hold the iron vertically, curling away from your face as you go. You need these all-over curls to add body and texture to the look.
Step 2:
Divide and Tease
Once all of your hair is curled, horizontally divide the bottom 3-inch section of your hair at the nape of your neck. Clip the top portion out of the way, then tease the bottom section gently at the roots.
Step 3:
Secure the Base
Next, divide the bottom portion vertically into two even sections. Secure one of the sections at your roots with a clear elastic. Tease the ends using a fine-tooth comb, then wrap it loosely around the base of the elastic to form a bun. Secure with a mini bobby pin. Repeat with the opposite side.
Step 4:
Let Loose
Unclip the top portion of your hair, allowing it to fall loosely over the buns you've just created.
Step 5:
Tuck and Roll
Wrap a section of the top portion of your hair around your finger to prep before pinning. Make sure to wrap loosely and evenly, creating a even fold before you pin it to the buns formed underneath. If your hair is really long, tease each piece before wrapping it around your finger.
Step 6:
Pin It
Once your roll is formed, use a bobby pin to secure it at the base of the bun formed at the nape of your neck. Slide the bobby pin up and then reverse it down, twisting to ensure secureness.
Step 7:
Repeat
Continue wrapping, tucking, and securing pieces of your hair with bobby pins at your roots to form the bob, leaving a few face-framing pieces loose. Use the buns as leverage for securing your bobby pins as you go. Then, tug on the bob loosely to create a tousled, slightly unkempt look.
Step 8:
Voila!
Re-curl any face-framing pieces as necessary to add volume and definition to the front of your style. Finally, finish by misting with a strong-hold hairspray.