Skin Care
Here's What Evening Primrose Oil Will Do for Your Acne
Evening primrose oil acne treatment may become an essential component of your daily beauty routine
Evening primrose oil acne treatment offers a natural method for relieving breakouts. The supplement is probably not going to be a single-handed powerhouse that clears your skin all by itself, but it is known to be helpful. Ahead, learn what this supplement is and how it might help hormonal acne.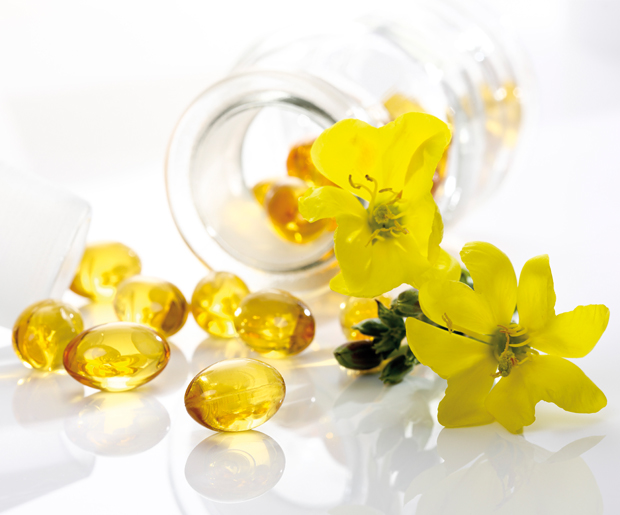 Image via Creativ Studio Heinemann/Getty
What It Is
Evening primrose oil is pressed from the evening primrose plant, a North American wildflower. The oil is extracted from the plant's seeds. It is often sold in capsule form but can also be purchased in liquid form.
How It May Help
This natural oil is a valuable source of an omega-6 fatty acid called gamma-linolenic acid, or GLA. This nutrient may have several benefits for your body and skin. It is believed to be an anti-inflammatory substance, which can help to combat the irritation and redness associated with acne breakouts. It may also help your skin to stay hydrated. There is also the possibility that it will help balance out your hormones because the GLA converts to a prostaglandin that has hormone-like effects on the body. All three of those benefits can translate to more balanced, clear skin.
It's worth noting that, although many people swear by using evening primrose oil acne treatment, scientific research is not yet able to back up those claims. Despite that, dermatologists often recommend this supplement because they've seen it make a difference for their patients. Most dermatologists who recommend it suggest using it with other anti-acne products for a well-rounded approach to fighting blemishes.
How It's Used
Evening primrose oil acne treatment can be used both topically and internally. To apply it directly, you can mix it with a carrier oil, such as grapeseed oil, and smooth it all over your skin. It can also be used as a spot treatment on dry patches or inflamed spots. To use evening primrose oil topically, you can either buy a vial of it, such as the organic variety from
Mountain Rose Herbs Evening Primrose Oil
, $15, or break open a capsule, like
Oregon's Wild Harvest Evening Primrose Oil
, $24.45.
To really get the hormone-balancing effects of this oil, many experts recommend taking it internally. Capsules are usually the easiest way to go about supplementing your diet with evening primrose oil. Ingesting it puts it right into your system, where the fatty acid is converted to prostaglandin to help regulate your hormones. A general rule of thumb is to take one or two capsules a day. However, it is best to follow the recommendations on the bottle or from your doctor.
What Else You Should Know
Although naturally-derived, this oil can interact with some medications. Antidepressants, blood thinners, and blood pressure medications do not mix well with its use, for example. As with all supplements, it's best to take this one under the supervision of a doctor's care, so check with your dermatologist for his or her evening primrose oil acne treatment tips.