Skin Care
Get Demi Lovato's Glowing-Skin Secrets
The star dishes on why she created her own skin care line
If you had a skin-care line, do you know what you'd call it? Pretty tough decision, right? Demi Lovato didn't know either, which is why she named it Devonne. "Devonne is my middle name," says Lovato. "I honestly didn't know what to call it," she laughs.
Though her skin-care line (consisting of three products, including a
radiance mist
,
facial cleanser
and
moisturizing primer
) is only recently launched, Lovato has been dabbling in the business since she was young. "When I was a kid, I'd find recipes in books to make my own face mask. I learned how to make a lot of natural face masks just from stuff in my kitchen," she says.
Lucky for us, she decided to use that early ambition to create her "dream products," as she calls them, instead of signing on as the face of an existing brand. "I've gotten a lot of endorsement offers, but if I don't use it I'm not going to put my name on it," says Lovato.
So how does Lovato decide what makes a dream product? "I listen to my skin," she says. With a job that requires three cellular devices and a precious pooch to look after, Lovato's best advice, no matter how busy you are, is to take time to figure out what your skin wants. "How much oil is it producing, is it too dry, does it need less moisture? I pay attention to that."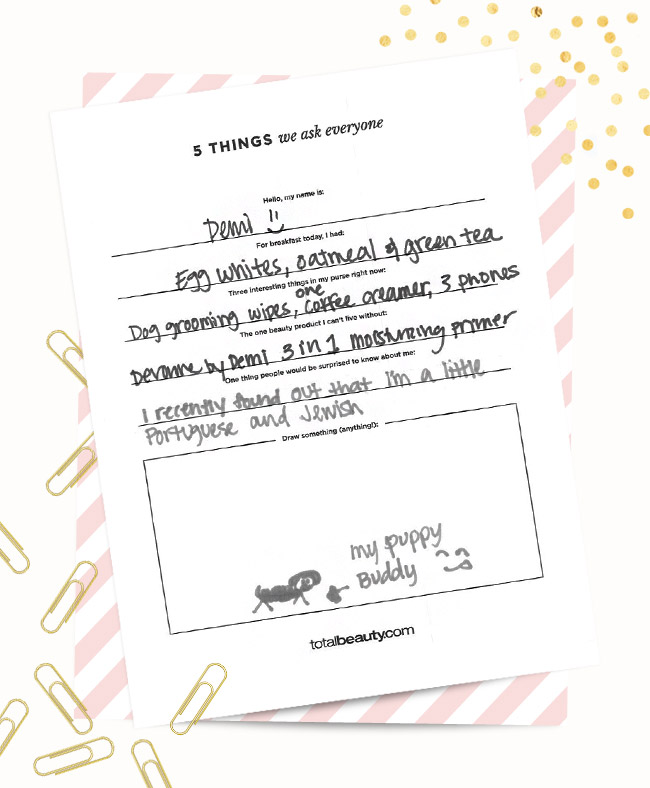 Hello, my name is
: Demi
For breakfast today, I had
: Egg whites, oatmeal and green tea.
Three interesting things in my purse right now
: Dog grooming wipes, one coffee creamer and three phones.
The one beauty product I can't live without
:
Devonne by Demi 3-in-1 Moisturizing Primer
One thing people would be surprised to know about me
: I recently found out that I'm a little Portuguese and Jewish.