Makeup
Clavicle Contouring (And Why You Might Want to Give it a Shot)
Never given much thought to your collarbone before? It may hold the key to a more "lifted" look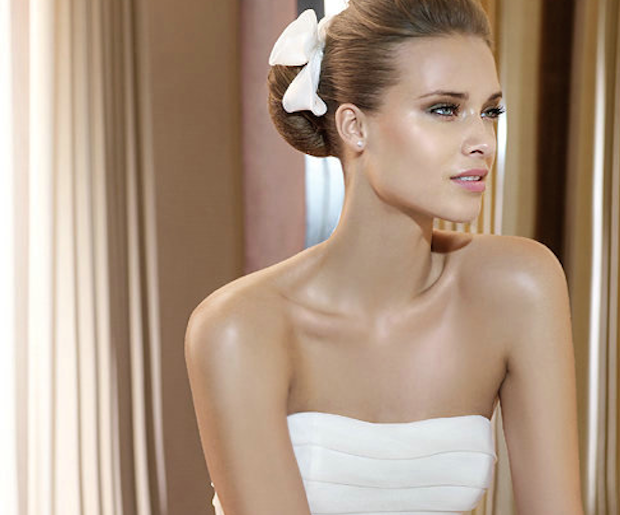 According to the folks at
Fashionista
, clavicle contouring is a secret ace in the hole that the cognoscenti of the beauty world pull out of their back pockets when a little extra oomph is called for.
Typically deployed for major events like a wedding or a red carpet foray, contouring one's collarbone can impart a more "lifted" look to your body by helping to define your "lines". Translation: If you accent your bones
just so
you'll look more angular and dancer like.
Naturally, this trick isn't something you need employ if you're wearing a turtleneck or anything else that covers up your shoulders but if you have a strapless dress or a cute tube top lined up for an event this summer, you may just want to give your clavicle some love.
READ: 5 Ahh-Mazing Contouring Tutorials
Here, according to Smashbox's Laura Scheirhorn, is how to call attention to this under-appreciated part of your body in two simple steps:
• Apply a shimmery body moisturizer to your entire upper body. (Scheirhorn and GOOP-y Gwyneth both give two phat thumbs up to
Prtty Peaushun
for just this sort of thing.) Follow with a douse of
luminizing primer
over the exposed chest area.
• Swipe a facial highlighter that's at least a shade lighter than your complexion on top of your collarbone -- anywhere you imagine the light would/will hit it. "I'll apply it literally right on top of the collarbone so that it's popping up a little bit and it gives a beautiful, really ethereal contrast," Scheirhorn says. (Smashbox makes the
Halo Highlighting Wand
which "changes the way light reflects on the skin" that's perfect for use in this situation.)
And, that's it -- much more simple than attempting to contour your face and purportedly the type of thing from which compliments are born.