Beauty Tips
Cameron Diaz Goes Makeup-Free For The Body Book
Plus Kim's favorite dark circle product, Karlee Kloss gets scary with sharp knives, and more of the top stories of the day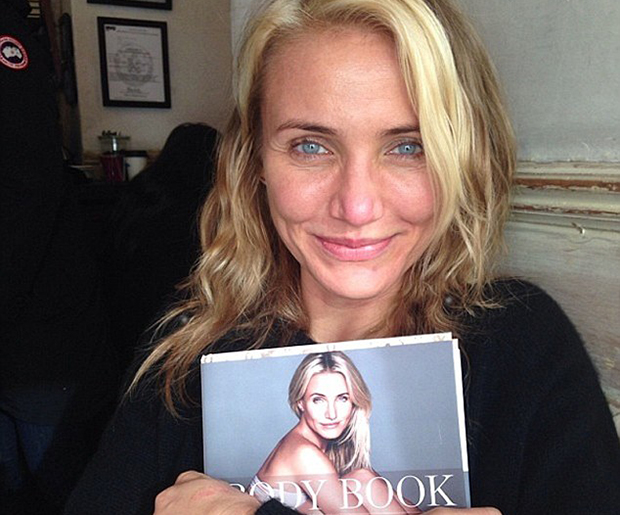 • Cameron Diaz went makeup-free to pose with her new health tome,
The Body Book,
all about how to make healthy eating choices. The book features advice from Cam, along with some of her famous friends, including J. Lo, and Drew Barrymore. But, she says, it's not a "diet" book, and won't offer tips on how to stay thin. She decided to write it after her father died in 2008. "Everything changed," said a source close to the actress. "She realized what is important and started to think more and more about her health." [
Daily Mail
]
• You want to lose weight? So stick some pictures of healthy food on your fridge and
dunzo
. Researchers found that the pics act as a subtle visual reminder of you healthy eating goals -- and it really, actually works! Good idea, right? [
Daily Makeover
]
•
Any
clue what dragees are? Yeah, us either. But apparently they're chocolate- and candy-covered almonds that are served at wedding receptions and supposedly represent fertility. The more you know. [
CNN
]
• Karlie Kloss stars in a new, slightly murderous fashion vid for Tamara Mellon, looking glamorous and slightly feral as ever. It's called "High Heels and Sharp Knives."
Tamara Mellon | High Heels & Sharp Knives 2013 from Tamara Mellon on Vimeo.
[
Styleite
]
• Kim Kardashian's under eye circle solution is a $10 product from Shiseido called Benefiance Pure Retinol Instant Treatment Eye Masks. They're sold in packs of six, but Kardashian swears by them, and wrote on her blog that "This keeps my eyes looking fresh and free of any dark circles!" which is like a mega-rousing endorsement from Kim K. if ever there was one. [
Daily Mail
]
• For real, how would you feel about drinking murky brown water? What if we told you it supposedly could strengthen your immune system? Supposedly Purblack Live Resin, considered a "healing superfood" can do just that simply by adding a pea-sized amount to your drinking water. But it'll also make your water turn a poo-brown shade. So ... trade off? [
PurBlack
]