Diet
The App That Changed the Way I Shop for Groceries
How I find the healthiest foods for my family with bare-minimum effort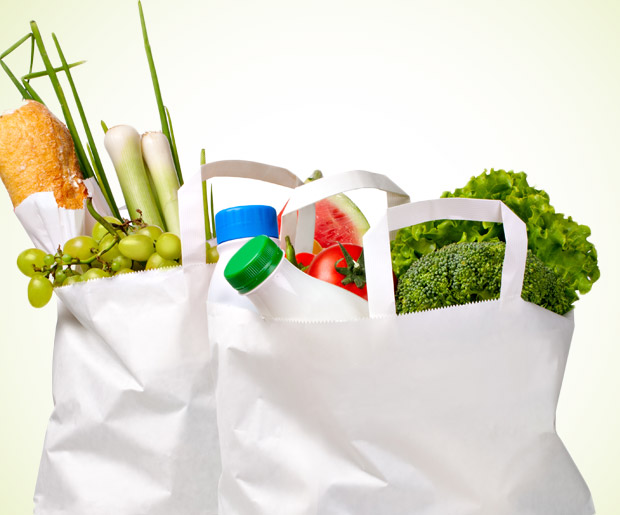 Nobody really likes grocery shopping -- I love hitting the farmers market, but not the indoors, up-and-down-the- aisles kind of grocery shopping. So if there's a way to spice up my weekly trip to the market, I'll totally take it. And I just found one: Dirty Dozen.
The Dirty Dozen is my salvation. It's a free app from the Environmental Working Group that compiles the 12 fruits and veggies that are the most contaminated with pesticides, so you know which ones you should be buying organic. Just as important, it lists the Clean Fifteen. These are the produce items that rarely have more than one type of pesticide residue, so if I can't find organic options, I buy from this list whenever those crops are in season. I'm not gonna lie, I kind of don't want to tell you the Clean Fifteen so you have to download the app -- but I will:
1. Avocados
2. Sweet corn
3. Pineapples
4. Cabbage
5. Frozen sweet peas
6. Onions
7. Asparagus
8. Mangoes
9. Papayas
10. Kiwi
11. Eggplant
12. Grapefruit
13. Cantaloupe
14. Cauliflower
15. Sweet potatoes
By the way, there's another super-easy way to get fresh organic produce: Sign up for a community-supported agriculture program. I have no idea why more people don't sign up for a CSA. Everyone totally lost it when Amazon Fresh grocery delivery came to L.A., but CSAs have been around ages, and you can get seasonal, organic fruit and veggies, eggs and even dairy from local farms delivered straight to your door.
I sometimes order from FarmBox LA, which is similar to a CSA and even delivers humanely raised, organic meats. I'm a vegetarian, but I've gotta say, word on the farm is that these animals pretty much get manicures and pedicures all day.
Go to LocalHarvest.org/CSA to see what programs are available in your area.
Mind. Body.
Natural Beauty.
with guest editor Kristen Bell

Back
to top