Skin Care  |  SPONSORED CONTENT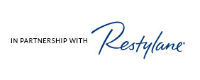 5 Things You Need to Know About Hyaluronic Acid
Hyaluronic acid is an ingredient found in many skin care products as well as injectable fillers. Find out how it may benefit you -- and why it may be time to talk to your doctor about hyaluronic acid treatment.
1
So why all the hype?
While scientists are still learning all the reasons hyaluronic acid is so essential for healthy-looking skin, they know it seems to help fight signs of aging.
2
Some things to know:
1. You Already Have Hyaluronic Acid in Your Skin
Hyaluronic acid is a molecule that's made up of sugars. It already exists in your skin, as well as connective tissues throughout your body. It's a slippery substance that helps keeps skin plump and moisturized and joints moving smoothly.
3,4
2. Hyaluronic Acid = Mega Moisture
One reason why hyaluronic acid is such an amazing ally for your skin: It can hold up to 1,000 times its weight in water.
5
That means when it sits on top of your skin, it fills up with moisture and keeps skin feeling hydrated. But there's a downside: Hyaluronic acid molecules are large and, therefore, can't penetrate deeply into the skin.
6
The benefits are superficial and temporary -- but you can prolong them.
3. Hyaluronic Acid Can Restore & Enhance Your Facial Features
One bummer about hyaluronic acid? With age, our natural stores of this face-plumping substance begin to diminish.
4
Fortunately, a qualified doctor can inject fillers like Restylane, which is a gel formulation of hyaluronic acid,
1
to help improve the appearance of the face in numerous ways. Restylane can be used to help fill in the folds around your mouth (known as laugh lines, or more officially as nasolabial folds) or can be injected in the forehead to soften horizontal lines.
1,7,8
But hyaluronic acid injections don't just smooth wrinkles. Restylane can also be injected to create the appearance of more defined cheeks, a contoured jawline or fuller lips.
1,9-11
4. Hyaluronic Acid Injections Can Be Tailored to You
Unlike using creams or lotions, injecting hyaluronic acid allows a doctor to tailor treatment to each person's unique needs. For instance, if you have lines on your forehead and around your eyes, the right HA filler, like Restylane, can be used in just these areas to help add volume and smooth wrinkles.
8
5. Hyaluronic Acid Supplements
Looking for another way to reap the benefits of hyaluronic acid? It's available as a dietary supplement in capsule form, which some patients use for joint pain.
12
While there's evidence to suggest that taking hyaluronic acid supplements promote collagen production,
12
it's hard to say how much of the hyaluronic acid is broken down in your digestive tract before it delivers on these claims. As with all supplements, proceed with caution.
References:
1. Restylane Lidocaine Instructions for Use.
2. Gold, M. Clin Interven Aging 2007;2(3):369-376.
3. Papakonstantinou E, et al. Dermato Endocrinology 2012;4(3):253-258.
4. Distante F, et al. Dermatol Surg 2009;35:389-394.
5. John HE and Price RD. Patient Prefer Adherence 2008;3:225-230.
6. Williams S, et al. J Cosmet Dermatol 2009;8:216-225.
7. Restylane Defyne Instructions for Use.
8. Restylane Fine Lines-L Instructions for Use.
9. Restylane Kysse Instructions for Use.
10. Restylane Lyft Lidocaine Instructions for Use.
11. Restylane Volyme Instructions for Use.
12. Kawada C, et al. Nutrition Journal 2014;11(13):70.
Important Safety Information for the Restylane Range of Fillers
•Do not use if known allergy or hypersensitivity to hyaluronic acid fillers, lidocaine or amide local anaesthetics.
•Do not use if you have porphyria, bleeding disorder and/or active skin disease such as inflammation, infection or tumours, in or near the intended injection site or if you are taking thrombolytics or anticoagulants.
•There are several precautions that are important to discuss with your healthcare practitioner prior to treatment. Inform your healthcare practitioner if you have any of the following:
•If you have pre-existing pigmented dark lower eye lid circles, thin skin and pre-existing tendency toward oedema formation as treatment of the lower periorbital region may not be suitable
•If you are taking immunosuppressants as treatment may not be suitable
•If you have a tendency to form hypertrophic scars or any other healing disorder
•If you have herpes viral infection as injection procedures can lead to reactivation of latent or subclinical herpes viral infections
•If you are using substances that affect platelet function, such as aspirin and nonsteroidal and anti-inflammatory drugs. As with any injection procedure, using these medications may increase your risk of bruising or bleeding at the injection site.
•If a laser treatment, chemical peel or any other procedure based on active dermal response is performed before or after the treatment. There is a possible risk of eliciting an inflammatory reaction at the implant site.
•Rare but serious adverse events associated with the intravascular injection of soft tissue fillers in the face have been reported and include temporary or permanent vision impairment, blindness, cerebral ischemia or cerebral hemorrhage, leading to stroke, skin necrosis, and damage to underlying facial structures.
•Injection related adverse events such as bruising, erythema, itching, swelling, pain and tenderness may occur. These side effects generally resolve spontaneously within one week after injection. Other potential side effects can occur with dermal filler injections. You should discuss the potential treatment risks with your healthcare professional.
•After the treatment, exposure of the treated area to heat (sunbathing, sauna, steam baths, etc.) or extreme cold should be avoided until any signs of local inflammation have disappeared.
•This product has not been tested in pregnant or breastfeeding women.
•Not for use in children.
•Discuss all potential risks with your healthcare practitioner prior to treatment. This is only a partial list of safety information. For complete product and safety information visit Restylane.ca.
©2017 Galderma Canada Inc. All trademarks are the property of their respective owners.