Health
5 Snacks to Keep in Your Bridal Suite
Skip the cake and cocktails (for now). Before you walk down the aisle, keep these surprising snacks by your side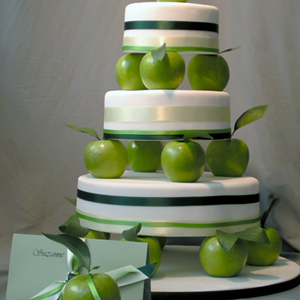 When I think of weddings, my mind reverts to the same place every time: the wedding cake. It's horrible, I admit it, but my favorite part of any wedding I have ever been to hasn't been the teary 'I-do's or the couture dresses, it's been when they cut the cake (paging sweets-aholics anonymous). Maybe it's because I have a sweet tooth the size of Alaska, or maybe it's because all the weddings I've attended have just had exceptionally good cake.
So here comes my nightmare situation for any bride: arriving at the venue hours beforehand to get her hair and makeup done, get dressed, and then not having anything to snack on until after the ceremony. And all the while, as if the poor bride wasn't hungry enough, there's that delicious wedding cake just teasing her from across the room. It's enough to induce a rage befitting of "Bridezillas."
In order to avoid a hungry bride meltdown, we've assembled a selection of snacks that won't bloat you, smudge your lipstick, or kill your wedding cake appetite. Snack on these treats, and you'll be full, happy, and healthy as you walk down the aisle.
1. Apples
Apples are the super-food snack to have by your side on your big day. Not only do they scrape plaque off teeth and fight bad breath, but they're also loaded with Vitamin C, which can help boost your immune system, so you don't get sick on your honeymoon. Added bonus? Apples are a steady source of healthy carbs, which will boost your energy levels. Cut them into small slices so you can eat without smearing your lipstick.
2. Almonds
These nuts are packed with protein and fiber that will keep you feeling full without having to pig out before the ceremony. They're also a great source for Vitamin E and essential fatty acids that keep your skin glowing and can help speed up weight loss. Limit yourself to a few handfuls though, as almonds tend to be higher in calories.
3. Popcorn
While people often view popcorn as just a movie theater treat, it's a great and (gasp) healthy alternative to many other readymade snacks. Its light and airy consistency means you can eat a lot of without actually taking in too many calories, and since it's packed with fiber it will keep you feeling full longer. New research has found that it's also rich in the polyphenols, an antioxidant that's proven to help reduce cell damage and ward off diseases. Just be careful to steer clear of brands that are heavily salted and processed, as these delicious add-ons can leave you bloated.
4. Dark Chocolate
I fully believe that every girl deserves chocolate every day, but this belief is especially true on your big day. Just a little dark chocolate helps boost heart and brain functions. And on top of that, it's loaded with flavonoids that help control your blood sugar levels and, with steady consumption, can prevent type two diabetes. And the best part, other than its amazing taste, is that it will boost your mood and leave you feeling even happier. Just be sure to save this treat for before you slip on your gown to avoid any stains.
5. Cherries
Often referred to as a super fruit, cherries are chock full of antioxidants that fight heart disease and cancer while also promoting brain functions. This sweet snack also contains melatonin, which helps regulate your sleep cycle (since you probably haven't been getting much with all of the wedding planning). Eat a handful of cherries before you start getting dressed to prevent any stains.
Image courtesy of www.kiccacakes.com