11 Stylish Pieces You Need to Look Fresh This Spring
Gouldylox beauty blogger Kelly Gould shares all the must-have products and accessories you'll need to do spring in style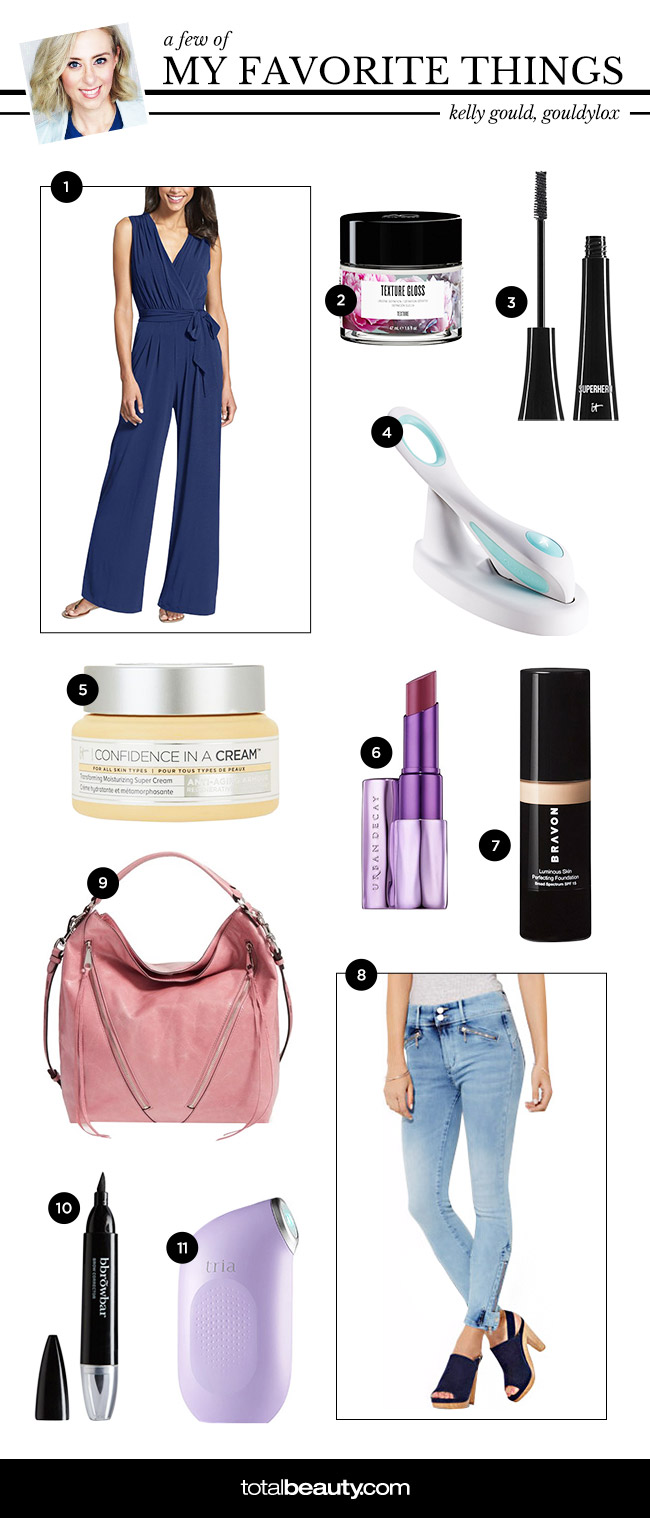 1. Vince Camuto Faux Wrap Jersey Jumpsuit in Navy, $98
Jumpsuits are so effortless this spring. I like to pair it with a jacket for work or espadrilles for the weekend.
Buy Now
2. AG Hair Texture Gloss, $24
I love using this hair gloss to mess up my lob with a little texture and shine, especially when I'm trying to stretch between washes.
Buy Now
3. It Cosmetics Superhero Mascara, $24
This is the best mascara I've tried in years. The length and volume it gives my lashes is insane!
Buy Now
4. Dermaflash Facial Exfoliating Device, $189
I can't remember the last time I was this obsessed with a beauty gadget. My skin has never been so soft and my skin care is working faster than ever before. It's like shaving, but so much more.
Buy Now
5. It Cosmetics Confidence in a Cream Transforming Moisturizing Super Cream, $48
I just started using this moisturizer recently, and it's fantastic for giving your skin some hydration. It's especially wonderful to take on long flights!
Buy Now
6. Urban Decay Sheer Revolution Lipstick in Lady Flower, $22
I'm diving into new territory come this spring. After my recent weight loss and a new career, I'm pushing my own personal envelope. The old me used to shy away from bright colors. Now I'm wearing them every chance I get -- like this bright red lipstick from Urban Decay.
Buy Now
7. Bravon Luminous Skin Perfecting Foundation, $29
Bravon Pascua's newest foundation goes beyond any other foundation I've ever tried. It covers without looking or feeling heavy, and you only need the tiniest amount. The naturally luminous finish looks like you've walked out of a magazine. This is my favorite foundation right now.
Buy Now
8. Jennifer Hudson Blue Sunshine Ankle Leggings, $69.95
I love these pants because they give my rear visible shape and lift. I seriously have nothing in my trunk, so I'll take whatever I can get, and these always deliver.
Buy Now
9. Rebecca Minkoff Hobo Moto Bag, $325
I can't quit this spring bag -- it goes with everything (think: all the spring/floral patterns). I adore it so much. I'm tempted to get it in a second color.
Buy Now
10. BBrowBar Brow Corrector, $28
This pen is contains a micellar (an active cleansing ingredient that naturally removes dirt and oil) and instantly removes brow smudges or mistakes without disturbing the rest of your look -- a must-have for spring's ever-changing weather.
Buy Now
11.Tria Age Defying Eye Wrinkle Correcting Laser, $249
This tiny little laser travels everywhere with me, and it always keeps me looking fresh. Two minutes each night and my under-eye crinkles are starting to fade. How can anyone not love this?
Buy Now
Get more of Kelly's beauty recommendations at
Gouldylox.com
.