Fashion
10 Rainy-Day Essentials You Need This Spring
Who better to trust with rain-proofing your wardrobe than the Seattle style guru behind Cara's Cliche?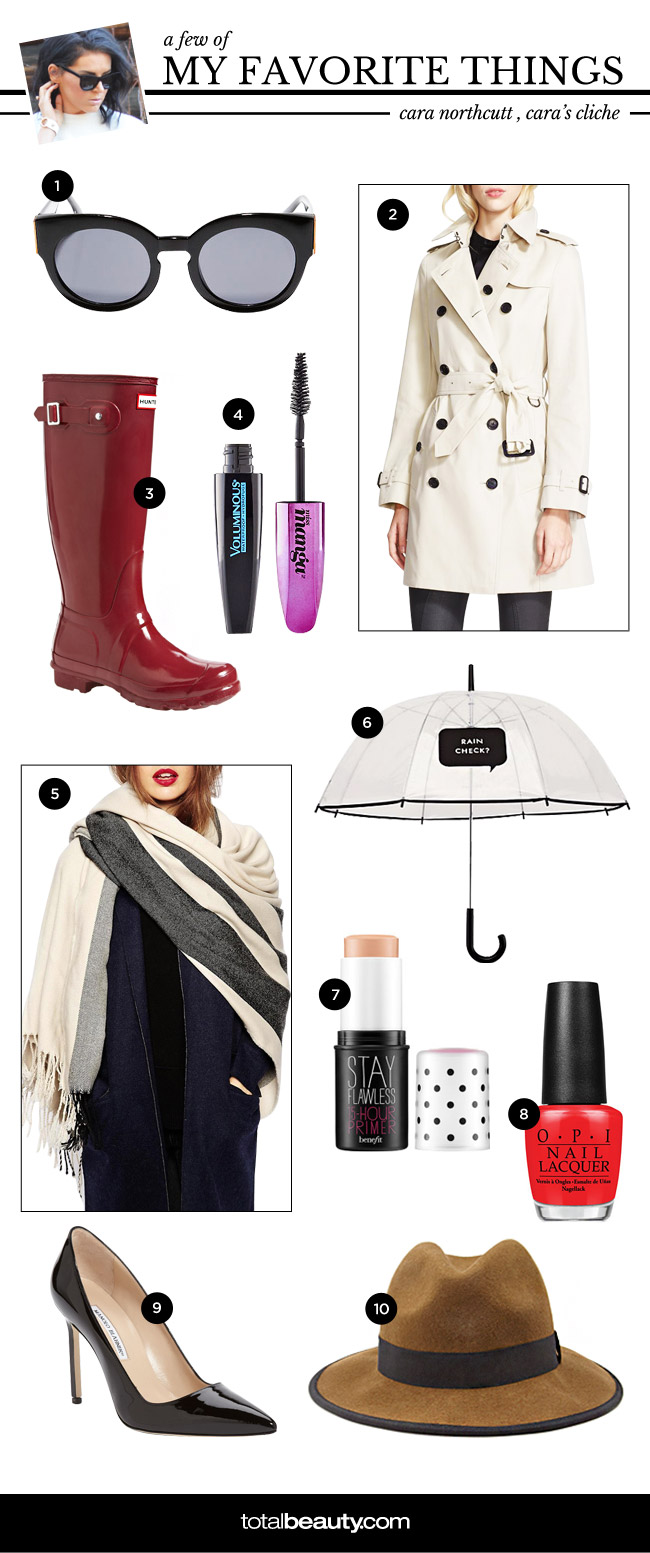 1. Cheap Monday Chunky Cat Sunglasses, $45
Rainy, overcast days can bring the worst sun glare. I always have at least one pair of large sunglasses ready in my handbag. This pair from Cheap Monday looks great and doesn't break the bank.
2. Burberry London 'Buckingham' Double Breasted Trench Coat, $1,595
On a rainy day, the lighter the jacket, the better. That being said, you still want something that will keep you warm. A classic, double-breasted, trench coat does just that.
3. Hunter Original High Gloss Boot, $148
Having grown up in Seattle, I consider myself a rain boot expert. Every other brand I've owned I have run through and had to replace within a season. Five years later, my Hunters are still like new. Plus, the wide array of colors makes them cute enough to wear with skirts and dresses.
4. L'Oreal Paris Voluminous Waterproof Miss Manga Mascara, $7.99
I have found Miss Manga from L'Oreal to be just as good, if not better, than many of the high-end waterproof mascara brands I have tried. I always keep two in my makeup bag, just in case.
5. ASOS Oversized Scarf With Stripes, $36
This scarf goes with everything. It's even large enough to double as a cape: Just add a belt over a shirtdress, some knee high socks and those Hunters. Très chic!
6. Kate Spade Umbrella, $38
Call me crazy, but I actually love the rain. I always opt for my clear bubble umbrella. I love to look up at the sky and still have light shining in while I walk around on an overcast day.
7. Benefit Stay Flawless 15-Hour Primer, $32
With rain comes humidity. And with humidity comes an oily t-zone -- at least that's the case for me. I never realized the difference primer makes until I added it to my daily regimen. I have tried too many to count, but I always come back to Benefit's Stay Flawless.
8. OPI Nail Lacquer in Big Apple Red, $9.50
There is nothing more cheerful than a bright red nail polish. OPI Big Apple Red is my go-to -- it's opaque after just one coat.
9. Manolo Blahnik 'BB' Pointy Toe Pump, $595
Some days you have meetings that do not allow for all-weather boots or flats -- no matter how chic you make them look. Once home, all you need is a quick wipe-down with a rag, and these heels will be as good as new.
10. Forever 21 Wide-Brim Wool Fedora, $14.80
This wide-brim fedora has been in constant rotation since it arrived on my doorstep. Even on the wettest days, I still like to look put-together. Throw your hair in a low bun underneath this hat and you are ready to go.