Beauty Tips
10 Beauty Essentials for Your Perfect Party Get-Up
Lights -- camera -- lashes. Beauty blogger Nicole Matthews shares all the must-have products and accessories you need for your next daytime fête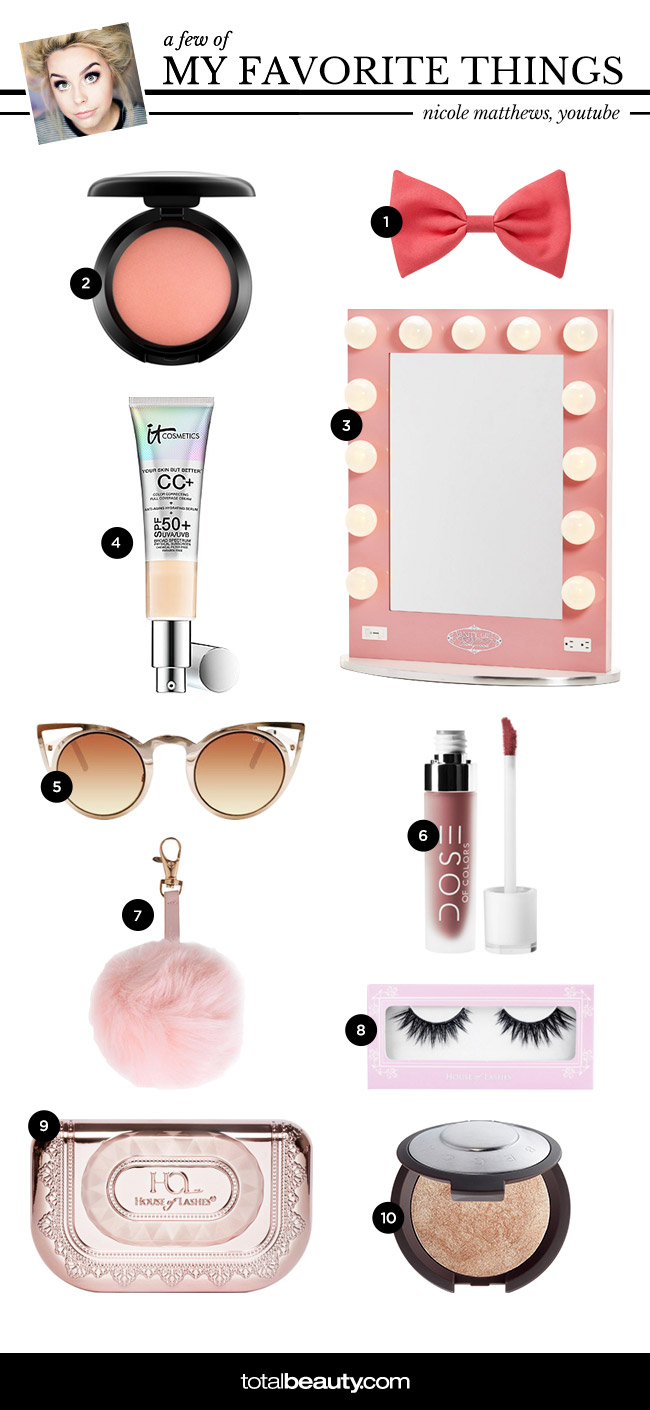 1. Forever 21 Oversized Bow Barrette, $2.80
Bows are one of my signature accessories that I've been doing for years now. Whenever I do my hair I like to put a cute bow in it. It adds such a cute and girly effect to my whole outfit, and gives my hair a nice touch. My personal color favorites are pink, white and coral.
2. M.A.C. Powder Blush in Peaches, $22
This is one of my go-to blushes that I really love, because it complements my skin tone nicely in every season.
3. Vanity Girl Hollywood Makeup Mirror in Pink, $519
I purchased this mirror because I have
terrible
lighting in my bedroom. This mirror has not only transformed my room, it turned my makeup vanity into my dream vanity. It's a little pricey, but it's a piece of furniture that will hopefully last a lifetime.
4. Your Skin But Better CC Cream with SPF 50+, $38
This is a perfect foundation that gives full coverage with only a little bit of product. It also has a really nice, refreshing scent that always leaves me feeling good about my skin.
5. Quay Australia Invader in Gold/Brown, $50
If you knew me in real life then you would know that I love my sunglasses. These are my all-time favorite sunglasses. They are the perfect cat eye shape and I always,
always
get compliments on these. I'm totally that person who would wear their sunglasses inside.
6. Dose of Colors Matte Liquid Lipstick in Desert Suede, $18
I used to be one of those people who always struggled with getting that perfect application of lipstick, but after trying this liquid lipstick, there is no going back. The doe-foot applicator applies it so smooth and fast, you won't ever go back to regular lipsticks after trying this.
7. Pink Pom-Pom Accessory, $10
Now you might have seen these on designer purses before for tons of money, but have no fear -- you can have your very own poof ball accessory for cheap. I got two of these pom-poms for my purse and backpack in pink, and I always get compliments on how cute they are. Plus, they make my day better whenever I look at them!
8. House of Lashes Iconic, $12
These are my current favorite eyelashes because they have such a glamorous yet flirty vibe to them. They make any eye look go from bland to BAM! They are also supereasy to apply -- since they have a thicker band, you can just pop them on.
9. House of Lashes Precious Gem Lash Case in Rose Quartz, $15
Since I'm a lash junkie, I need a special place to hold my lashes. This case is so perfect for travel because it's compact and you can hold your top three favorite lashes. You can also pop it in your makeup pack without adding extra bulk from your lash boxes -- simply in love.
10. Becca Shimmering Skin Perfector Pressed in Moonstone, $38
This is my current obsession. This highlighter is so bright that you could see me from space, and I love applying it with a damp fan brush to give me that ultimate glow.
Get more of Nicole's beauty expertise on her YouTube channel.