Is Khloe Kardashian Pregnant?
Posted on January 10, 2011, 12:50 PM
Are Lamar and Khloe expecting a baby? According to the New York Post they are...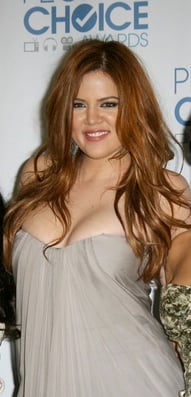 Is Khloe Kardashian Pregnant?
A new hair color, a new reality show and a baby on the way?
If you believe the New York Post, that trifecta of new things is precisely what's going on in Khloe Kardashian's life.
We knew all about the red
hair color
, which she debuted at last week's
People's Choice Awards
, likewise about the upcoming
E! reality show
, but the pregnancy? That's news. Especially since the famous sister has always blown off such rumors by saying "I'm not pregnant, I'm just fat." So, what's the deal this time?
According to the paper, an "unnamed source" revealed that Kardashian "has been hiding a tell-tale bump behind flowing dresses and oversized handbags," (true, look at what she wore to the
PCAs
at left) and another claims that the new television show will follow the trials and tribulations of her pregnancy. Talk about riveting TV!
For now, KK is remaining uncharacteristically mum on the topic - which usually means one thing -- that it's true. What do you think? Has she been looking pregnant? Will the show focus on her life as an expectant mom? Will you watch?