Photo 1/17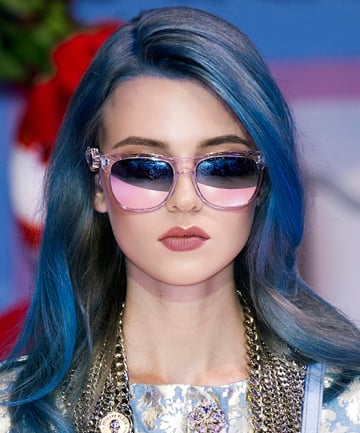 "I want colorful hair — like a vibrant purple or deep lavender," says the woman in the salon chair next to mine. I peek at the woman sitting next to me and have to keep my jaw from dropping to the floor. It's a woman well into her 60s, and suddenly my 23-year-old self (who's going a boring-by-comparison brown) realizes just how far-reaching the colorful hair trend is. I've also gained a whole new respect for this fabulous woman sitting next to me.
From soft pastels to daring neon, the colorful hair trend has gone mainstream — in a major way. According to Redken Artist and Colorist Sean Godard, it's the new creative channel for women to express themselves. "Bright colors are now a foundation right next to balayages and full highlights. We've reached the point of 'everything goes' and 'it's all been done before,' so people are really showing off their personalities with fun splashes of color," he says.
But what some clients fail to consider when choosing colorful hair is how it will look against their skin tone and features. Blue might be your favorite color, but you don't want something that will make you look washed out. You want a hair color that will complement your personality
and
your skin tone, says Godard.
Here, the shades that will look amazing on you — plus, the at-home hair dyes that will give you perfect DIY hair color.
Disclaimer: Before you take the plunge, know this — No matter what you're told, you'll need to start with platinum- or light blonde hair. Going that light can be supremely damaging, so always
leave this step to the professionals
.
Ready to rock your killer personality with an equally amazing hair color? Here, your ideal colorful hair shade.
Image via Imaxtree
Photo 2/17
Colorful Hair: Lavender or Purple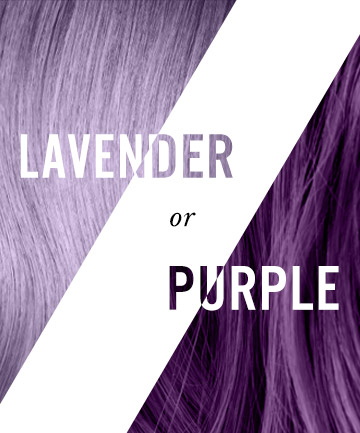 Works Best On:
Fair skin tones, and while any eye color can rock the shade, green, blue and hazel eyes look particularly dreamy.
If you've been filling your Pinterest boards with
lilac locks
, but fear you will come out looking like a grape -- think again. This hair color is a gorgeous way to flair up any dull 'do, and fair skin tones rock this look particularly well according to Godard. "Violets are generally cooler, so they work best on balanced skin tones," Godard says. "Meaning, neither pink nor cool, or yellow and warm undertones. This is because violet is opposite those tones on the color wheel. So, the color and neutral complexion combo will really make the eye colors pop."
Try:
While we recommend hitting a salon for this particular shade, you can try
L'oréal Paris Feria Smokey Pastels
, $9.99, in Lavender, for at-home hair color.
Photo 3/17
Lavender Hair With Brown Eyes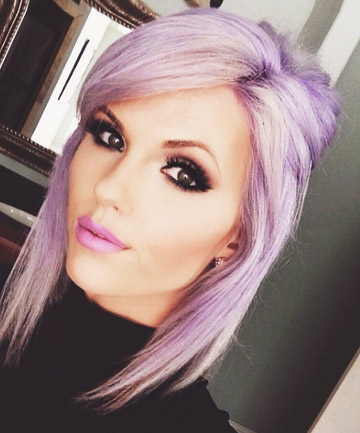 Her dark eyes and fair skin create a beautiful contrast with her light, lavender strands.
Image via @_sassafrass
Photo 4/17
Purple Hair With Green Eyes How hauntingly beautiful is this colorful hair? She perfectly plays off the complementary colors with her warm, bright violet hair and gorgeous green eyes.
Photo 5/17
Lilac Hair With Blue Eyes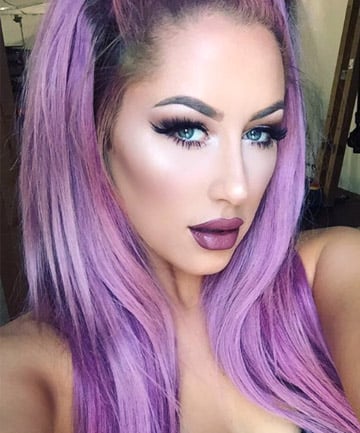 Her gorgeous hair color not only makes a serious statement, but the lighter purple strands make her blue eyes pop (even without her gorgeous makeup).
Image via @chrisspy