Photo 1/7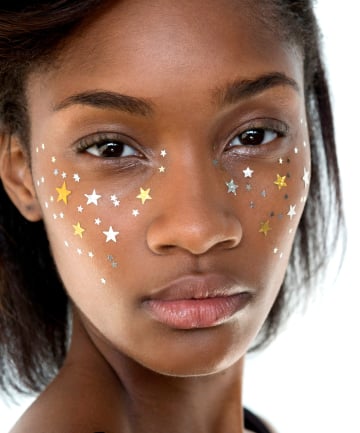 Why would anybody want to know how to get rid of freckles? After all, freckles can be cute. Freckles can even be stylish. (Case in point: the
Topshop Freckle Pencil in Forever Young
, $7 — so you can draw them onto your otherwise unmarred skin.)
But here's the dirty truth about freckles: Unless they've been there since you were in pigtails, they're actually age spots — or what derms are now calling sunspots. "It's a sign that your skin has had too much sun," says New York dermatologist Kavita Mariwalla, MD. Freckles are produced from bunches of pigment in the skin that get triggered by sunlight. The darker and more abundant your freckles are, the more sun damage your skin has sustained. "Many of these things will get lighter with decreased sun exposure," says New York City dermatologist Anne Chapas, MD. But they probably won't go away completely. To that end — whether you think they're cute or are actively trying to figure out how to get rid of freckles — you want to be vigilant about wearing sunscreen every day to prevent sun-damaged skin.
Fortunately, there are countless
dark-spot correctors
on the market containing a variety of
ingredients that target pigmentation
and can help get rid of freckles. Depending on just how dark your sunspots are, you may only need a preventive antioxidant serum to get rid of sunspots, or you may want to try a heavier-duty solution, like dark spot-zapping lasers to remove freckles.
However much help you need, the best new products contain technology that will get rid of freckles fast — and come next summer, you'll wear even more sunscreen and draw on your freckles with a pencil. So how do you get rid of freckles? Find out here.
Image via Imaxtree
Photo 2/7
Get Rid of Freckles With Antioxidants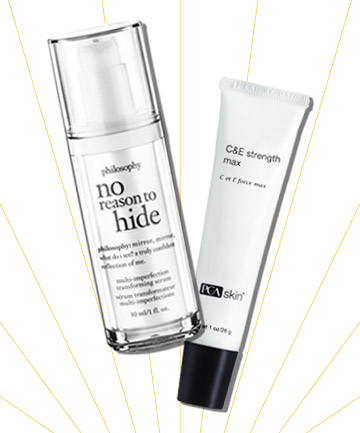 While antioxidants are more about prevention, some will also help get rid of freckles. "They can undo the free-radical damage," says Mariwalla. "I recommend a topical vitamin C serum layered under sunscreen. It's a sunscreen booster,
and
it helps lighten skin tone."
PCA Skin C&E Strength Max
, $94, contains 20 percent L-ascorbic acid (vitamin C) -- the highest percentage available. And it's extremely stable. (Many vitamin C products don't have a very long shelf life.) If you're looking for a serum that addresses a wide range of skin issues, try
Philosophy No Reason to Hide Multi Imperfection Transforming Serum
, $68. It contains vitamin C and niacinamide for brightening as well as salicylic acid to smooth texture and a form of chamomile to calm irritation.
Photo 3/7
Exfoliate to Get Rid of Freckles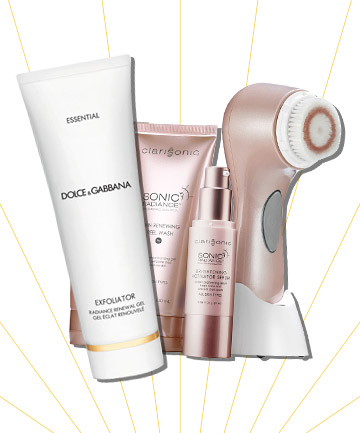 Exfoliating will help remove dull-looking skin cells and allow your skin care ingredients to work better, so you can get rid of freckles faster.
The
Clarisonic Sonic Radiance Brightening Solution
, $249, is a complete system that includes a sonic cleansing brush, two different cleansers — gentle for morning, exfoliating for night -- and a serum with sunspot-diminishing ellagic acid.
If you prefer a more traditional scrub, try
Dolce & Gabbana Exfoliator Radiance Renewal Gel
, $50. This gel cleanser contains exfoliating beads as well as moisturizing ingredients, making it extremely mild.
Photo 4/7
Get Rid of Freckles With Botanicals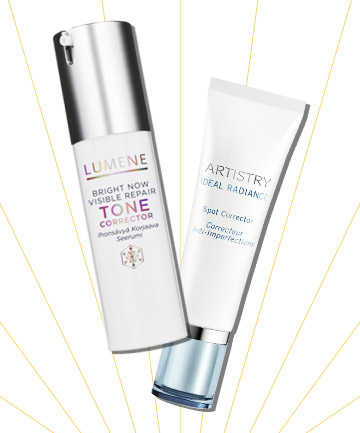 If you're willing to add another step to your skin care routine, but you're not quite ready for a prescription, try a brightening product with botanical ingredients to get rid of freckles.
Over time, certain botanicals can help break up melanin and lighten dark spots on skin (aka help you get get rid of freckles).
Lumene Bright Now Visible Repair Tone Corrector
, $29.99, contains cloudberry extract, berry-derived antioxidants and jojoba seed oil.
Artistry Ideal Radiance Spot Corrector
, $58, is made with a blend of English daisies, European geranium, jasmine, evening primrose and pearl protein extract. It brightens skin while smelling fantastic.
Photo 5/7
Get Rid of Freckles With Facials and Chemical Peels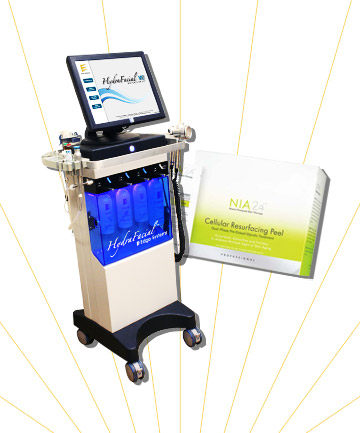 Say you've been religiously trying to get rid of freckles at home, but you want your skin to look brighter for an event or special occasion — try a facial. Keep in mind, a facial can't erase your pigmentation or totally remove freckles, but it can certainly give you a glow and make your dark spots appear less noticeable.
The HydraFacial MD is one such procedure that uses vortex technology to exfoliate the skin while infusing it with a serum. Antiox-6, which contains vitamin E and white tea extract, is the ideal add-on if you have pigmentation concerns.
Take it one step further with a chemical peel. "Chemical peels like glycolic acids work really well, and they're safe on most skin tones," says Mariwalla. "I usually recommend a series of three depending on how dark your brown spots are." We like the new in-office NIA 24 Cellular Resurfacing Peel, which contains glycolic acid as well as lactic acid and botanicals. It brightens skin without any downtime.