Photo 1/7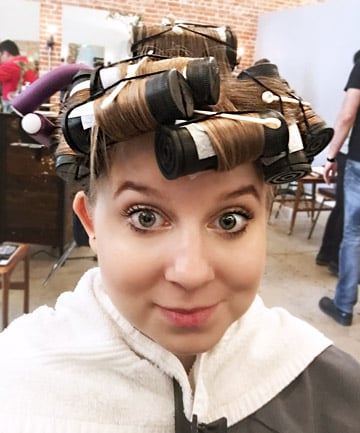 When you think of perms, I guarantee one of two things comes to mind:
bad '80s hairstyles
or the courtroom scene in "Legally Blonde." So let me introduce a third option: textured, sexy, beachy wave hair. Skeptical? So was I. After all, how could the same process that gave women the Jennifer Beals in "Flashdance" giant curls of their dreams also be responsible for creating a look so modern and sexy?
But the proof was in the Instagram: Julianne Hough got a beach wave perm from perm master Joe Santy, and it appeared to be the key to #iwokeuplikethis hair. So I called up Santy and got the scoop. He used Olaplex, a hair strengthening treatment, in each step of the perm so that the perm chemicals wouldn't destroy Hough's colored hair, and he also used larger rollers to get that coveted beach wave look.
Being the intrepid beauty reporter that I am, I had to try it. Here's what happened.
Photo 2/7
Wavy Perm: Before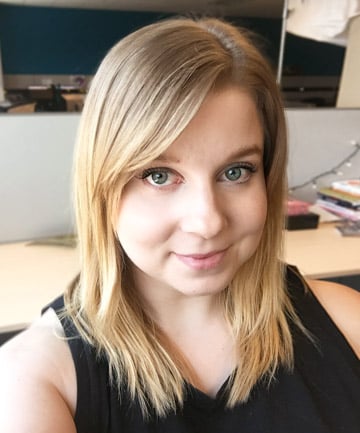 First, I should preface this by saying that I have ultra fine hair, but a lot of it (as every hairstylist ever has told me), and it dries pretty much stick straight and flat. Check out the photo for proof. It also refuses to hold a curl for more than an hour, no matter what products or techniques I try. Despite this, I never wear it straight because I hate how limp it looks. So every morning I heat up my curling iron and add texture to it. If I'm being honest, it gets tedious.
So I turned to Nicole Hartmann, co-founder of
Harper Salon
in Los Angeles to give me the messy, wavy, low-maintenance hair of my dreams. She has tons of clients who come in specifically for her perms.
Photo 3/7
Wavy Perm: The Consultation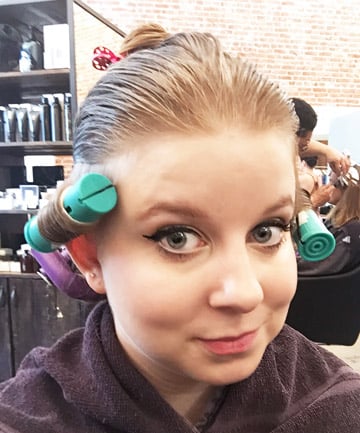 I have naturally blonde hair that I get balayaged or baby-lighted, which presented a problem for Hartmann. If your hair has been recently bleached, you should not get a perm. It will completely fry your hair. That's because the process literally breaks down the protein bonds in your hair like they're Taylor Swift and the perm solution is Kim K.
I hadn't had my hair colored in a few months, so she decided to do a trial on a few pieces underneath my hair. If it didn't cause too much damage and I liked the way that it looked, she'd do the rest. It took about an hour; there are two different solutions, plus she used extra Olaplex on my hair to help minimize the damage. After it was rinsed out, we noticed a bit of damage to the ends of my hair, but overall it looked okay. She sent me on my way and told me to let my hair air dry, then send her a picture and we'd decide on what to do next.
Photo 4/7
Wavy Perm: Consultation Results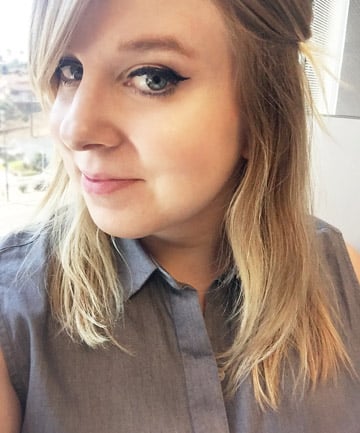 Oh to the em to the gee. As soon as I saw my stick straight hair drying into actual textured waves, I knew I was hooked. Once all of my hair (finally) dried, I sent her a snap and hoped that she would agree. I believe the accompanying text was a series of emojis to describe exactly how much I loved it.
Photo 5/7
Wavy Perm: The Full Process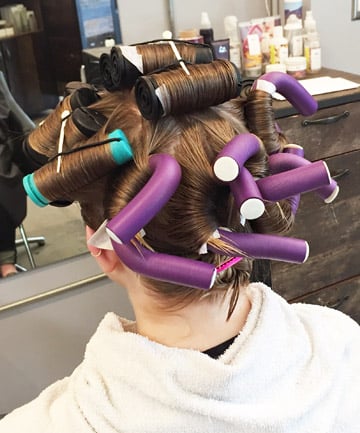 Two days later, I was back in Hartmann's chair. I rationalized that yes, I was damaging my hair a bit now, but since I could let it air dry most days and pretty much forgo all hot tools, it seemed like a fair trade. It took a couple of hours to finish the rest of my hair. Hartmann used a combination of large rollers and bendy purple rods to create different waves; ultimately, this keeps the pattern from being too uniform and helps add that beachy vibe to hair. Also, it's important to note that despite the name, the results aren't actually permanent. Generally, perms last about three to four months.
A word of caution: The process will stink. Seriously, it is not a pleasant smell. Actually, the slight odor will linger for a few days (TotalBeauty's EIC caught a whiff of my hair and instantly recognized the smell from her junior high days).
Once the process was over, Hartmann trimmed off the damaged edges and added in a few more layers to my hair to make the waves really pop. Then I anxiously waited for my hair to air dry. (Because the point of this perm was to ensure I could have amazing hair without touching a blow dryer or hot tool.)