Photo 1/20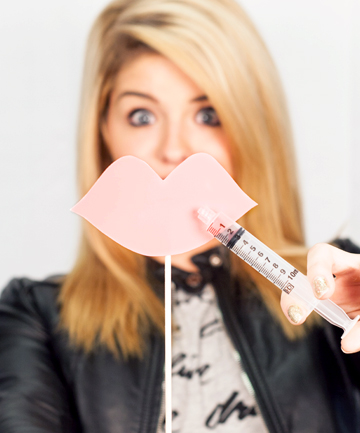 I grew up watching "Keeping Up With the Kardashians," so it should come as no surprise that I (and many other women my age) are a bit obsessed with all things Kardashian/Jenner. When Kylie Jenner blew up my social media feeds with her filler-enhanced pout, I was shocked that a few pumps (or 12) of Juvederm could so completely transform her look -- and I wanted lip injections immediately. While I never had a problem with my lips before, my pout suddenly felt pathetically thin. I knew things were serious when my "Game of Thrones" binge-watching began to take a backseat to Kylie's lips, as I spent hours in bed scrolling through her Instagram feed.
According to celebrity board-certified dermatologist Ava Shamban, MD, I'm not the only one with major lip envy. "There are more and more people in your age group coming in. Kylie Jenner has had so much press, that she's made it a really big trend," she explained. Happy to be a full-pout peasant in King Kylie's growing beauty empire, I decided to take the plunge and get lip injections myself. Here's how it turned me into a monster.
Photo 2/20
Lip Injections: The Assessment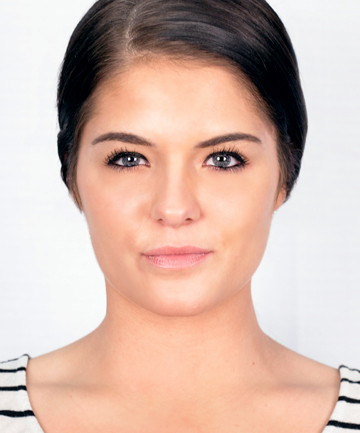 First and foremost, if you're thinking about getting lip injections, for the love of your sanity, do
not
watch countless YouTube videos of the procedure. Having made this grave mistake myself, I went into my appointment bound up, sweaty and prepared to call my mother to tell her I wouldn't be coming home for Christmas.
Once I got into the examination room, Shamban gave me the lowdown on how my lips would look post-injections. While I begged and pleaded with her to give me a supersized pucker that would make me Kylie Jenner's lip twin, Shamban talked me down to more normal proportions. When it comes to lip injections, she explained, a natural-looking pout is extremely important -- and everyone's look is different. Meaning, one size definitely does not fit all, nor can we all rock Jenner-sized lips and look fabulous.
"We assess a person based on the expression on their face. Whether you're trying to make someone look a little kinder, a little younger, prettier, sexier -- it's all very important when you determine lip size and shape," she said. As are proportions. The lower lip should be one-and-a-half times bigger than the upper lip, she said. And your lips must balance the entire face.
Determined to take me from "prep school girl" to a "sexy little thing," Shamban explained she would be using Restylane Silk to puff up my pout -- one of two FDA-approved fillers (Jenner uses the other one, Juvederm). As she filled up the syringe and sanitized my lips with an extremely drying alcohol wipe, I took a deep breath and prayed to the Kardashian gods I would come out looking like a sixth sister in the clan.
Photo 3/20
Lip Injections: The Procedure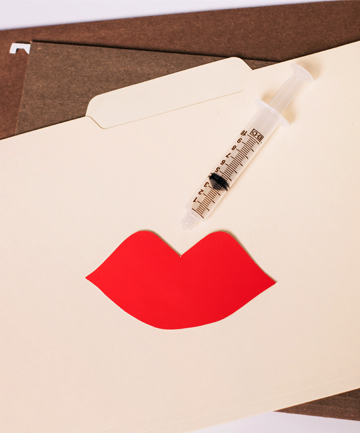 Beauty is pain -- and oh, there was pain.
OK, don't fret, it wasn't
that
bad. While I've been told I have an extremely high pain tolerance, I can still sleep easy telling you there was a slight pinching sensation even after Shamban had numbed the area with ice. The fillers contain a numbing agent, so the injections themselves aren't painful, but between you and me? The sensation of the filler going into your lips is the weirdest feeling ever. Imagine hair gel getting pushed into your lips. Some areas of the lip hurt more than others. The center of my lip was the easiest, but the outer edges of the lips and philtrum (the groove above your cupid's bow) were the most painful (a six or seven on a pain scale of 10).
Luckily, the procedure was over within 10 minutes. And as far as in-office procedures go, it has the best insurance policy.
"This is a relatively low-risk procedure," said Shamban. "All anyone really has to look out for is slight bruising or swelling -- which is completely normal. Plus, if you're not happy with the results, the fillers only last for six months before your body breaks them down completely." Course, if you love them and want them to last forever, it's also a downside.
To help reduce the risk of any side effects, Shamban gave me a cortisone shot (which was probably more painful than the actual procedure). Then she handed me a mirror to reveal my new lips.
Photo 4/20
Lip Injections: The Results (and the Price Tag)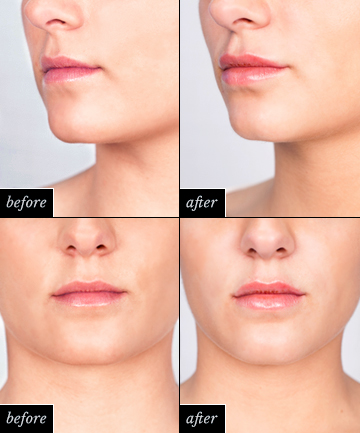 When I first saw my new pout -- I was thrilled. They were extremely natural looking, and if you didn't know me before, I in no way looked like I had work done. I couldn't wait to start showing it off (selfies galore). While I was deeply in love with my new pucker, I immediately became depressed knowing I couldn't keep it forever. For a fresh-out-of-college grad, the price for lip injections every six months isn't exactly in the ramen-noodle budget. According to Shamban, a "confident doctor" will never charge less than $500 for lip injections, but celebrity physicians like Shamban can charge upwards of $950 for just one syringe (which is all it took for my look).
Excuse me while I sit over here and pout (and snap a selfie, of course).
Photo 5/20
Lip Injections: The Debut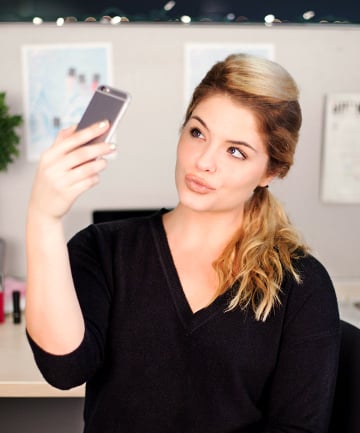 Stoked to debut my slightly swollen lips to the rest of the world, I practically leapt out of Shamban's chair for the door. But before releasing me into the world again, Shamban swatted away the lipstick I was pulling from my purse and told me my newly enhanced lips came with a few restrictions.
"No lipstick or hot drinks for at least 24 hours. The lipstick will dry out your lips and hot drinks will flair up any potential swelling. Also, avoid any intense makeout sessions for a couple days," she said. Good thing I'm single.
Once I arrived to the Total Beauty office, my co-workers were amazed by how natural my lips looked, saying they weren't nearly as dramatic as Jenner's, but they
could
see a difference. Some even went back to their desks to Google the procedure, interested in trying it themselves (that's when you know you #nailedit). I sat down at my desk, puckered up and sent my best post-injection selfies to friends and family. I waited eagerly for their response.
Overall consensus: very positive. My mother was glad to see that I still resembled her and my friends were happy I don't look like Lisa Rinna. Still, I found myself spiraling downward when everyone reiterated that my lips weren't even close to Kylie-sized. My lips were like a full B, while Kylie's are more like a DD. Sure, my bigger lips were better, but not everything I wanted them to be. Determined to achieve Jenner's lip level, I knew lipstick and lip liners were going to be some of my best bets for recreating her signature pucker (after 24 hours of course).
Go big or go to Sephora (which is basically home) -- and that's exactly what I did next.