Photo 1/12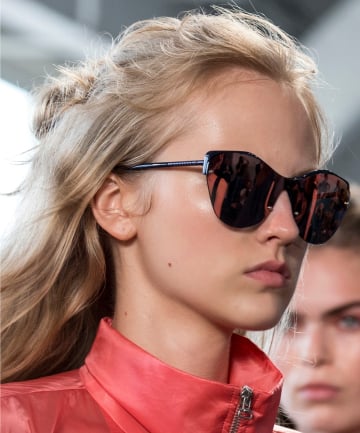 Oh, the half bun. You've seen it. It's that hairstyle all the girls on Pinterest are wearing — the one that looks like you tried to throw your hair up into a top knot, but forgot most of it? Over the past two years, we've seen the half bun everywhere — on celebrities from Ariana Grande to the Olsen Twins. But how did the half bun first come to be?
"Over the past two years we've seen all different types of buns: man buns, ballerina buns, chignons on the red carpet," explains Los Angeles stylist Melissa Hoyle. "What's also been trending is natural texture and 'I woke up like this' waves. When you mix long loose waves with a mini bun on top — ta-da! You get your half bun."
The half bun is actually a very flattering hairstyle on most people, according to Hoyle. "When you pull hair up and away from the face you bring attention to what's left," she says. "This accentuates the eyes and cheekbones, and the hair left down gives a nice frame to your face."
Most of us have seen the messy "hipster" version of the half bun, but the look is surprisingly customizable. Depending on how you style the rest of your hair, you can alter the half bun to take it from weekend errands to a formal affair. The best part is that no matter what, a half bun hairstyle takes less than ten minutes to execute.
Still skeptical? Check out our roundup of half bun hairstyles for grownups — proof that this hip, new trend is totally worth trying.
Image via Imaxtree
Cover image via Imaxtree
Photo 2/12
The "Date Night" Half Bun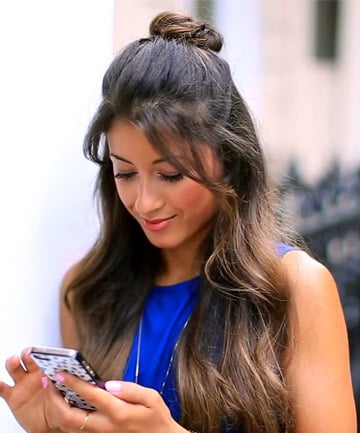 How to:
1. Curl your hair lightly with a 1 1/2-inch barrel iron, starting with the hair at eye-level. Mist with a flexible hold hairspray.
2. Using a paddle brush, brush all of the hair above your ears back into a high, tight ponytail. Make sure to smooth out any bumps on top of your head.
3. Holding your ponytail at the base with one hand, use the other hand to twist the ponytail around itself, creating a small knot at the top of your head. Secure the bun in place with a hair elastic. (The shape doesn't need to be perfect.)
4. Gently tug at the bun in different directions to create a fuller, messier look. When you have the shape you like, use two or three bobby pins to secure it to your head.
5. Pull out a few pieces of hair in the front to create a softer look. Now, get out there and break some hearts.
Image via Luxy Hair
Photo 3/12
The "Dirty Hair" Half Bun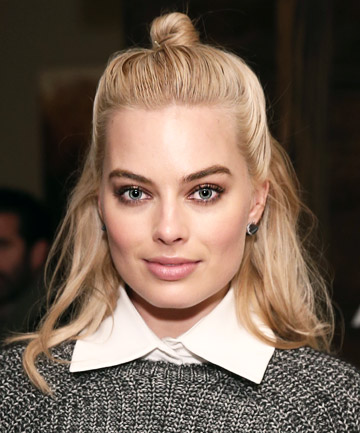 How to:
1. Starting with second- (or third-, or fourth-) day hair, spray a dry texture spray, such as
Oribe Dry Texturizing Spray
, $42, throughout hair to create a messy undone look.
2. Use a paddle brush to brush all the hair above your ears up into a superhigh ponytail. Secure with an elastic.
3. Twist the ponytail around itself into a small bun, and secure with a small, clear elastic. Pin the bun to your head with two to four bobby pins.
4. Finish off the style by misting with a strong hold hairspray (plus a shine spray, like
Bumble and bumble Shine On Finishing Spray
, $15, for extra
oomph
). Rock it with a menswear-inspired ensemble, and don't tell anyone about the unruly mess you woke up with.
Image via Getty
Photo 4/12
The "Meet the Parents" Half Bun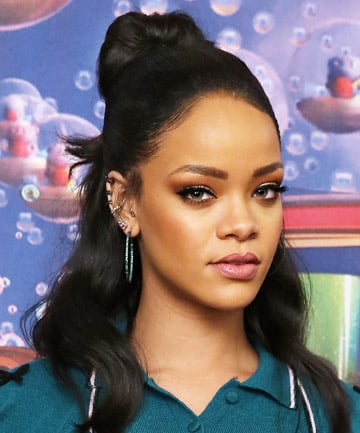 How to:
1. Elegant? Yes. Time consuming? Nope. Start by blow-drying hair with a small round brush, leaving sections of hair wrapped around the brush for ten seconds at a time and locking in each wave with a cool shot.
2. Gather the hair above your ears into a half ponytail at the crown of your head, using a paddle brush to smooth any bumps on top. Secure with a ponytail holder.
3. Twist the ponytail around itself to create your bun, making sure to hide the ponytail holder. Use a small, clear elastic and a few bobby pins the same color as your hair to secure it to your noggin.
4. Mist all over with a shine-enhancing hairspray, and prepare to impress your new beau's mom.
Image via Getty
Photo 5/12
The "Lob" Half Bun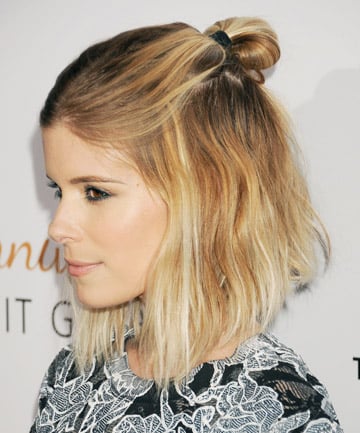 How to:
1. Yep, short-haired ladies can rock a half bun too. We swear — your hair won't look flat. Just start by curling large sections of hair with a 2-inch barrel curling iron, alternating the direction in which you wrap the hair around the iron as you go.
2. Create a center part, and gather all of the hair from your temples up into a ponytail at the crown of the head. Secure with a ponytail holder.
3. Roll the ponytail under itself to create your bun and secure to your head with bobby pins. 4. Mist all over with a medium-hold hairspray.
Image via Getty