Photo 1/3
For as long as I can remember, I've had a distinct love for nail polish. I remember walking through drugstore beauty aisles in middle school completely enamored by display cases filled with rows of tiny, colorful bottles. I'd examine them all, pick up the colors that "spoke" to me, read their clever names and often walk out of the store with at least one new prize in my possession.
A decent chunk of my allowance went toward nail polish and I eventually amassed an impressive collection. Little has changed since then. My collection is just as vast — if not more so — than it was back then and visits to the nail salon are religiously penciled into my schedule.
For so long, I held on to the "traditional" nail polish option. No gel, no dip, none of this fancy stuff. But three months ago on an atypically rainy day in Phoenix while indulging in a pedicure, my nail artist talked me into a "gel hybrid" manicure. She promised it would last longer (at least three weeks), that it would make my nails stronger and that it would actually save me time and money in the long run. I was reluctant, but I went for it and am forever changed.
Image via Imaxtree
Cover image via Imaxtree
Photo 2/3
What Is a Gel Hybrid Manicure?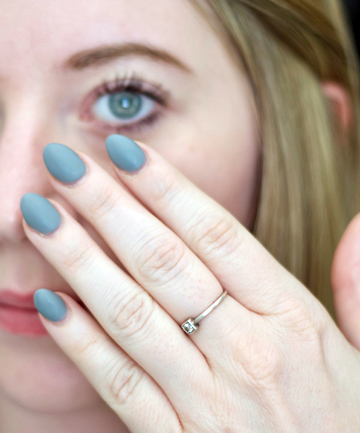 A gel hybrid manicure simply combines dip powder with a gel top coat. For those unfamiliar, dip involves applying a base, dipping your nails into a powder and then repeating the process two more times. The dip creates a strengthening, nourishing layer over your nails. Often, your manicurist will file and buff this coat with a small, whirring device so that it's not too thick and perfectly smooth. The gel top coat — the same as your standard gel top coat — is applied on top of the dip. This makes for an exceptionally strong, long-lasting manicure.
You can expect to pay between $30 and $50 for this service depending on where you live, which salon you go to, and whether you opt into additional services (such as a hand massage, cuticle remover or design). This is about double the cost of a traditional manicure but given that it lasts three times longer, you will actually save both time and money.
For my first gel hybrid experience, I chose a hue halfway between purple and gray, and for the three weeks that followed, I was obsessed. I constantly admired my nails and was strangely proud of them. They did not chip even once, they stayed incredibly shiny and I got compliments almost everywhere I went. It was a no-brainer to repeat the process, which I did exactly three weeks later due to nail growth.
Image via Wendy Gould
Photo 3/3
How to Make Sure You Get a Great Gel Hybrid Manicure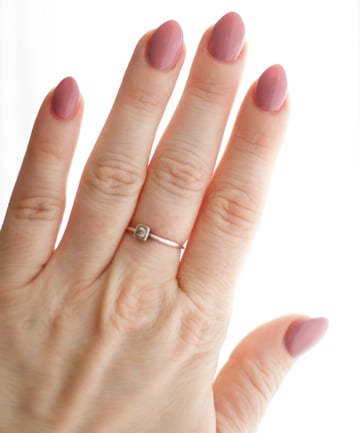 Not all salons are equal and not all manicurists are equal. I admit that I had one sour experience and I've heard from others that they weren't happy with their gel hybrid manicure.
In the same way you do research on a hairstylist or esthetician, it's important to do your due diligence before getting comfortable in just any old salon chair. The dip process is a technical one, so you want someone who's deft, artistic, patient and eager to work with you to create the perfect shape, design, thickness and color.
Check out the salon's social media pages to see examples of their work and read through their online reviews, where you'll often find raves about specific manicurists. Schedule an appointment with one of these people for a positive experience.
My only other piece of advice is to think long and hard about the color you want since the manicure will last so long. Also, prepare for an onslaught of compliments!
Image via Wendy Gould