Photo 1/8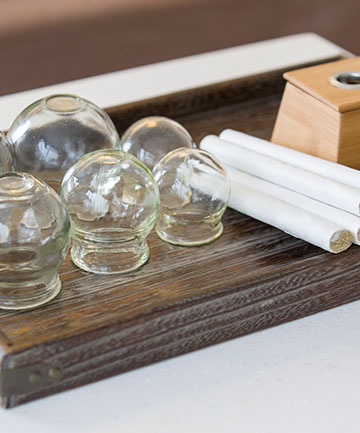 I'm pretty sure my awareness of cupping therapy began at about the same time that everyone else's did: when celebs like Gwyneth "Goop" Paltrow, Jennifer "Body Goals" Aniston, and Justin "I Need Attention" Bieber appeared in photo opps with big, red-brown dots on their backs and torsos. Then came Michael Phelps, who swam in the 2016 Olympic games in Rio covered in cupping marks from neck to knees.
Here's more proof that the cupping trend isn't going anywhere: Influencers like Kim Kardashian are raving about facial cupping, a similar treatment that involves gliding suction cups along the face. Practitioners and fans say it boosts lymphatic drainage, circulation and collagen production; smooths fine lines; relieves puffiness and dark circles; and so much more.
Being in my 30s, and perhaps the oldest contributer on the Total Beauty editorial team (LOL, but seriously), I had to see if cupping really is as great an anti-aging treatment as celebs say. I visited Boynn McIntire, licensed acupuncturist and doctor of Oriental medicine at
All and One Acupuncture and Wellness
in Portland, Oregon, to try facial cupping myself. Here's what happened.
Image via Getty
Photo 2/8
Facial Cupping: How It Works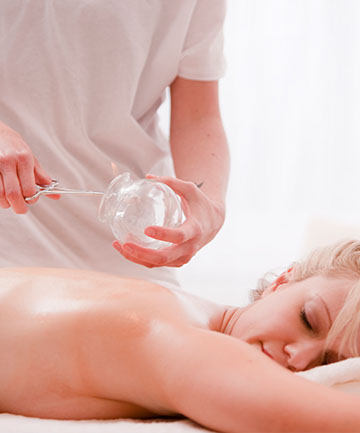 When cupping therapy is performed on the body, cups are applied to specific spots for a few minutes at a time. In order to create suction, the therapist usually heats the cups -- as the cups cool, suction builds -- or uses a pump to create a vacuum inside the cups.
When your face is cupped, however, the cups aren't static; the therapist lubricates your face (i.e., with oil) and glides the cups over your skin. It's basically a facial massage with suction.
You may see facial cupping offered as a single service or an add-on to another type of facial treatment, since facial cupping can be accomplished pretty quickly (about 15 to 20 minutes is typical).
DIY, at-home cupping is popular also, says McIntire. In fact, she regularly teaches sold-out
facial-cupping classes at All and One
.
"Typically, I'll do a series of treatments for someone and set them up with their own cups," McIntire said. "If somebody's using their cups two or three times a week, their skin will change dramatically."
Image via Getty
Photo 3/8
Why Facial Cupping?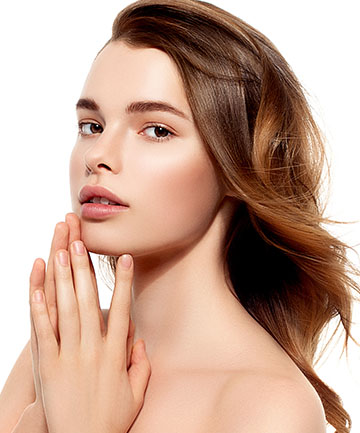 So why do people do facial cupping, anyway? A lot of reasons, McIntire said -- and many of them have to do with fighting the signs of aging.
McIntire has practiced acupuncture and cupping for eight years. Although cupping happens to be trendy right now, she explains, forms of cupping have been practiced for over 3,000 years. (The ancient Greeks and Egyptians were all about it, apparently.)
"The advantage of cupping over needling is it's non-invasive, and it feels wonderful," McIntire said. "It increases blood flow to the musculature; it tones and tightens; and it helps with lymphatic drainage, fine lines, fat pad depletion, and under-eye circles from poor circulation or fluid build-up."
The benefits of face cupping aren't just cosmetic, she added: "It's great for sinitus, jaw pain, tension, earaches and congestion."
Although research on cupping has been limited, some small studies suggest that cupping may help relieve chronic pain and strengthen collagen in the body.
Image via Getty
Photo 4/8
Facial Cupping: Before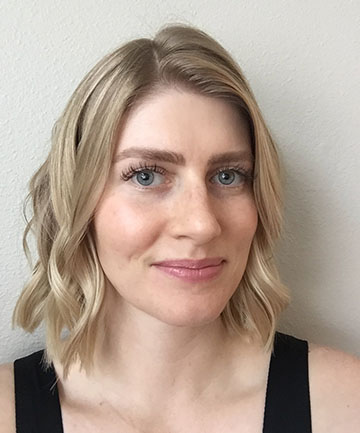 I have pretty garden-variety skin-care concerns for someone in her thirties: genetic dark circles that never go away, no matter how much I sleep; dark spots and fine lines resulting from too many childhood sunburns; occasional pimples; and sallow, dull tone from being white and pale AF. (Here's a photo of me without makeup, posed in some flattering, ambient light.)
Although I haven't taken the plunge with anti-aging treatments like Botox or dermal fillers, I've tried a lot of other treatments in the name of better skin. I've tried microdermabrasion, spa facials and several IPL photo-facials to brighten and plump my skin.
Photo 5/8
Facial Cupping: How to Prepare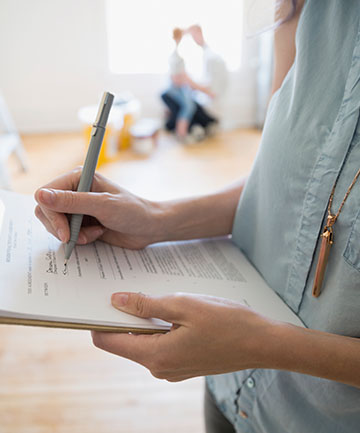 I've always wanted to try acupuncture, but needles make me the opposite of relaxed; facial cupping sounded like a good, chill way to dip my toe into alternative medicine.
First, I filled out a standard-issue health questionnaire so McIntire could make sure I was a good candidate for the treatment. Then she asked me questions about my skin-care routine, medications and skin conditions. "We don't cup over sunburns, unknown rashes, spreadable rashes, open wounds, eczema, psoriasis or rosacea," she explained.
Although facial cupping won't leave you with those distinctive, spherical marks á la Michael Phelps, some people experience what's called
sha
-- aka petechial hemorrhages, aka broken blood vessels. The use of blood-thinning medications (e.g., ibuprofen) and topical retinol are two factors that increase your risk of
sha
, McIntire told me.
Because I use retinol every few days, McIntire decided she would use lighter-than-normal pressure during my treatment.
Image via Getty