Photo 1/21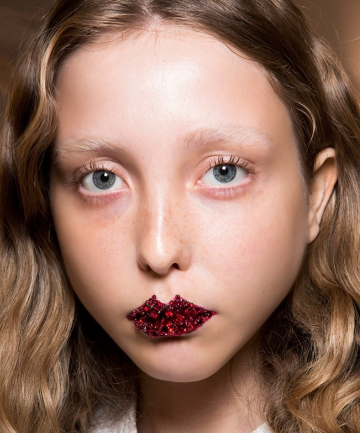 Beauty brands continue to raise the
glitter makeup
bar, but not even the most shimmery products can compete with the bold impact of diamantés. That could be why sparkle addicts are suddenly embellishing their eyes, lips and skin with rhinestones.
The bling look has been picking up steam on the runways. It was a noteworthy trend at the Spring 2018 shows and showed no signs of fading away for Fall 2018. Dries Van Noten was one of the early champions of the look with models sporting surprisingly wearable forms of diamanté makeup. Some had rhinestones encircling their eyes, while others had a strip of stones applied down the lip. Sometimes the finishing touch was a crystal-decorated part line. For the recent round of shows, Kate Spade New York featured models with silver rhinestones dotted on the creases of the eye, while Prada had the loudest look with neon winged eyeshadow topped with silver gems.
Makeup artists are also bringing the bedazzled look to the red carpet.
Lily Collins' rhinestone tears at the 2018 Met Gala
were talked about as much as the dramatic outfits. (That's saying something.) Recently, Lupita Nyong'o made everyone crazy for colored crystals when she stepped out with
multicolored Swarovski crystals dotting her eyes
.
Rhinestone makeup is obviously not an everyday thing, so choosing the right place to dazzle is key (read: not work). Another essential tip is using a skin-safe adhesive, such as a good quality lash glue, if gemstones don't come with an adhesive backing. And make sure the stones are being applied to clean skin. While it may seem like fiddly work, applying gemstones is not one of the most complicated makeup techniques, often requiring just your fingers or a pair of tweezers.
With these tips in mind, draw inspiration from these 20 diamanté makeup looks that slay to the nth degree.
Image via Imaxtree
This article originally appeared on TheFashionSpot.com
Photo 2/21
Around the Eyes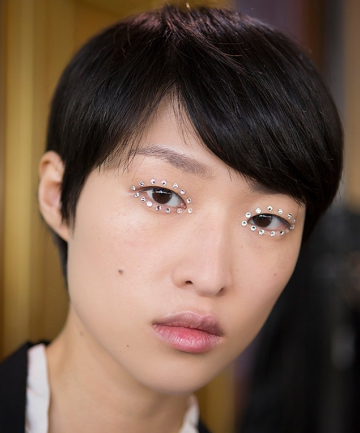 There's more to evening makeup than smoky eyes and
winged eyeliner
. Try something new by "lining" the entire perimeters of eyes with rhinestones. The application is actually as quick as any multicolored eyeshadow makeup routine. With eyes this blinging, it's not necessary to do anything to the rest of the face.
Image via Imaxtree
Photo 3/21
Glinting Gaze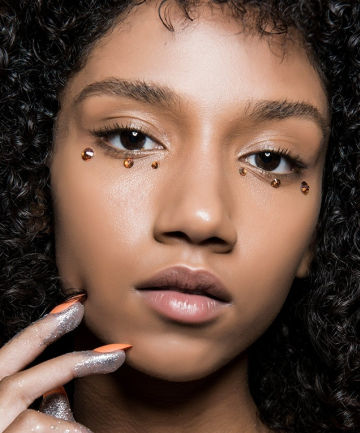 There are countless shapes and different colors of diamantés so make use of them. Try rich amber stones in three different sizes applied just below your lower lash lines for a spellbinding look. To ensure the focus remains on eyes rather than rhinestones, add a few coats of black mascara on your top lashes.
Image via Imaxtree
Photo 4/21
Creative Cut Crease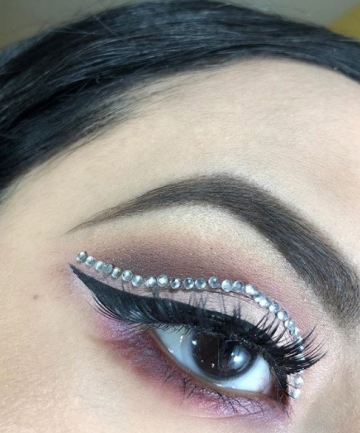 There are plenty of ways to experiment with
cut crease makeup
. Undoubtedly the most dazzling involves enhancing the crease with a line of gems. The placement may need to be tweaked a couple of millimeters for a comfortable finish. It's important that eyes can be opened and closed with ease. Furthermore, the line should echo the flick of the black liquid liner.
Image via @nayviit.xo
Photo 5/21
Flashing Flick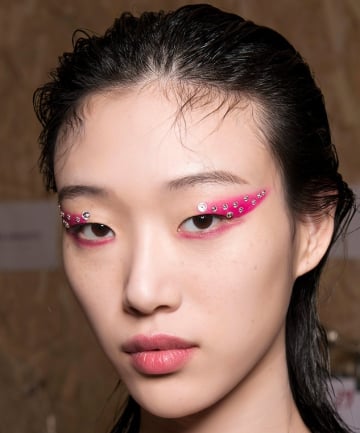 Hot pink exaggerated winged eye makeup is hardly understated. If it's drama you're craving,
really
go for it by embellishing the graphic eyeshadow shape with silver diamantés. Note how larger stones have been applied above the center of the eyes with smaller stones on the outer corners.
Image via Imaxtree