Photo 1/14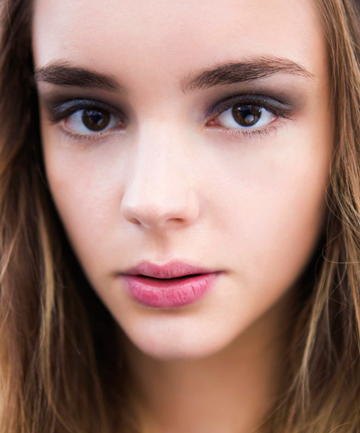 From contour brushes to
Beautyblenders
, there's a makeup application tool for every job. As much as we love the precision of
makeup brushes
, sometimes you just can't beat the ease and portability of the tools we were born with: our fingers.
Using fingers to apply makeup is quick and intuitive, plus it saves the confusion of whether to use a round eyeshadow brush or a flat one. Even professional makeup artists sometimes use their digits instead of sponges and brushes. "My first introduction to makeup was as a young actor training in theater," says Craig-Ryan French, artistic director at Paul & Joe Beaute. "We were taught to use the back of our hand as a palette and our clean fingertips to apply foundation, highlights and shadow." French continues this practice today as a professional artist working in fashion, film and television. "If I really want to highlight the arch of a beautiful brow bone or the center of the eyelid, I often press eyeshadow onto the lid with my ring finger to help 'bump up' the intensity of a color. With this method, matte shades look velvety, rich and opaque while metallic shades look vibrant and electric," he says. If the pros are down, so are we.
Ready to give makeup brushes a rest? The
Spring 2018 runways
featured plenty of makeup looks that can be recreated with a finger painting approach. Just remember to start with clean fingers, OK?
Cover image via Imaxtree
Image via Imaxtree
Photo 2/14
Sunny Eyes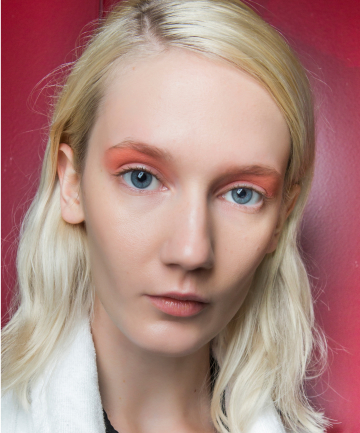 Bold eyeshadow was as popular on the Spring 2018 runways as floral prints and
statement hair accessories
. The index finger is the perfect tool to spread a vivid shadow from the lash line up to brows. To recreate this same pretty peach look, we suggest the versatile
M.A.C. Cream Colour Base in Bamboo
, $23.
Image via Imaxtree
Photo 3/14
Super Strobing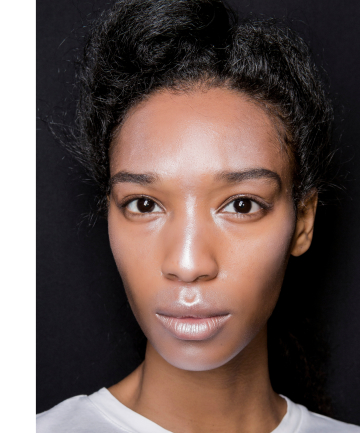 For applying base makeup, French suggests this clever technique: "I will frequently roll my ring finger along the under eyes of my models or actresses before a close-up to help freshen and smooth out concealer. The natural oils of clean fingertips help melt and blend the makeup into the skin for a creamy-looking, delicate finish." Even if your phone is the only camera you're appearing in front of, this technique can be used to make makeup look fresh. Once foundation is perfect, apply a shimmering highlighter over the majority of the face including the forehead, nose, cheekbones, lips and above the Cupid's bow to recreate the strobed look shown here.
Image via Imaxtree
Photo 4/14
Rosy Cheeks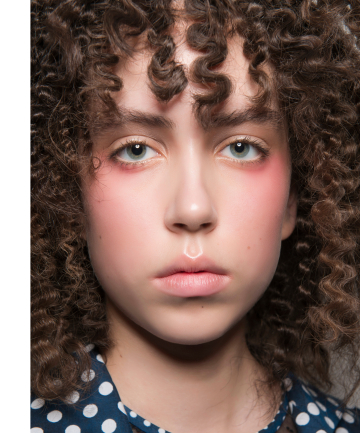 The rosy flush at the Bora Aksu show had a cherubic effect thanks to the sweeping placement of the cheek color. Using fingers to apply a cream blush across cheeks up to the eyes will create a soft diffused glow and minimize the chance of a streaky 80s finish.
Image via Imaxtree
Photo 5/14
Brushstroke Cat Eyes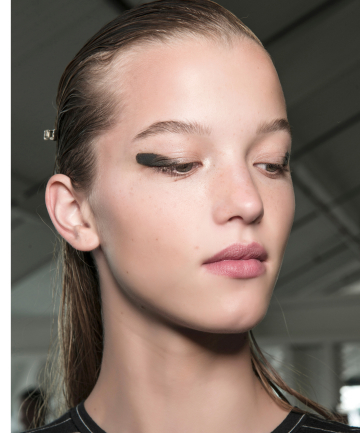 The smudge of black eyeshadow could be applied with a brush for a painterly approach, but the shape actually perfectly mimics a finger. Load up the index finger with black shadow then press it onto the eye at a diagonal.
Image via Imaxtree