Photo 1/6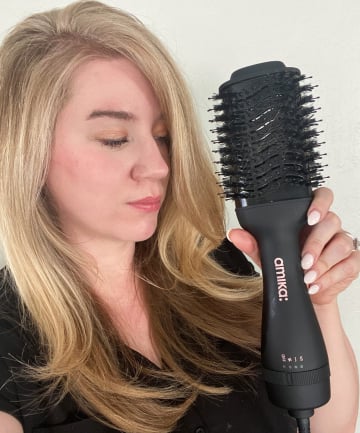 I have really thick hair — both in terms of individual hair width and the total amount of hairs growing on my head. I love it, but sometimes it can be a bit of a challenge to keep up with. I go through giant bottles of shampoo and conditioner lightning fast, I break ponytail holders on the regular, the
battle against frizz
is forever ongoing, and the whole drying and styling process is a long-term commitment that I literally need to factor into my schedule.
Over the years, I've developed a go-to process that typically
involves air drying
the majority of the way, then blow drying, then straightening, then adding a bit of body with a curling iron. It's a lot. So, when I heard that Amika was launching the
Hair Blow Dryer Brush
, $100, a device that promised all the above, while also combating frizz for a salon-level blowout, I was super eager to try it myself.
Image courtesy of Wendy Rose Gould
Photo 2/6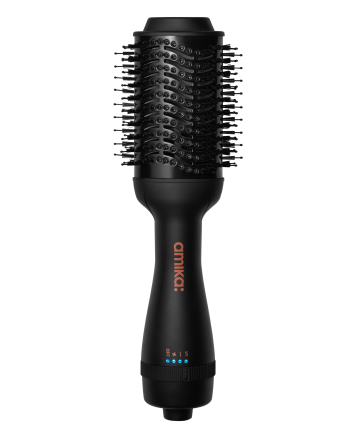 The brush is exactly what it sounds like: a round brush and blow dryer hybrid. There are
similar products already on the market
(Amika even has another similar product), but this version stands out for a few reasons. First, for its large size and oval versus round barrel, which helps create volume at the top and larger, voluminous waves. Second, for its tourmaline-coated barrel that emits negative ions and far-infrared technology to bust frizz. Third, the tool features a variety of bristle sizes to help smooth, detangle, and prevent damage. The brush also has three heat settings, including cooling, so you've got options.
Buy now
Photo 3/6
First Impressions of the Product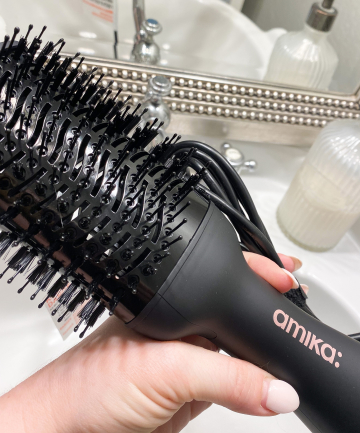 I knew that the tool was large compared to some of its competitors, but the Hair Blow Dryer Brush is actually
much
bigger than I thought it'd be. It's a little intimidating at first glance, but it's lightweight for its size (.85 pounds) and fits nicely in your hand. The heat settings are easy to toggle between and it's not awkward to hold or use. Though I only use it to blow dry my hair, you can technically use it on both wet and dry hair.
Image courtesy of Wendy Rose Gould
Photo 4/6
Thoughts on Using the Tool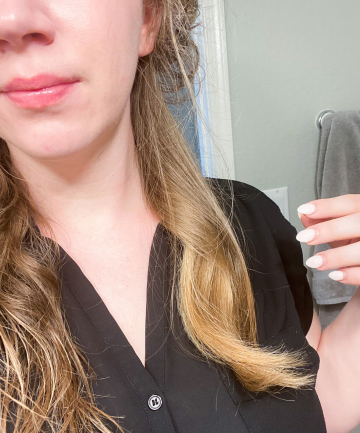 Full disclaimer: I'd never used a tool like this before, so I was in complete newbie territory. It took some trial and error, but even during the first use I found my groove pretty quickly.
A few things I learned: Because my hair is so thick, I've found that the tool works best when I section my hair into about 12 to 15 sections and work from the underside to my crown. It also helped to run the blow dryer brush flat over the top of each section a few times before switching to the round-brush curling method. After finishing, I went back in to add more curl/wave definition via larger sections.
Image courtesy of Wendy Rose Gould
Photo 5/6
Some Considerations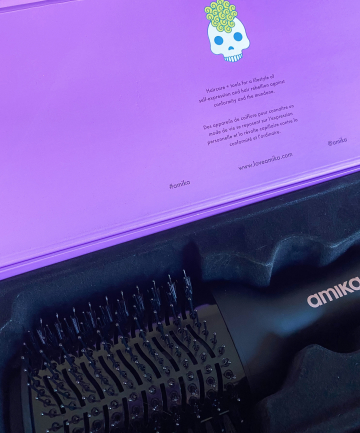 As with any product, it's important to weigh the pros and cons. One potential drawback is that the tool does get hotter the longer you use it (in other words, you might want to use styling gloves, if you have them). Also, the barrel is very large, so if your hair is shoulder length (or shorter), you'll probably fare better with a smaller version. Lastly, the product is a bit pricey at $100. This is more expensive than drugstore versions, but less expensive than other tools out there. Honestly, I think it's 100 percent worth the dough.
Image courtesy of Wendy Rose Gould