Photo 1/5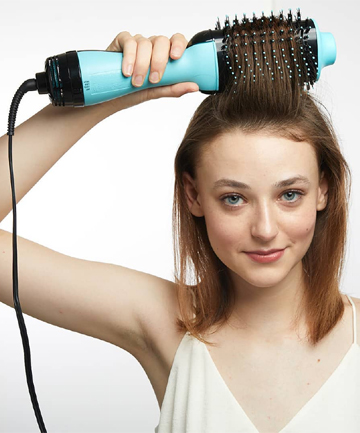 When it comes to my hair, I'm about as laid back as it comes. Though I've struggled with acne throughout my teens and adult life, my locks have always been easy-going and simple to manage. Usually, I wash my hair a few times a week, add some leave-in conditioner or coconut oil, brush it out and let it air dry. For when I'm heading out to dinner with my boyfriend or meeting my friends for drinks, I'll sometimes throw in a few curls — but otherwise, I let it do its natural thing.
While my approach toward my hair is partly due to its texture and subtle wave, I also tend to shy away from blow drying my hair because it takes such a long time. Not to mention, I'm someone who overheats super-easily, so spending thirty minutes with steam making me sweat doesn't sound appealing. That being said, I always love how my hair looks after a fresh trim and professional blow out. It always feels impossible to achieve the same results at home, so I often never bother.
After all, how do you manage to hold a round brush and the hair dryer? And have the patience to stay steady while locks dry? No, thanks. But when a friend raved about Revlon Salon One-Step Hair Dryer and Volumizer, $59.99, I was instantly intrigued.
What is it? It's a hair dryer that basically looks like an oversized brush. Though I've used Dyson in the past — which is at, ahem, a much higher price point — this amazing product, IMO, works much better, leaves hair healthier and full of volume. Not to mention: it does all of this in a record amount of time. To date, it's received nearly 40K reviews on Amazon, creating an impressive 4.8 rating. Personally, I'd give it all five of those stars and here's why...
Image via @revlonhairtools
Photo 2/5
It's user-friendly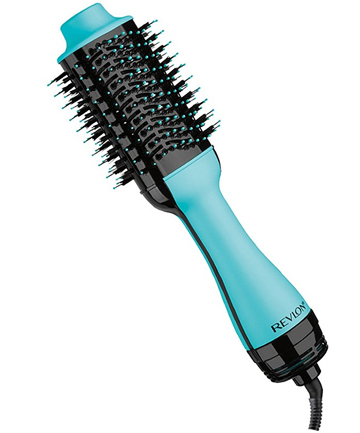 There's a reason many people pay for regular blowouts and/or spend an hour styling their hair every day: It's not easy. As many people are learning during social-distancing practices, hairstylists are not only necessary; they are also very missed.
This tool has come in handy for me since it doesn't take a professional to figure it out. You choose from two settings — high or low — wrap it around a lock of hair, hold it for about 30 seconds and release. I honestly check my email while I do this; it's that easy.
Photo 3/5
It cuts drying time in half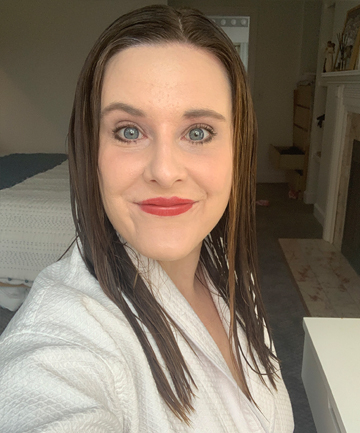 No joke! While it did take me a few tries to work out the best system with my hair, once I figured it out, I can have dry hair within ten minutes. And better yet: I don't have to add any additional steps to my routine — no more straightening or curling if I'm heading out to see friends. And while it might not matter to most, I really appreciate how it doesn't provide the same steam as a traditional dryer. I never feel like I'm overheating and I achieve a better style at the end.
Image courtesy Lindsay Tigar
Photo 4/5
It adds volume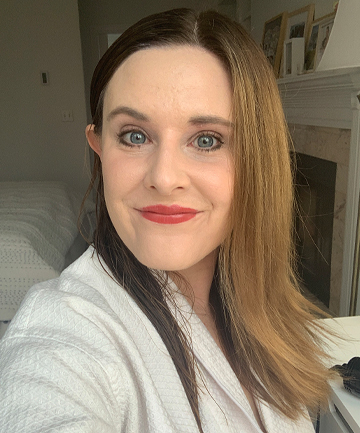 My mother taught me to flip my hair over while I blow dry to add volume. Until I started using this tool, I always did... but I usually ended up with some frizzy locks that were more unsettled than tamed. Because of the rolling motion you use to dry your hair with the one-step brush, you're adding oomph to your hair, without trying or thinking about it.
Image courtesy Lindsay Tigar
Photo 5/5
It creates longer-lasting blow outs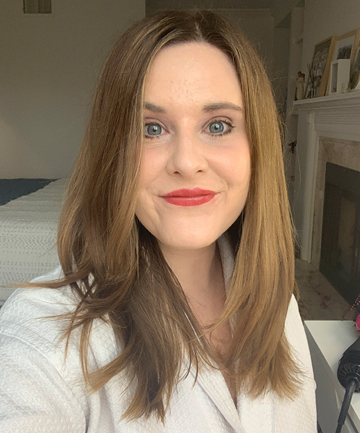 As your hairstylist will remind you, for healthy hair, it's better to only wash two to three times a week. I've always tried to maintain this habit but sometimes, I would start to look overly greasy by day three. Surprisingly, with this hot tool, my hair looks like it has a fresh blow-dry for at least 48 hours — even when I work out. I just spritz a little dry shampoo and I'm ready to go. (I've even used the one-step brush when my hair is slightly sweaty and I swear, it pumps up the volume.)
Image courtesy Lindsay Tigar