Photo 1/5
Prep the Under-Eye Area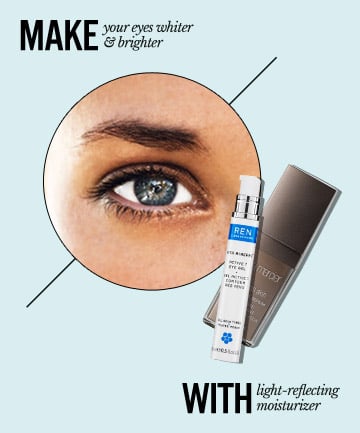 Nothing darkens the eye area like dark circles underneath your eyes. To de-puff and counteract your purple baggage, use an eye moisturizer with brightening ingredients, like mica and vitamin C. Halperin uses
Ren Vita Mineral Active 7 Eye Gel
on all her clients. (Even guys -- she says some of her male clients actually request it.) Celebrity makeup artist Darlene Jacobs swears by
Laura Mercier Flawless Skin Repair Eye Serum
followed by a concealer with light-reflecting qualities, like
Yves Saint Laurent Touche Éclat
or
Koh Gen Do Maifanshi Liquid Treatment Concealer
.
Cover image via Imaxtree
Photo 2/5
Waterline Your Eyes the Right Way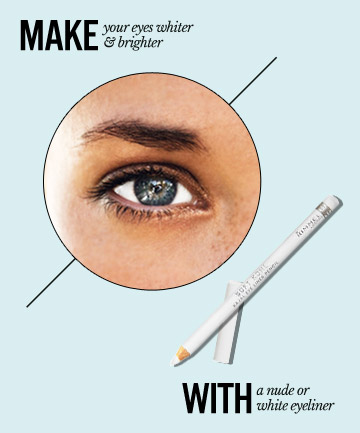 Waterlining your eyes with a dark shade is probably the worst thing you can when trying to brighten your eyes, says Jacobs. She suggests using a shimmery white or nude eyeliner (we like
Rimmel London Soft Kohl Kajal Eyeliner
in Pure White) on the rim of your lower lid to create the illusion of a bigger eye. Draw some of it on the inner corner of your eye, blending it in to bring the light-reflecting makeup into what is usually the darkest part of the eye area.
Photo 3/5
Wear the Right Eye Shadow for Your Eye Color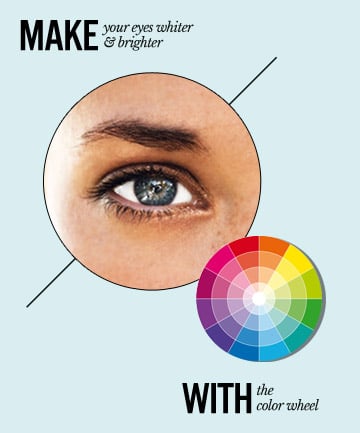 Making your eyes look bright and white is all about contrast, and Makeup 101 says to look to the color wheel when you're trying to pick the right color complement to your eye color. "Go with the opposite color of your eyes for eye shadow," says Jacobs.
For blue eyes, that means choosing a golden peach or warm brown color.
Dark eyes are set off by blue shadow. For dark eyes that are warmer in color (like honey or chestnut), Jacobs suggests a cooler blue tone, like blue-gray. For brown eyes that fall on the cooler end of the color spectrum (like espresso or almost-black eyes), Jacobs recommends a warmer blue, like periwinkle, to offset them.
Though the opposite of green is red, a crimson eye shadow will just bring out any redness in your eyes, says Jacobs. Opt for brick or purple shadow.
Photo 4/5
Don't Forget Bronzer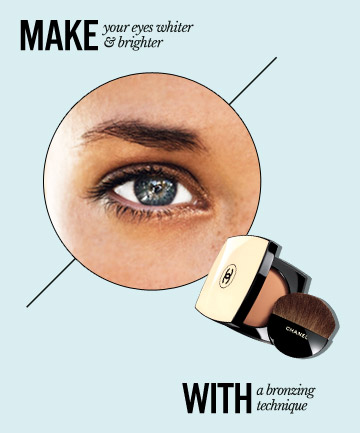 You know how a white dress always looks so much brighter against tan skin? Same goes for your eyes.
To make your eyes look extra-bright, use a bronzer two shades darker than your skin tone. (Jacobs likes
Chanel Les Beiges Healthy Glow Sheer Colour
for their array of color choices.) Brush it where the sun touches most -- across your forehead, from cheek-to-cheek across the bridge of your nose and on your chin. If you have freckles, use their placement as your guide.
Photo 5/5
Choose Your Lip Shade Wisely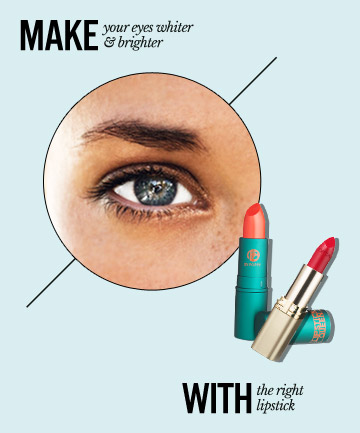 Just like the wrong shade of lipstick can make your teeth look two shades yellow-er, the right shade can brighten up your whole face, including your eyes. Clinique conducted a study to find out which shades of lipstick contrasted the most with white teeth, and dentists found that blue-based red, violet-based soft pinks and bright coral lip colors all made teeth look one shade whiter.
To contrast with the whites of your eyes, Lipstick Queen founder Poppy King recommends tangerine hues, like
Lipstick Queen Jungle Queen
in Pop-paya Coral. If you prefer a more classic look, try
L'Oreal Paris Colour Riche LipColour
in British Red.
Bloodshot eyes are never cute. Whether you've been burning the midnight oil, fighting off the flu or sneezing your way through allergy season, bloodshot eyes are a dead giveaway that you're not feeling (or looking) your best. A recent study found that people with red eyes appear sadder, less healthy and less attractive than those with clear, white eyes.

What's more, the natural color of your eye will pop even more if the white of your eyes contrast against it.

To find out how to make our eyes brighter, we turned to celebrity makeup artists Lucy Halperin and Darlene Jacobs, who whiten the eyes of on-camera talent -- you know, those folks known for running from premiere to premiere, traveling and working all kinds of crazy hours.