Photo 1/8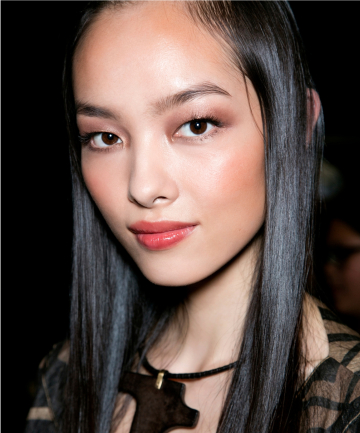 There's nothing quite as exciting — or nerve-wracking — as a first date. After all, it's pretty much a guarantee that your potential love interest will judge everything from your small talk to your sense of style. And while you can't control whether your date will laugh at your jokes, you
can
make sure you that you put your best face forward with a few need-to-know beauty tips.
What should you do the night before to ensure your complexion is radiant? Is there anything you can do to entice him to go in for that goodnight kiss? You can stop fretting and concentrate on picking out that perfect outfit, because we've got your first-date beauty plan mapped out. Follow these tips to slay on your romantic rendezvous — or just about any other occasion.
Image via Imaxtree
Photo 2/8
Embrace Masking Sure, you can combat dull, tired-looking skin by slapping foundation on your skin but all that makeup may have him wondering what you're hiding under those layers. Instead, achieve a natural glow by treating your skin to a revitalizing face mask the night before your date. The best part? You probably already own the ingredients necessary to make a number of these easy
DIY face masks
.
Photo 3/8
Prep Your Pout You know that killer lip shade you're planning on wearing on your romantic excursion? The one that earns you compliments every time you wear it? Well, it's destined to look like a big ole flaky mess if you fail to exfoliate your kisser beforehand. Combat a chapped, peeling pout by using a lip scrub to blast dry skin the night before your date. Follow up with a hydrating balm and your lips will be baby soft -- and perfectly kissable! -- the following day.
Photo 4/8
Gloss Like a Boss And speaking of lip color, what shade
should
you wear? Bold hues like red or neon pinks can overwhelm a dude, and also have the added danger or winding up on your teeth midway through your dinner convo (yikes!). A nice nude hue a few shades lighter or deeper than your natural lip color should do the trick. Reach for a gloss, since shiny lips lend wearers a youthful air and demand attention (making that goodnight kiss more likely).
Photo 5/8
Play Up Your Peepers If you're interested in meeting your potential soul mate, then you're definitely going to want to accentuate the windows to your soul: your eyes. After all, there's nothing like staring into someone's eyes to develop a meaningful connection. Use a lash curler and lash-lengthening mascara to create a look-at-me, doe-eyed effect that'll make it impossible for him to take his peepers off of you.