Photo 1/5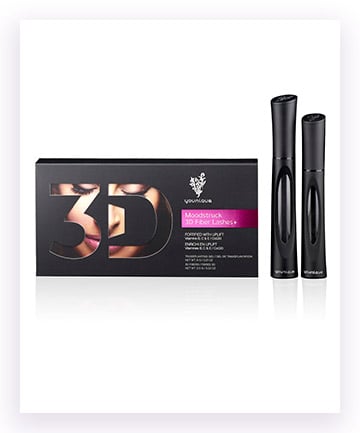 Like many, I was introduced to the
Younique Moodstruck 3D Fiber Lashes Mascara
after about ten different girls I went to high school with added me to their Younique business Facebook groups. To be honest, I'm skeptical of just about any product that's part of a multi-level marketing plan — and I know I'm not alone on this. So, despite the amazing lash-lifting claims, I didn't get too excited about the mascara.
However, when my close friend Quiana — an insanely talented stylist and makeup artist — started gushing about the mascara, my ears perked up. She used words like "incredible" and "unbelievable" to describe the lift and volume it added to her lashes. Now, this girl uses high-end mascaras like
Too Faced Better Than Sex Mascara
, $23, on her clients (though she also swears by the
CoverGirl LashBlast Volume Waterproof Mascara
, $7.99), and would never rave about something that wasn't truly awe-inspiring. My curiosity got the best of me, and before I knew it, a tube was on its way to my door.
Cover image via Imaxtree
Photo 2/5
First Impressions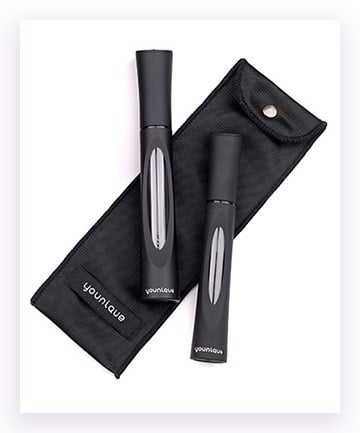 While you can't swing by your neighborhood Sephora or Ulta to pick up the Younique 3D mascara, you can order it online from
their website
or contact a former classmate and purchase it for the not-so-low price of $29.
When I received my 3D mascara package, I was surprised to find that there were two tubes of mascara and a set of instructions waiting for me. Since it's a fiber mascara, the first tube contains the regular mascara that grips the fibers and the second contains the actual fibers.
If you're a mascara maven like me, then you know the mascara wand is everything for application. It determines how much product is applied to the lashes, so if the wand is a bust it can result in clumpy, spidery or barely-there lashes. In regards to this 3D mascara, both of the tubes contained a basic, straight wand (which is great for getting in the corners of the eyes) and gripped quite a bit of product — especially the fiber lash wand. Upon pulling out the fiber brush from the tube, thousands of tiny hairs clung to the wand and I immediately gave it the side eye. Applying microscopic strands of material to my lashes seemed like a recipe for irritation. There was only one way to find out if the fiber lashes would trigger tears, so I swiped on the first coats of mascara and hoped for the best — or at least not sand-in-eye level vexation.
Photo 3/5
Application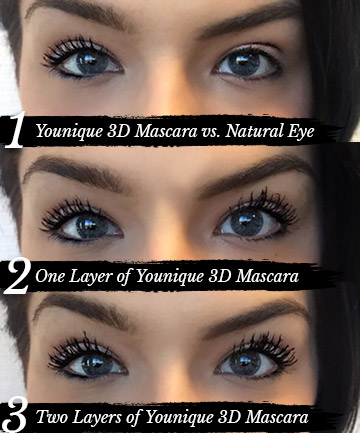 You have to work quickly when applying the 3D mascara, as the fibers are intended to stick to the freshly applied product (so don't want to wait around for it to dry). The results? Fluffy (yes, fluffy), lengthened and voluminous lashes. The straight application wand proved to be a pro at reaching hard-to-get-to places (like the inner and outer corners of the eyes) and distributed a hefty amount of product onto my lashes to give my eyes noticeable drama. The brand claims that you'll "see up to a 500 percent increase in average volume with your first coat." While the mascara did amp up my lashes, I wouldn't say it boosted them by 500 percent. If that were the case, I'm pretty sure we'd all look like Jenna Marbles in her
100 coats video.

Just as I feared, this mascara was not kind to sensitive eyes. When I went to swipe on the fibers, the little hairs almost immediately started irritating my eyes. Because the wand contains a lot of product, a few hairs fell into my waterline and left me (blindly) searching for a Q-tip for the next two minutes to alleviate the burning sensation consuming my eyeball. However, once I removed the fibers from my waterline and swiped on the second coat of normal mascara to lock it in, my eyes were fuss-free and remained that way for the rest of the day. Of course, I couldn't stick with just one layer either — not once the 500 percent volume gauntlet was thrown down. Once my eyes calmed down, I swiped on a second coat of the normal mascara, followed by the fibers, and watched as my lashes became even more dense and flutter-worthy (with no irritation the second time around).

Image via Jessica Amaris


Photo 4/5
OK, But Does It Last?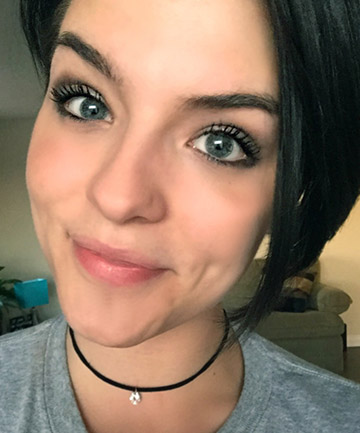 After applying the Younique Moodstruck 3D Fiber Lashes Mascara, I was pretty impressed with the lash-fluffing results, and I was curious to see if my plumped-up lashes would shed throughout the day or stay intact. After applying the 3D mascara around 8 a.m. and wearing it for a couple hours around the office, I
did
notice some fallout beneath my eyes. The fibers were so fine, though, that I had to look pretty hard to see them scattered about my under-eye area and on the top of my cheeks — and no one else seemed to notice them throughout the day. While there was some shedding (that's what I get for basically putting fur in my eyes), I have to give the mascara props for holding up during my gym session, which I decided I would fill with 20 minutes of heavy cardio followed by 15 minutes in a 200-degree sauna.
When I emerged from the sauna, my mascara was miraculously still in tact. There was a bit of fallout and smudgy eyeliner (understandably), but my lashes remained lifted and lengthened.
By 8 p.m. that evening, my mascara and extended lash length were still going strong. Though my lashes weren't the dark, dense, voluminous furry animals they were that morning , I did put them through a workout, intense heat, moist air and a 12-hour day without them melting off my face. Color me impressed.
Image via Jessica Amaris
Photo 5/5
Final Judgment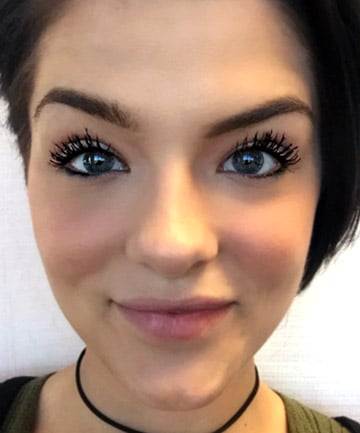 Younique impressed me with their 3D mascara. The mascara definitely added density to my lashes, making them appear thicker and more voluminous — which is enough to make any girl feel sexy. And if you add two coats like I did, your confidence will be through the roof.
However, if you have sensitive eyes, you might want to reconsider accepting that Facebook invite to the Younique group. I'm not overly prone to irritation from mascara, but the fine fibers were enough to tickle my eyes in a way they did not appreciate, though once removed from my waterline my eyes were totally fine. Beauty is (temporary) pain?
Image via Jessica Amaris