Photo 1/7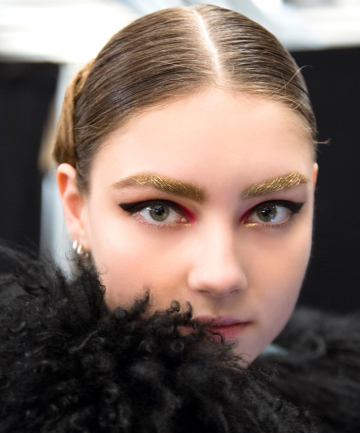 If you've never tinted your brows, it's time to consider doing so. The benefits are plentiful: "It can make brows look fuller and more uniform, not to mention conceal any pesky gray hairs," explains makeup artist and eyebrow guru
Ramy Gafni
. It's also a serious time-saver. Once your arches are tinted, there's often no need to spend time filling them in with pencils or powders, notes New York City eyebrow guru
Sabria Celaj
. And while you can certainly go in for a professional tinting (it's often included as part of a hair color service or as an optional add-on to brow shaping), happily, this is one beauty task that's surprisingly simple to do yourself. Here, the pros walk us through the process.
Image via Imaxtree
Photo 2/7
Step 1: Shape Your Brows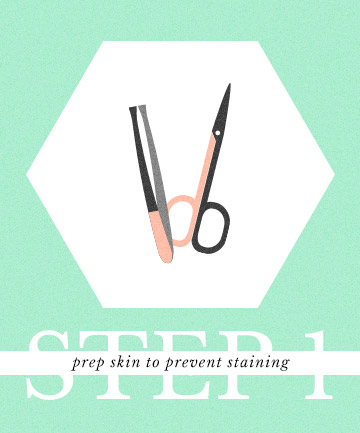 Before you even think about tinting, Gafni suggests making sure your shape is spot-on. Tinting before shaping ups the likelihood of accidentally tweezing away hairs that you shouldn't be removing. "Since the color makes brows appear fuller than they are, you're more likely to over pluck," he says. So whether you see a pro or take the DIY route, be sure your brows are groomed and shaped before coloring.
Photo 3/7
Step 2: Pick Your Product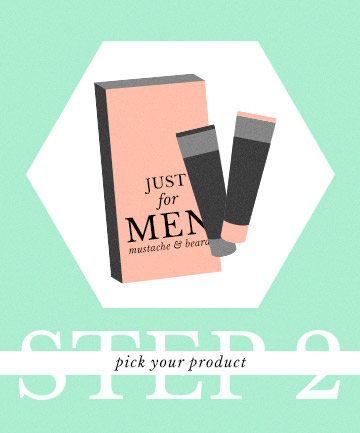 Pay a visit to the men's grooming aisle and reach for Just for Men Mustache & Beard, $7.99, which Gafni says is choice for coloring brows. "It comes with multiple tubes so that you can mix up small doses of color at a time," he explains. In other words, one box is good for multiple rounds of tinting. Traditional hair dye will work, he says, but keep in mind that you'll have to mix up a whole bottle only to then throw away most of it (FYI, you can't save or reuse hair color once it's mixed). A vegetable-based dye is another alternative, and Celaj's recommendation, since it's gentle on both hair and skin, she says. One to try:
Naturtint Permanent Hair Colorant
, $13.49. It's also worth noting that while Just For Men is technically permanent, Gafni finds that it lasts for about three weeks on light brows and one week on dark brows (lighter hair is more porous and absorbs more dye, he explains). Vegetable dye will last for four to six weeks on most people, says Celaj.
Photo 4/7
Step 3: Choose the Right Color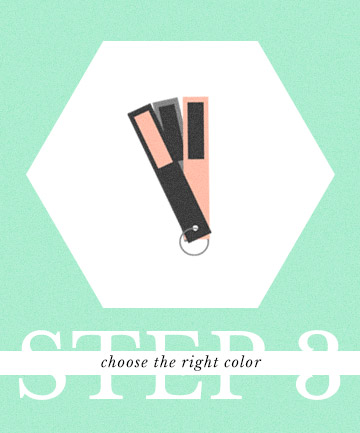 To determine the best color for your brows, take a look at the hair on your head. Redheads and brunettes should choose a hue that's two shades lighter than their hair; blondes and those with silver strands should go two shades darker. Having trouble deciding between two options? "Always err on the lighter side, since it's much easier to go back and add a little more color than it is to remove it," advises Celaj.
Photo 5/7
Step 4: Prep Skin to Prevent Staining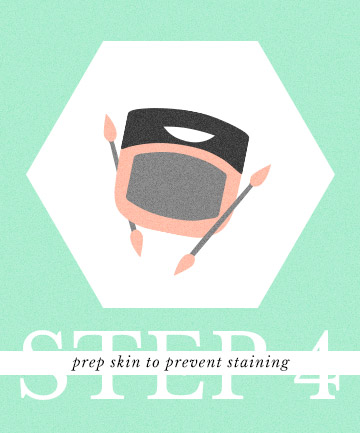 While getting a little dye on your skin isn't the end of the world, you can easily prevent it from happening in the first place. If you happen to have a barrier cream on-hand, feel free to use that, but there's no need to buy one, since two common household items will work just as well. Gafni likes using Vaseline, while Celaj recommends olive oil, both of which have the added benefit of simultaneously hydrating skin. Using your fingertip, apply either product around the perimeter of your brows, being careful not to get too close to the hairs: "Leave about two hairs width of space around the eyebrow, since you don't want to get any on the actual hairs, as this will prevent the color from absorbing," notes Gafni.