Photo 1/11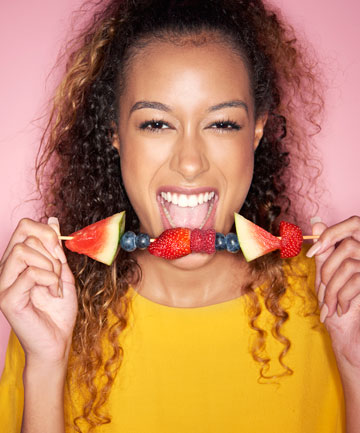 Even if you wash your face regularly before bed, opt for makeup that won't clog your pores and send your prayers to the clear skin gods, you still might wake up with an unfortunate zit. Why does it rear its ugly head? Registered dietitian and professor
Keith-Thomas Ayoob, EdD, RD, FAND
says to take a hard look at your diet. "Your skin is an organ. It is living tissue and needs nourishment, as does every organ. Skin cells are always turning over, and it's not always about what we put on our skin, it's also about making sure there are the right ingredients present for the body to maintain and repair skin cells," he explains.
One way to receive the nutrients your body—and your pores—craves is to implement seasonal varieties with minerals that keep your skin clear. During the summer, there are countless options available at local farmer's markets and food fairs that will make your dishes not only more robust and rich in flavor but beneficial for your bod from the inside out. Here are the summer foods experts recommend shopping for to keep skin looking clear.
Image via Getty
Photo 2/11
Tomatoes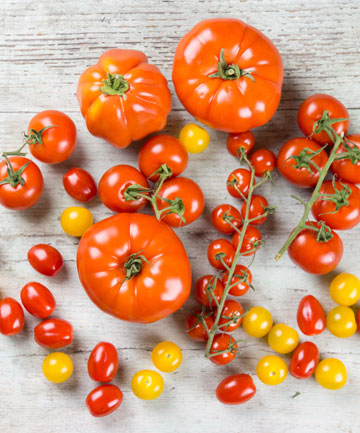 Depending on how green your thumb is, you can sprout these fruits on the tiny patio of your apartment or in an expansive garden in your backyard. Registered dietitian and nutritionist
Kaleigh McMordie MCN, RDN
says these red babies are high in the antioxidant lycopene, which research has shown can naturally protect your skin from harmful UV damage. You make the quality of this ingredient richer when you cook it, so add it to your latest stir-fry variety. While it won't replace sunscreen, it can help your skin to remain radiant and healthy, especially with its added bonus of vitamin C.
Image via Getty
Photo 3/11
Green and yellow bell peppers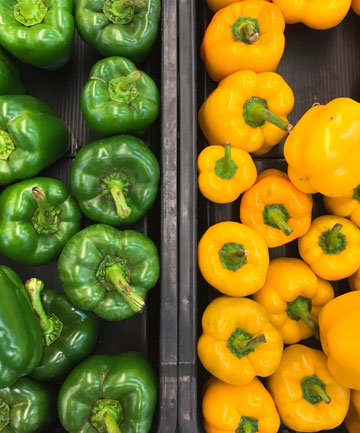 If you enjoy grilling during the hottest days of the year, slice up a few in-season green or yellow peppers to complement your BBQ. As
registered dietitian and nutritionist Amy Gorin, Ms, RDN
explains, these veggies help to decrease wrinkling that happens around your crow's foot area, according to a study. If you'd rather eat 'em raw, Gorin suggests creating a fresh summer salad or using them as your vessel to dig into guacamole.
Image via Getty
Photo 4/11
Iced coffee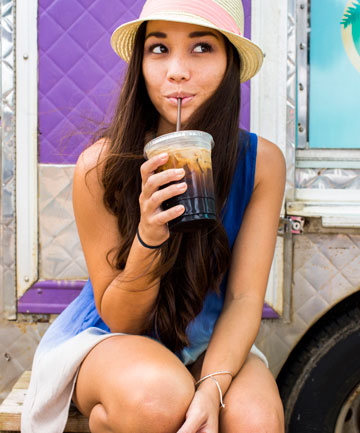 You shouldn't feel guilty if you splurge a little on a daily iced coffee to cool down from the heat since Gorin says coffee may help decrease your risk of melanoma, the deadliest form of skin cancer. "The caffeine and polyphenols in coffee may provide some protective benefits to skin cancers caused by UVB rays," she explains. Though you probably want to shy away from too much milk since dairy can be problematic with acne for some, go ahead and take it black—and reap the benefits.
Image via Getty
Photo 5/11
Water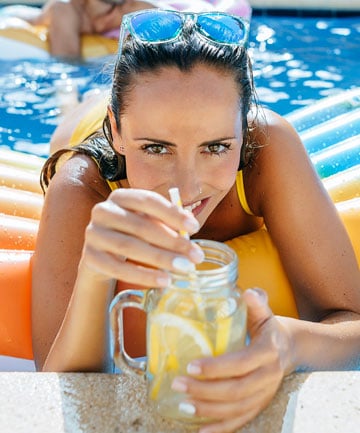 Of all the drinks or foods you can consume to maintain a vibrant balance in your skin tone and complexion, Gorin says nothing quite compares to water. When you're hydrated, your skin is dewy, fresh and clear, but when you're lacking the aqua your body needs, your skin may look tired, dry and frazzled. In addition to lugging around a water bottle to make it easy to hydrate, Gorin says the summer is a great time to add melon slices or fruit to make your beverage a tad more interesting.
Image via Getty