Photo 1/3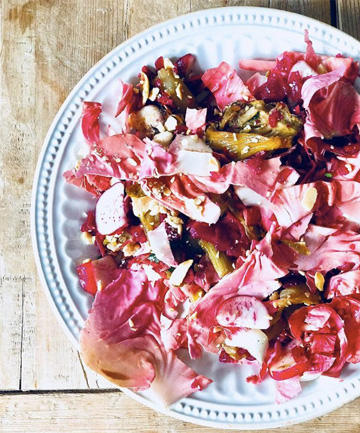 Millennial pink is
everywhere
these days as
pastel pink makeup
, clothing and accessory items continue to #trend. The obsession has even carried over into the food world with Instagram-worthy toast creations, smoothies and even donuts setting social media ablaze. But the most definitive proof we haven't yet reached peak millennial pink? The feed-friendly Italian radicchio otherwise known as pink lettuce.
Despite being aesthetically pleasing online,
celebrity chef Lauren Koeppe
notes that this pink food item isn't actually lettuce at all, it's a type of bitter radish called Radicchio del Veneto. "Primarily from Italy, there are also some spots here in California that grow the pinkish-colored lettuce. It's basically the same thing as a radish — similar in properties and it has a bitter and slightly spicy taste," says Koeppe.
Image via @erenassenza
Photo 2/3
Pink lettuce has major health benefits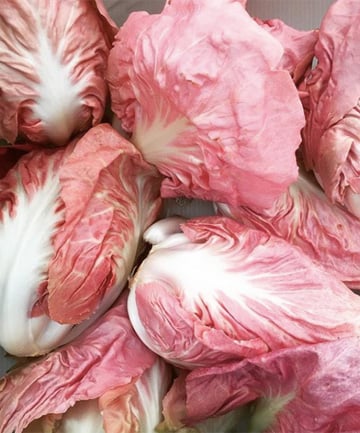 Like other chicory vegetables, Radicchio del Veneto is very low in calories, making it popular with health-conscious eaters. It's also an excellent source of vitamin K, which can help improve bone health. Other health benefits can be attributed to pink lettuce's signature color. "The nutrients responsible for Radicchio del Veneto's pink hue include quercetin and lycopene, both of which exert powerful health benefits and possess antioxidant properties," says registered dietician Paul Salter, nutrition editor of Bodybuilding.com and founder of
Fit In Your Dress
.
Image via @mam_linda
Photo 3/3
Incorporating pink lettuce into your diet (and Instagram feed)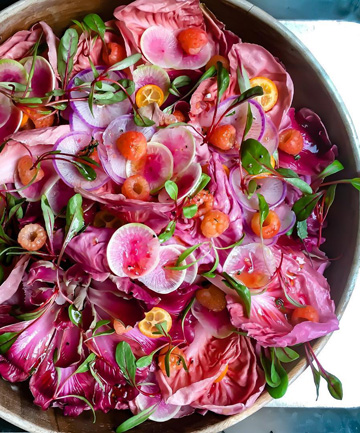 Nutritional benefits aside, expert chefs like Koeppe say that the vegetable can add a bright pop of color to almost any dish. "Radicchio del Veneto is more of a novelty item and should be used with top quality ingredients," she says. "A simple dressing made with high-quality olive oil, fresh lemons, some Italian gorgonzola blue cheese and some toasted hazelnuts would make for a delicious salad."
But the cost of radicchio is definitely worth keeping in mind. "Radicchio del Veneto goes for about five dollars a head, which is pretty pricey, but it all depends on how you use it," says Caleb Backe, health and wellness expert for
Maple Holistics
. "Using a few leaves as an accent for your salads and savory dishes is a great way of turning the volume up on the presentation of your food. Since we are more likely to eat healthy if the food looks appetizing and attractive, this unique lettuce may very well be worth the investment at least once or twice."
If you are all about buzzworthy food trends or boosting your Instagram likes through food photos, nutritionist
Dr. Elizabeth Trattner
says it's definitely worth giving pink lettuce a try. And, of course, food trends like these always get us to eat a little healthier, which is always a plus in her eyes. "Radicchio has been around for years and is nothing new," says Trattner. "Thanks to the millennial pink boom, pink radicchio has now taken food porn to another level and, let's be honest, what woman doesn't like her pink, especially in food?"
Image via @foodstylistnewyorkcity