Photo 1/3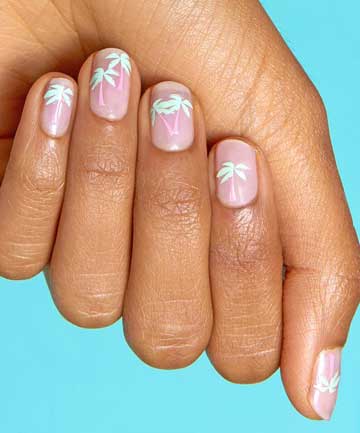 Nail art
has always been a cool-girl obsession, as printed nail decals, sleek minimalist designs and gorgeous negative space manicures have definitely made a splash on social media in the last few years. Now, Instagram-adored brand
Olive & June
is aiming to become the next nail art fad with its collection of designer-worthy nail stickers.
Of course, nail stickers aren't entirely a new trend, as drugstore brands such as Sally Hansen and Essie each have stickers of their own. But Olive & June's latest innovation dials the sticker game up a notch, as tiny flamingos, colorful rainbows and stunning geometric shapes can easily be placed on top of your polish (without disturbing it btw) to give it a fun and Instagram-worthy finish in seconds.
To give you an inside look as to how these stickers came about, we spoke to Olive & June founder and CEO
Sarah Gibson Tuttle
about the brand's latest chic innovation and why these stickers may just be the hottest nail accessory of the summer.
Image via Olive & June
Photo 2/3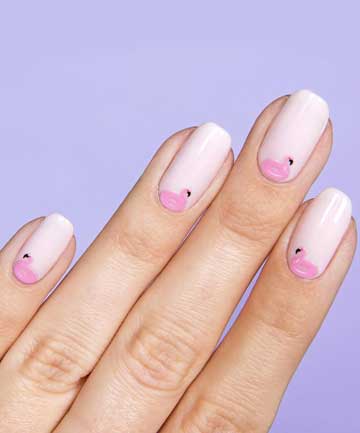 Olive & June is no stranger to the nail game, as the brand's Los Angeles-based salon (service prices start at $20) is a favorite amongst celebrities such as Gwen Stefani and Jessica Alba. The brand's new nail stickers, which cost $7.50 per set, is the brand's first venture into the DIY nail art realm. "We designed the stickers as a way for people to have easy access to nail art, wherever they are," Tuttle says. "Decals (and wraps) are super popular in Asia and we hope to see the trend continue here in the states."
Much like the fleet of nail wrap stickers we were obsessed with back in 2012, Olive & June's newest stickers allow you to achieve a fun nail look in three easy steps. To apply the stickers correctly, Tuttle advises peeling them off from the sticker sheet and placing them wherever you'd like on the nail. To seal stickers onto your nails, she recommends using top and base coat before and after sticker application. This gives your nails a fun pop of color, even if you don't use nail polish.
If you do place the stickers on top of nail polish, Tuttle suggests making sure the polish is really dry before you apply the sticker. This will lead to the perfect placement.
Image via Olive & June
Photo 3/3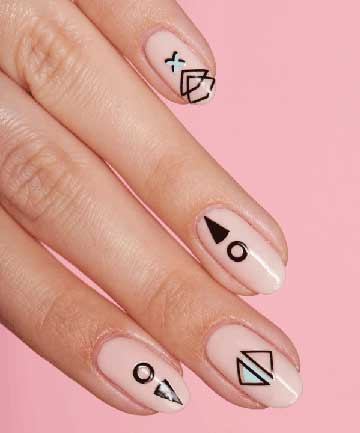 The brand's success is a general reminder that DIY nail art isn't going away anytime soon, especially since it allows people to have access to a salon-worthy look wherever they are. And with designs this stunning, we are totally excited to see what the brand has up its sleeve in the future.
Buy now
Image via Olive & June