Photo 1/19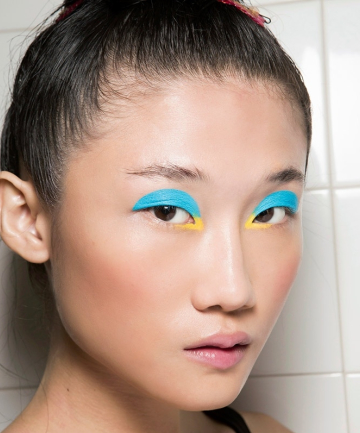 The dark, somber colors of winter give way to the pretty pastels of spring — and now those Easter egg shades get injected with some major life to result in summer's brights. When it comes to the colors of Summer 2018, bolder is definitely better, especially in terms of makeup. The typical juicy, saturated shades of the season have gone next-level, with neon makeup being one of the most electrifying beauty trends of the moment.
Rather than sticking with the typical no-fuss,
bronzed goddess
,
bronzed goddessno-makeup look
, the consensus seems to be that we need vivacious makeup to match some of the look-at-me shades on the runways (hot pink, fluorescent yellow, kelly green). Neon makeup started off small on the Spring 2018 runways with sweeps of bright eyeliner and colorful mascara replacing tried-and-true black. The trend evolved further with the surprising
yellow eye makeup trend
and multicolored eye makeup looks. That led us to neon shades enlivening eyes and lips — and sometimes the full face.
Neon fashion can have even the biggest color addict looking for a "safer" option, so the idea of applying neon makeup can understandably leave many intimidated. Take a cue from the runways and consider placement and color in equal measure. From fiery orange to glow-in-the-dark red to electric yellow to fluorescent green, there's a shade (or two) that should feel more in line with your comfort level. Once the right shade has been chosen, swipe it on in a confident, well-placed stroke. For instance, a dab of intense shadow on the lower lash line can have as much impact as a neon color coating the lips.
With so much intensity, the rest of the face really doesn't need any product. Of course, those who have built up their neon makeup comfort levels may be craving more color, so they can experiment with a face full of statement
rainbow color
. Get started by drawing inspiration from these 18 runway looks to pull off neon makeup.
Image via Imaxtree
This article originally appeared on TheFashionSpot.com
Photo 2/19
Orange Idea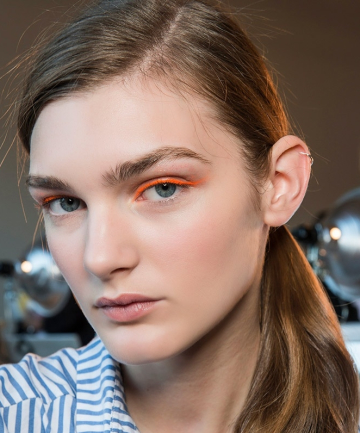 Eyeliner is one of the best ways to ease into the neon makeup trend. An orange liner isn't
that
much of a departure from warm-toned neutrals. After drawing on a skinny line, start extending it out toward the outer corner of the brow. For more drama, top with the faintest dusting of coordinating sparkle. A neutral lipstick will keep the vivid eyes in check.
Image via Imaxtree
Photo 3/19
Red Ahead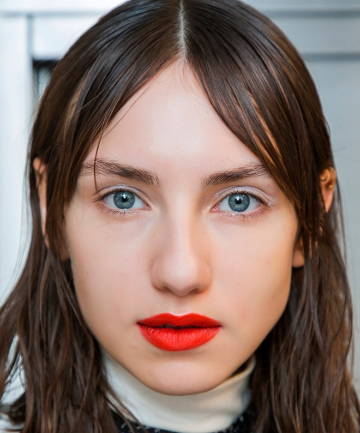 Another easy hack is to upgrade a classic red lipstick for the most pigmented, vibrant one available. With color this intense, every mistake is extremely noticeable so apply the product with a lip brush for a flawless finish and be mindful of product migrating to your teeth. A dab of iridescent white eyeshadow on the center of each eye makes the striking lippie pop.
Image via Imaxtree
Photo 4/19
Tangerine Tick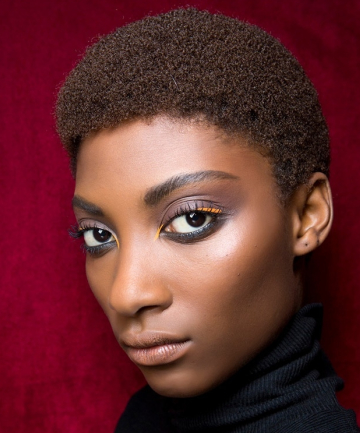 Stick with a classic gray smoky eye and neutral lip color, but go out of the neutral comfort zone by drawing a dash of bright orange eyeliner on the outer corner of your eye and another on the inner corner. The small lines awaken the face. What's more, the shape means you don't have to worry about drawing a long, perfectly straight line across the upper lash line.
Image via Imaxtree
Photo 5/19
Bright Blue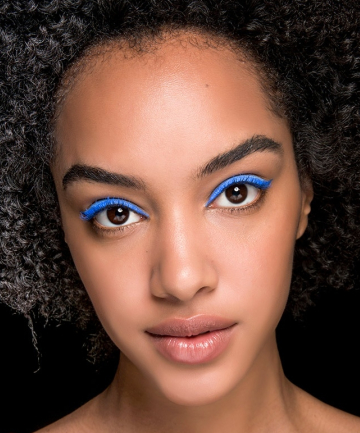 This striking look covers the colored mascara, neon makeup and blue eyeshadow trends
and
it's easy to do. Line the eyes with a pigmented blue feline flick. Then coat the upper lashes with a coordinating mascara. A neutral lip gloss lets the eyes do the talking — and it ticks off another trend.
Image via Imaxtree