Photo 1/7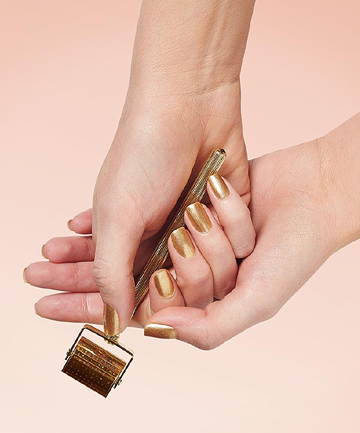 I am the ultimate lazy girl when it comes to my skin care routine. If I manage to wash my face and slap on some moisturizer at the end of the day, it's an accomplishment.
As such, a routine that involves applying a serum, stabbing my face with tiny needles -- a procedure called microneedling -- and then applying more skin care products, is way out of my comfort zone. And that's exactly why I volunteered to try microneedling: If I can get behind it, anyone can.
So, dermaroller in hand, I set off to see if microneedling is the step my skin care routine has been missing. Can I needle my way to a glowing complexion, or will I end up wounded and miserable? Read on to find out.
Image via @environskincare
Photo 2/7
What is Microneedling, Anyway?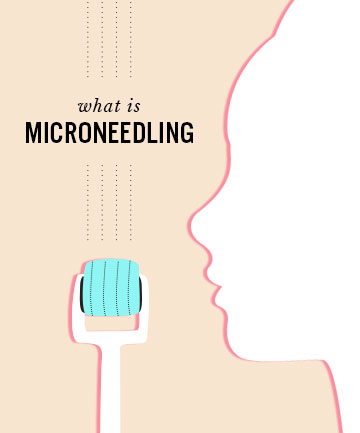 Before I delve into my needles-in-my-face experiment, you should probably know
why
people are doing this. Traditionally, microneedling is done in a dermatologist's office, says New Jersey dermatologist Jeanine Downie, MD. When the needles penetrate 0.5 millimeters or less, your skin immediately looks flushed and plump. In-office, they can penetrate up to 2.5 millimeters, which can get a little bloody and require some downtime.
Whatever depth, the intention is to cause micro-trauma to the skin, which triggers collagen production. And while the in-office treatment may produce more dramatic results, DIY microneedling is quickly gaining popularity.
"Microneedling using .25 millimeter needles is a pain free and highly effective at-home procedure with no downtime, and results are seen instantly," says Kerry Benjamin, founder of
Stacked Skin Care
. "Other benefits you can enjoy from microneedling include a decrease in fine lines, sun damage, acne scars, and age spots." It also supposedly gives you a glow that rivals Galadriel's.
Plus, it helps you get your money's worth from all your skin care products. According to Benjamin, microneedling increases absorption of active ingredients by more than 90 percent. "This procedure one of the most powerful and effective ways to stop early signs of aging and prevent new fine lines and wrinkles from occurring," she says.
Photo 3/7
Microneedling, Take One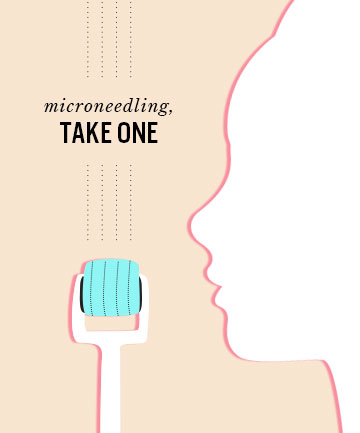 My first experience with at-home microneedling came the day after seeing Benjamin for a facial and intro into the world of needles. Armed with her Stacked Skincare Collagen Boosting Micro-Roller, $30, and
PSC Peptide Serum
, $150, I began by brushing the serum all over my face and tentatively placing the roller up to my cheek … before completely chickening out. I have a hard time pulling Band-Aids off -- sticking needles into my face was taking it to another level.
After a few seconds of pause, I made like Nike and just did it.
Benjamin's technique is to start on one side of your face, near your ear, and roll up and down, from your jawline to your eye line until you reach the edge of your lips. Then, turn the roller so it's facing horizontally and roll over the same area.
Move to the other cheek, then roll your forehead, nose, chin, lips and neck with the same technique. The first time took me a couple minutes because I was being uber careful. It didn't hurt, but it definitely felt weird. Honestly, it felt the most pokey on my neck. But the needles are so tiny (my boyfriend didn't even believe they were there until I rolled it on his face) that it's relatively painless. Then, I topped my skin with another layer of serum and moisturizer.
After microneedling, Downey recommends using
Avène Cicalfate Restorative Skin Cream
, $28, which has ingredients like micronized sucralfate to promote healing.
Photo 4/7
Microneedling, Week One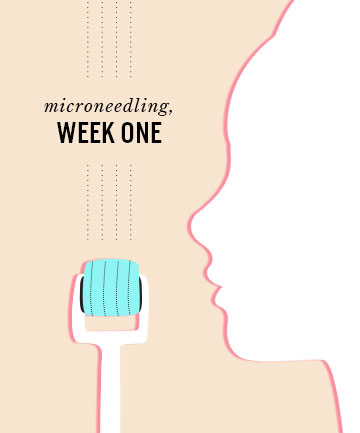 By the end of the week, I was pretty stoked to wash my face at the end of each day so I could use my dermaroller. The fact that adding an extra step to my routine made me
more
likely to do my routine is kind of astounding.
And my skin (while by no means in terrible shape before) was looking good enough that I felt confident heading into the office bare faced.
(However, it is important to note here that if you have acne, you should not be microneedling. Not only will it
hurt
, it will spread bacteria around your face and make your skin more irritated and inflamed.)
Photo 5/7
Microneedling, Week Two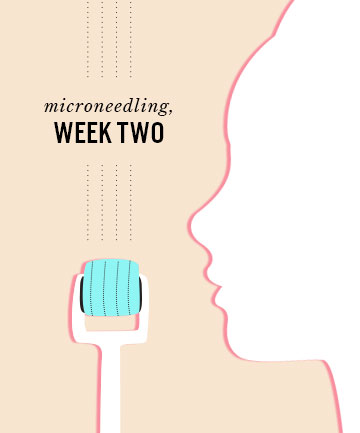 Benjamin recommends microneedling five times a week. After the first week, I noticed that a particularly annoying acne scar on my right cheek -- PSA: don't pick your pimples -- had become much less visible, and my skin looked plumper. Plus, I had gotten so fast at microneedling, it took about a minute to roll my entire face. I stuck with my routine of serum, rolling, serum, moisturizer.
And I was diligent about cleaning my dermaroller after each use with hot water and soap, or rubbing alcohol. If you don't clean it properly, you're basically shoving bacteria into your skin.
Another word of caution: You should never, ever use a vitamin C serum after microneedling. "Vitamin C tends to be very active, and I don't think it's a great idea to drive that down deeper," says Benjamin. "It can irritate and cause inflammation. The best serums to use with microneedling are ones with growth factors, stem cells, peptides and hylauronic acid."